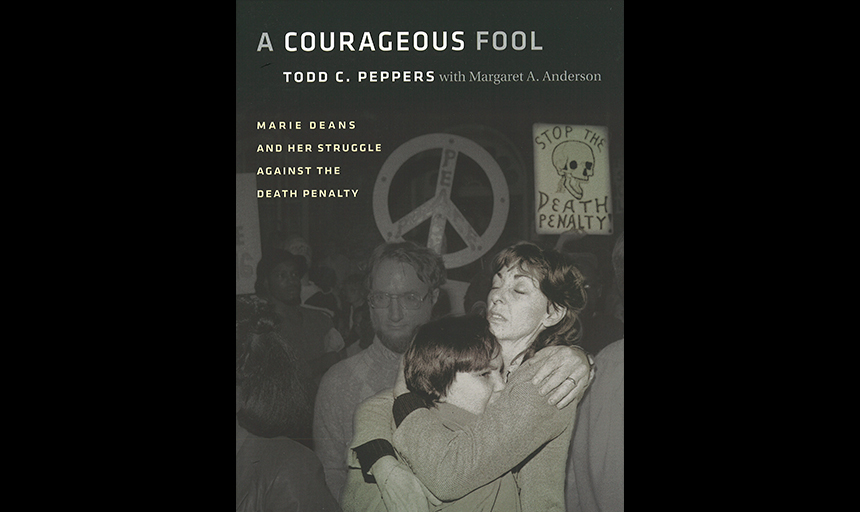 An Important Partnership
Roanoke College Professor Todd C. Peppers collaborated with a former student, Maggie Anderson '13, on a recently released book about a tireless but largely unrecognized advocate for the abolition of the death penalty.
Titled "A Courageous Fool," the book follows Marie Deans' decades-long fight against capital punishment, a passion that took hold of the South Carolina native following the 1972 murder of her mother-in-law. In addition to founding a group now known as Murder Victims' Families for Reconciliation, Deans counseled dozens of death-row inmates, investigated their cases and cajoled lawyers into representing them on appeals.
"I have never met anyone who believed more in their cause and was willing to give sort of their last full measure than Marie," says Peppers, the Henry H. & Trudye H. Fowler Professor in Public Affairs at Roanoke.
Peppers learned of Deans' extraordinary work defending the damned while researching his 2009 book "Anatomy of an Execution: The Life and Death of Douglas Christopher Thomas," which he wrote with Laura Trevvett Anderson, Thomas' former high school teacher. Peppers interviewed Deans for that book, and the two became friends.
Deans had always planned on writing her own memoirs, but her work on death row had left her suffering from post-traumatic stress disorder. She struggled with putting her memories to paper. Before Deans died of lung cancer at age 70 in 2011, Peppers assured his friend he would tell her story.
Maggie Anderson, meanwhile, was finishing high school in Madison County, Virginia, and dreaming of a career where she would be immersed in scholarly research and writing. She decided to enroll at Roanoke College after being impressed by the College's Research Fellow and Summer Scholars opportunities.
Her first semester at Roanoke, Anderson took a civil liberties class with Peppers. "I tend to be kind of quiet at first," Anderson recalls of the course. "But he didn't allow that. He would call on me and ask me to really analyze an issue."
Anderson worked with Peppers again the fall semester of her sophomore year when she applied for an internship through the Lutheran College Washington Semester program, which Peppers administers. During the next semester, while Anderson was interning in the D.C. office of Sen. Mark Warner, Peppers called to ask if she would do some research for him at the Library of Congress. "I was completely flattered," Anderson remembers.
The same year, Anderson stayed on campus for the Summer Scholar program, working on research in the public affairs department. Peppers told Anderson about Deans' remarkable life and asked if she wanted to help him with research. Maybe, he told her, they could co-author an article down the line. With her interest in research and a passion for social justice, Anderson eagerly agreed. "It wasn't a hard sell," Peppers jokes.
The pair traveled to Deans' Charlottesville residence to collect her personal papers and photos. The electricity in the home had been cut off after her death. "It must have been a hundred degrees in the house," Peppers remembers. "And then we were crawling around in Marie's attic where it must have been 120 degrees. It wasn't glamorous work."
Anderson was then faced with the gargantuan task of going through a mountain of papers and figuring out what was relevant to their work.
Research was difficult because there weren't many people able to speak about Deans' efforts. "Almost all of the eyewitnesses to her work had been killed by the Commonwealth of Virginia," Peppers says.
As they worked, Peppers regularly lamented he couldn't go to his old friend and ask her to fill in one hole or another. "I used to say to my wife, probably on a monthly basis: 'If I only had a month with Marie,'" Peppers says.
Anderson hunted for people who might have worked with Deans online and researched old newspapers in Fintel Library at the College, looking for mentions of the abolitionist. Ultimately, Anderson and Peppers interviewed over 70 people.
Along the way, the pair realized the story they wanted to tell was too big to for an article. "We really dug deep," Anderson says.
Peppers and Anderson decided to write a book.
The pair found themselves working long-distance after Anderson graduated from Roanoke College in 2013 with a political science degree. Anderson stayed plenty busy. First, working as a field organizer for Terry McAuliffe's gubernatorial campaign in Virginia and returning to Sen. Warner's D.C. office where she took a job as a staff assistant. All the while, she continued to toil away on the book. "It was a lot of work outside of my job, but it was definitely worth it," Anderson says.
Anderson was at Warner's office in the fall of 2014 when she learned Vanderbilt University Press had agreed to publish "A Courageous Fool."
"I remember just running into my supervisor's office and screaming, 'It's happening! It's happening!'" Anderson recalls. "Then, we started cranking out book chapters."
"I remember just running into my supervisor's office and screaming, 'It's happening! It's happening!' Then, we started cranking out book chapters"
Maggie Anderson
Sister Helen Prejean became well known for her efforts to end the death penalty after the success of her book "Dead Man Walking," which was adapted into a film starting Susan Sarandon.
Of "A Courageous Fool," the Roman Catholic nun writes, "Some say I've done a thing or two for human rights, but next to Marie Deans I'm a pale little wimp."
Deans' work is credited with helping to save the life of Earl Washington Jr., who was on death row for the rape and murder of a woman in Culpeper, Virginia. He was eventually exonerated by DNA evidence.
Joseph Giarratano was given a death sentence after being convicted of the 1979 murder of a Norfolk woman and the rape and capital murder of her daughter. Three days before his execution date, then-Gov. Douglas Wilder commuted the sentence to life in prison, a move that, according to Giarratano in a foreword for a 'A Courageous Fool," would not have happened if Deans had not taken an interest in his case. "No one can deny that Marie was the force and the linchpin that kept my case, and ultimately me, alive," he writes.
Thirty-four inmates asked Deans to be present in their final moments before execution. "There are men who before they died got to see one last loving face," Peppers says. "She was there with the men at the very end when they took those final, maybe six or eight, steps from their cells to the death chambers."
Peppers describes Deans' presence in what is referred to as the death house, "a tremendous gift" but adds that it came at a cost. "You can imagine what watching 34 men walk to their death does to you," he says.
In addition to suffering from PTSD, Deans died flat broke, according to Peppers. "I don't think Marie ever made more than $14,000 a year," he says. "She lived off a diet of caffeine, nicotine and red beans and rice. . . Marie should be considered a casualty of capital punishment in Virginia, almost as much as the men who got put in the chair. Being exposed to that and working with those men, I think, shortened her life dramatically."
Deans was buried without a tombstone. "It really got to me after a while that she was laying in an unmarked grave in South Carolina," Peppers says.
He launched a fund drive on the internet, which quickly raised over $3,000 for a headstone. On the giving website, one donor wrote: "There could be few better models for a life well-lived."
Anderson and Peppers were not the only ones who found Deans' story compelling. Screenwriter and director Claudia Myers recently finished a screenplay based on "A Courageous Fool."
Peppers hopes that with the book and possibly one day a movie about Deans' work, she will receive the recognition that evaded her in life. "I think she'd be proud, not just of the book," Peppers says of Deans. "But proud looking back at her body of work."