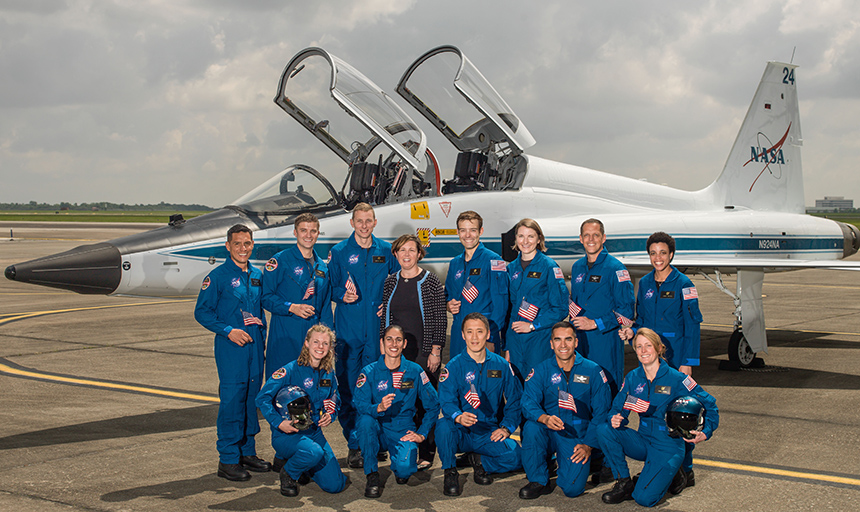 Anne Roemer '97, with NASA's 2017 class of astronaut candidates. (Photo courtesy of NASA.)
Selecting Astronauts -- Anne Roemer '97
Anne Roemer '97 has what must rank high on the "top cool jobs" list. She is manager of astronaut selection at NASA's Johnson Space Center in Houston, Texas, overseeing the selection of individuals who will pilot or travel in spacecraft, work in space or perform work related to human space exploration. We asked this international relations major how she landed at NASA and what it's like to manage a process that in 2016-17, attracted more than 18,000 applicants.

How long have you been working as manager of astronaut selection? What kind of work did you do prior to this job?
I have worked at NASA's Johnson Space Center for 17 years now, all in the Human Resources Office. I have been working with Astronaut Selection efforts since 2011.
How did someone with a bachelor's degree in International Relations from Roanoke College and master's degree in International Administration from the University of Denver come to work in human resources at NASA?
I was hired into NASA through the Presidential Management Fellowship Program (PMF). It is a wonderful program designed to get grad students to go into public service after finishing their graduate degrees. I went to a job fair for PMF fellows and got stuck in a traffic jam next to the NASA table with someone who worked at the Johnson Space Center in Houston. We had a great conversation and ultimately that led to a job offer with NASA in Houston. Sometimes you're just in the right place at the right time by accident!
Have you come to appreciate the uniqueness of your job?
It is a unique job-NASA is one of the few organizations in the world hiring astronauts and overall is probably one of the coolest places to work. It was an honor to participate in NASA's Astronaut Selection Process. I met some amazing Americans who are at the top of their fields. Some days I'd leave the office after reading hundreds of amazing resumes and think to myself, "WOW-I'm a real slacker!"
What is the most rewarding part of your job?
The most rewarding part of my job was getting to participate in the phone calls to the 12 individuals NASA selected to be astronauts. It was an emotional day for everyone-knowing the 12 new astronauts had achieved a lifelong dream; and knowing we (NASA) had completed an intense selection process to get to that point. Listening to their individual reactions was amazing!
"Space exploration is part of our country's future. As NASA explores the solar system, it is also advancing science and technology that ultimately benefits life on earth. "
Anne Roemer '97
What impact did your Roanoke experience have on your work life today?
I participated in the Honors Program while at Roanoke; and loved that the curriculum was structured to demonstrate the inter-relatedness of everything in the world. Professors had high expectations of students; and focused on the importance of developing strong verbal and written communication skills-skills that have helped me every day.
Regarding the astronaut selection process: What does it take to whittle down such a large applicant pool?
NASA received ~18,300 applications for the Astronaut program this cycle-more than ever before. So, it took some patience and hard work to whittle down the applicant pool. But, we had a great team of astronauts and other NASA leaders who helped. I read some amazing resumes and learned a lot about a wide variety of technical fields in the process.
How have you handled all the recent media attention? (We spotted you on "The Today Show"...)
The media attention on NASA and its human spaceflight program has been wonderful. NASA is working hard to ensure our country stays at the forefront of human exploration of our solar system. And the "Today Show" appearance-well, that was a dream come true for me.
NASA seems to getting quite a bit of media attention lately. Is it because space and space exploration is experiencing a resurgence?
I think there has always been a keen interest in space exploration. NASA has captured America's imagination since its inception, but now has access to a wide variety of ways to share its story-from regular media venues to social media, and even pop culture is helping (movies such as "Gravity" and "The Martian"). NASA has an exciting mission and is trying to engage the public, as well as inspire the next generation of explorers.
Why should we care about space exploration? What lies ahead?
Space exploration is part of our country's future. As NASA explores the solar system, it is also advancing science and technology that ultimately benefits life on earth. For example, every day there is cutting-edge medical and scientific research happening on board the International Space Station-research aimed at solving complex challenges on earth.