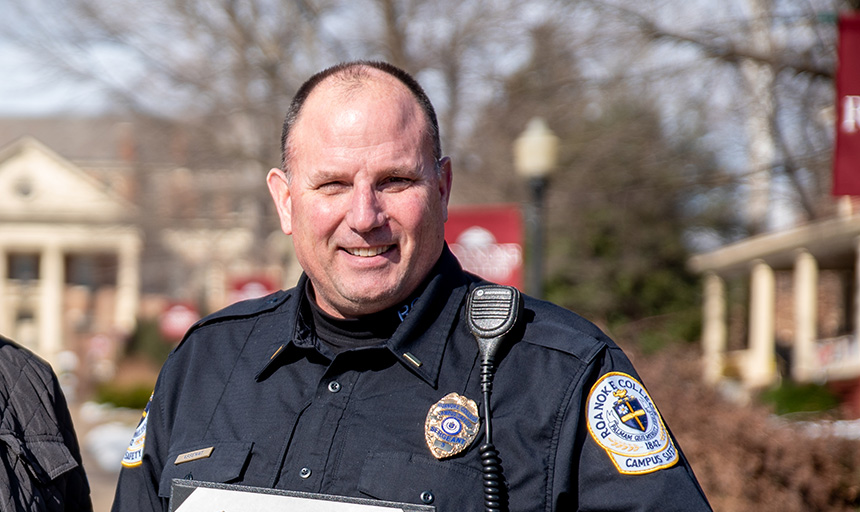 Campus Safety Officer concludes decorated military career
For as long as he can remember, Roanoke College's Office of Campus Safety's Lt. Kevin Assenat wanted to serve in the United States Armed Forces. Assenat did just that, retiring July 1, 2022, from the United States Army Reserve after 36 years of dedicated service.
When Assenat was a child, listening to stories about the military was a familiar pastime. His great uncle, Sgt. Maj. Robert Leachford, served in the United States Army Special Forces, also known as the "Green Berets," and made it his personal mission to ensure his great nephew continued the important duty of protecting the country.
"He served in World War II, Vietnam, and Korea and was always an inspiration to me," said Assenat. "I don't know if I would have joined the Army Reserve if it wasn't for him."
In 1986, at just 17 years old, Assenat enlisted in the U.S. Army Reserve, attending basic training at Fort Benning, Ga., the summer before his senior year of high school at Patrick Henry High School in Roanoke, Va. Once Assenat earned his high school diploma in 1987, he returned to Fort Benning to complete Advanced Individual Training where he learned technical skills necessary for on-the-job duties.
While remaining on the Reserve list, Assenat pursued law enforcement. In 1989, Assenat started with the Roanoke City Police Department as an auxiliary officer. Two years later, he joined the force as a full-time officer, serving Roanoke City until 2014.
However, his Army Reserve duty never stopped. In 1995, Assenat attended drill sergeant school and eventually became a drill sergeant 1997, which he credits as a highlight to his military career.
"I loved it," said Assenat. "It was rewarding because I was working with basic trainees, transforming them from civilians to military personnel. I felt that I had an impact. A trainee always remembers their drill sergeant."
In August 2005, Assenat was called to active duty, serving in Iraq during Operation Iraqi Freedom. During this mission, as a team sergeant, he led a 10-man Military Transition Team to train Iraqi battalions on how to plan, conduct, and sustain military missions.
"Realistically, we were the eyes and ears for the American Army," said Assenat.
December 2005, though, brought Assenat's efforts to an unexpected halt. Wounded with shrapnel in his right eye, Assenat was transported to Walter Reed National Military Medical Center in Washington, D.C., where he spent four months recovering and rehabilitating. It took another nine months to fully recover.
After recovering, Assenat returned to training Army recruits, eventually transferring in 2008 to the Army Reserve's career group to counsel soldiers in southwest Virginia on their reenlistment options or to offer support to soldiers deciding to unenlist or transfer to another unit.
In 2012, Assenat was promoted to Master Sgt. all the while continuing his law enforcement duties for Roanoke City Police.
Once retiring from the Roanoke City Police Department in September 2014, Assent joined the College's campus safety force a month later, utilizing both his law enforcement and military experiences as a guide for interacting and building relationships with the College's students.
"The best part is the students," said Assenat. "There have been students that have graduated and stayed in touch and even students who have gone into law enforcement themselves that have reached out and asked for advice. Again, that impact is so important to me."
Assenat's daughter, Haley, graduated from Roanoke College in 2019. After Roanoke, she went to Radford University for a Bachelor of Science in Nursing and is now a labor and delivery nurse at Carilion New River Valley Hospital.
Joe Mills, director of campus safety, said Assenat "diligently develops relationships with students and campus colleagues alike and approaches his job with thoughtful care and consideration."
"What stands out the most to me about Lt. Assenat's professionalism is the fact that he is a servant leader who approaches his responsibilities each day with a high degree of humility," said Mills. "His life experiences in the field of law enforcement and the United States military have served him well. He is a testament to one finding his place and purpose in life in service to others."
For years, Assent remained committed to his Army Reserve duty while also serving Roanoke College. Altogether, Assent was awarded a variety of medals and badges from the Army including a Purple Heart, Combat Infantryman's Badge, a Bronze Star Medal, a Global War on Terrorism Service Medal, two Meritorious Service Medals, three Army Commendation Medals, five Army Achievement Medals, an Iraq Campaign ribbon, a drill sergeant badge, a career counselor badge, and many more.
While Assenat's military service is complete, he continues working to protect the College's campus.
"It's all about helping people," said Assenat. "That's why I do what I do."