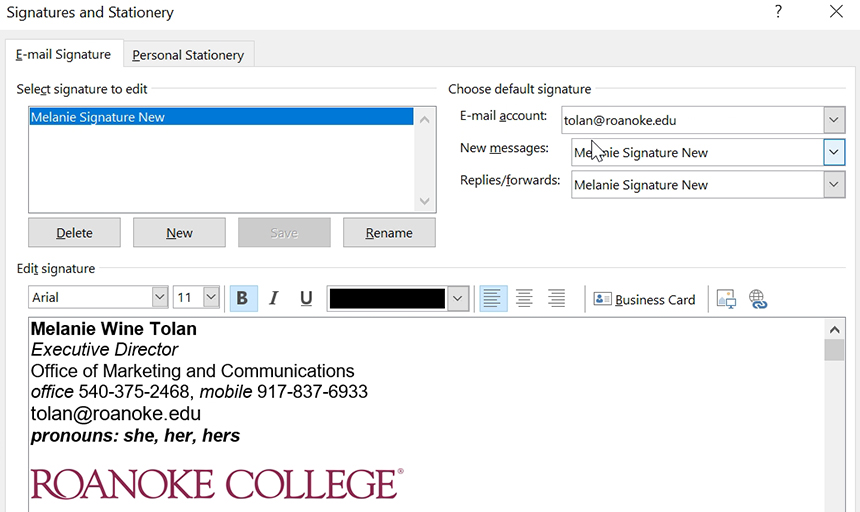 Blog: New Year, New Email
From Melanie Wine Tolan, Executive Director of Marketing and Communications:
Hi everyone and Happy New Year! Today, the Office of Marketing and Communications is rolling out a new email signature for all Roanoke College employees. Please change your email signature ASAP.
Why?
Our current "business card" email signature was due for a refresh. Marketing and Communications, together with IT, created the new email signature style, which can be viewed at the end of this correspondence. It is a simpler layout to account for clarity and accessibility. (Please note that the Roanoke College logo below is within our current branding guidelines. The horizontal layout and white background is more web friendly, and if you click on the logo it takes users directly to the Roanoke College website.)
How?
For the new signature, you first need to create your new email signature here: https://itapp.roanoke.edu/signature
Then, please follow these instructions for implementation: https://helpdesk.pages.roanoke.edu/?s=email+signature&post_type%5B%5D=st_kb
You will have the option to customize your signature, and include more or less information than shown in the example below. Please do not include vCards, photos, tag-lines, external links or additional quotes in your signature.
Note: the instructions above are for the Microsoft Outlook Client installed on office desktop and laptop computers. Due to the variety of mobile devices and the fact that not all mobile devices are owned/supplied by Roanoke College, these instructions are only for college-owned computers. As a reminder, the web email client (mymail.roanoke.edu) does not support graphic logos.
Who?
Everyone employed by Roanoke College should change their email signature. (It will take less than 8 minutes to create!)
When?
Please change your email signature as soon as possible. Our goal is to have all email signatures changed to the new format by the end of January.
Please contact helpdesk@roanoke.edu, 540-375-2225, Monday – Friday 8 am to 5 pm, with questions or if you need help.
Thank you!