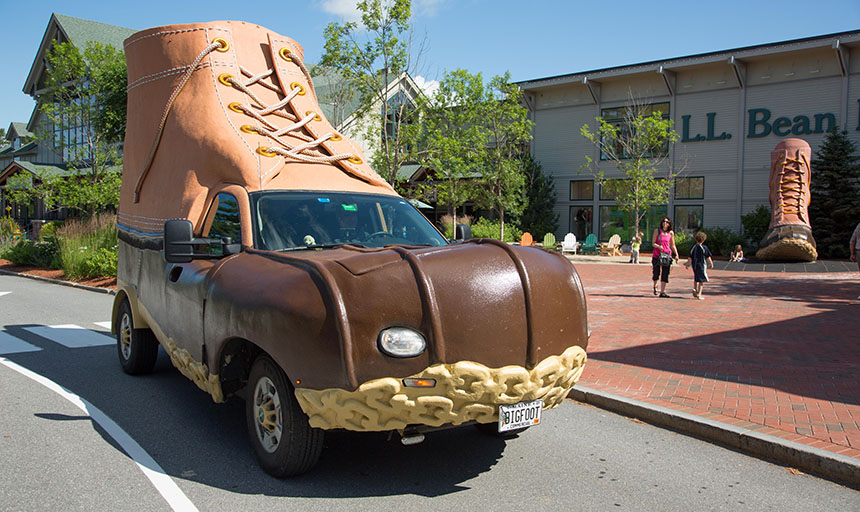 L.L.Bean Bootmobile rolling onto campus in November
L.L. Bean recognizes that Roanoke College's location in Virginia's Blue Ridge is perfect for celebrating the outdoors, that's why the now iconic L.L. Bean Bootmobile will visit campus on Monday, November 4.
The L.L. Bean Bootmobile will be accompanied by a mobile pop-up shopping experience, for a day of celebrating the outdoors and shopping for fall-weather gear. The L.L. Bean pop-up shop will be open on the Back Quad near the Colket Center from 10 am to 5 pm. L.L. Bean boots, t-shirts, jackets, flannels, fleece and backpacks will be available for purchase (credit card purchases only) and available to take home that day. A discount of 20 percent is available to students. Games, giveaways, and a drawing for a $300 L.L.Bean gift card will be included. Dogs that visit the pop-up shop receive free bandanas.
Roanoke College's Outdoor Adventures and Student Activities office will be hosting activities on the Back Quad to celebrate the outdoors as well. Look for hands-on opportunities like slack lines and mountain bikes or stop by to make a friendship bracelet or s'mores.
Measuring in at almost 12 feet tall, the L.L. Bean Bootmobile looks exactly like a giant "Bean Boot." It's built on a GMC Sierra HD chassis frame and is made of aluminum and fiberglass construction. The shoelaces are made of 12-strand braided mooring rope, capable of towing 106,000 pounds.
If it was a real boot, the person wearing the giant boots would be approximately 143 feet tall – that's 32 feet taller than the Statue of Liberty – and the boots would be size 708!