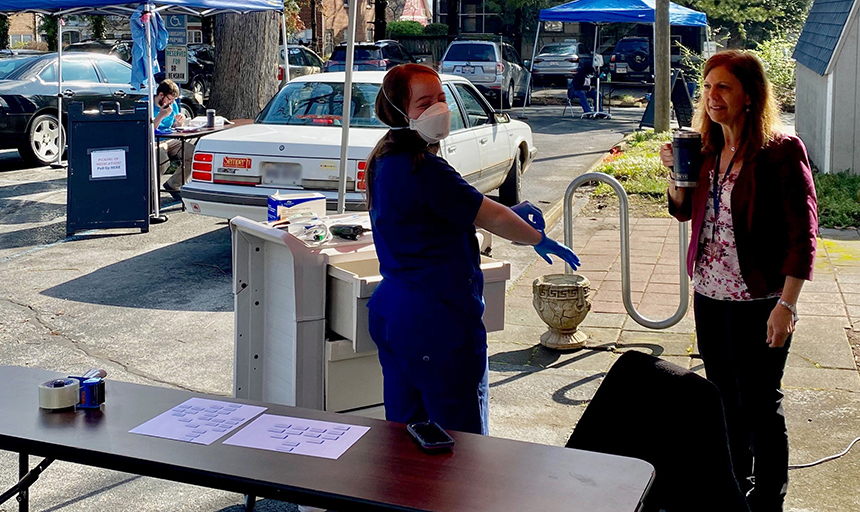 3.26.2020
By Roanoke College News
Junior helping out on 'front line' of virus spread
Caitlin "KK" Sharkey '21 was getting valuable experience from her internship at the Bradley Free Clinic in Roanoke.
She got to sit in on board meetings and shadowed Executive Director Janine Underwood. Sharkey was convinced this internship would set her apart from other applicants as she prepared to apply to physician assistant school in the future.
Then everything changed.
As COVID-19 relentlessly spread around the world, the Bradley Free Clinic was caught in a whirlwind of a public health crisis. Many of the volunteers, Underwood said, have had to tend to their families or focus on their full-time jobs during this time. Fortunately for the clinic and its clientele, Sharkey was there.
Sharkey, who's from Roanoke, volunteered to stay and help keep the clinic afloat. Now, she's spending much of her time in a tent outside the clinic, screening patients for COVID-19 and other ailments.
"She's on the front line of everything we're doing here," Underwood said. "She's been amazing."
Sharkey continues to take all of her classes, doing so from under the red tarp in the clinic's parking lot. Sharkey is the first person people talk to as they come to the clinic. In many cases, they are people who have benefited from the clinic's services in the past and are returning for their usual medication or appointments.
In some cases, though, people are dropping by because they fear they might have the virus. Sharkey screens them there under the tent, taking their temperature and asking a variety of questions. If a person has symptoms matching those of COVID-19, Sharkey administers flu and strep throat tests. If those tests come back negative, Sharkey helps refer them to Carilion Clinic, where they can be tested for the virus.
Sharkey and her co-workers at the Bradley Free Clinic are covered head to toe in protective gear. Sharkey said it's somewhat frightening to come face-to-face with the virus, but she said she's willing to take that risk.
"It's just more worth it for these people because they don't have anywhere else to go," Sharkey said. "If we close down, they aren't going to get the medications they need or the treatment that they need."
Sharkey has even taken the extra measure of living alone during this time. Her father had bronchitis recently, and Sharkey said she doesn't want to put him at risk.
Growing up in the Roanoke area, Sharkey has always been well aware of the services the Bradley Free Clinic offers. She said she's known people who have benefited from the clinic, and she's seen the clinic make major positive changes in people's lives. As a Public Health major, Sharkey is required to do an internship before she graduates, and interning at the clinic ended up being a perfect fit.
"It's just more worth it for these people because they don't have anywhere else to go. If we close down, they aren't going to get the medications they need or the treatment that they need."
Caitlin "KK" Sharkey '21
The opportunity to work with the clinic arose in the fall semester of 2019, when Underwood came to speak at Roanoke College. Sharkey's advisor, Dr. Kristen Schorpp, made sure to introduce Sharkey and Underwood beforehand. After talking to Underwood and then hearing Underwood speak, Sharkey decided she wanted to do her internship with the clinic.
Schorpp, an assistant professor of sociology and the internship coordinator for public health and sociology at the College, said Sharkey's work with the clinic is "admirable" and that it represents the kind of opportunity a student can get at Roanoke.
"Her experiences in community outreach, clinical care, and grant writing are exactly what public health internships are all about — supporting community health initiatives while gaining valuable, career-building experience," Schorpp said.
It's been an eye-opening experience for Sharkey, and one she won't soon forget. When she started this internship, she hoped that it would help her stand out on her application for PA school as she competed against biochemistry majors. After this experience, she'll certainly stand out.
But personal gain isn't at the top of Sharkey's mind as she serves a population that desperately needs the help. And she's learned much more at Bradley than just how to run a board meeting or take someone's temperature.
"I just think that being a CNA, a doctor, whatever you want to be, it's all about helping people and not about getting paid," Sharkey said. "A lot of people want to be a doctor for the money, but here, everyone is here because they want to help people."