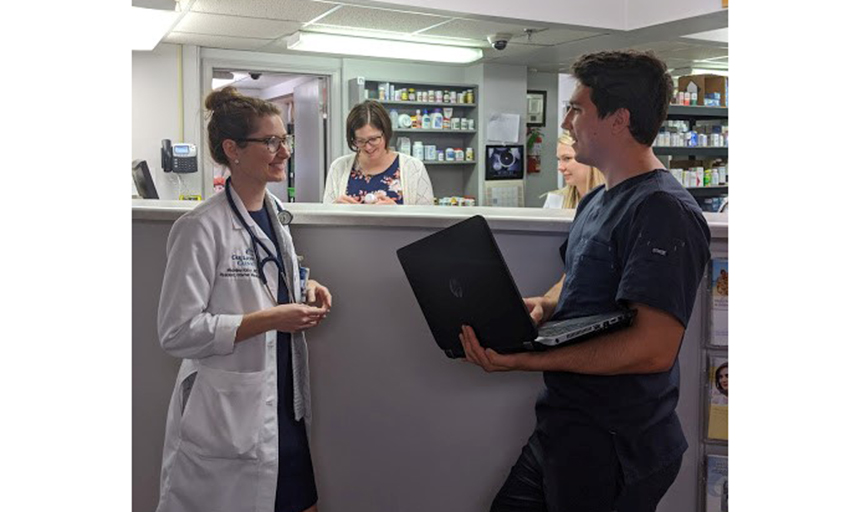 Alec Carlson, a Roanoke College senior, with an internal medicine resident from Carilion at the Bradley Free Clinic.
Roanoke College enjoys partnership with Bradley Free Clinic
Janine Underwood, executive director of the Bradley Free Clinic, visited Roanoke College this week to talk about the clinic's role in the Roanoke Valley, and about the clinic's unique scribing collaboration with the College.
Underwood discussed the important services the clinic provides to Roanoke-area residents — free, high-quality medical, dental, mental health, and pharmacy services for low-income and underserved people. She, too, discussed the opportunities offered to Roanoke College students through a medical scribing collaboration, in which students have received hands-on experience.
Medical scribing — which involves charting physician-patient encounters in real time, such as during medical examinations — can be one of the best ways for students to receive hands-on clinical experience and understand what is required to be a healthcare professional.
Alec Carlson '20, a biochemistry major at Roanoke, has been a participant in the scribing collaboration.
"The Roanoke College scribe program with the Bradley Free Clinic is what I see as a perfect arrangement for both a prospective medical student and the community," he says. "The program provides me and other pre-health students with the clinical hours we need — and the program is a great way for Roanoke College students to make a meaningful impact on an underserved community in our local area."
Below, Janine Underwood delivers the Hylton Lecture on campus.