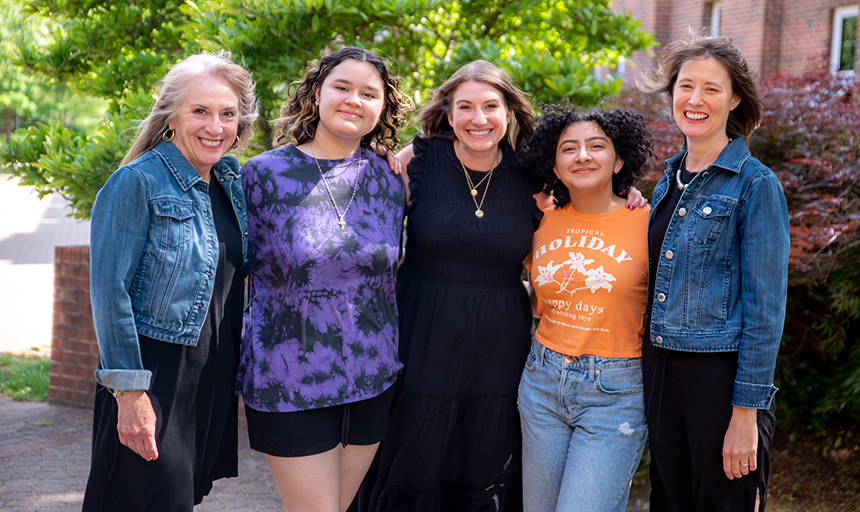 Left to right: Associate Professor of Education Lisa Stoneman, Jasmin Avila '27, Education Lecturer Karin Kaerwer, Aimee Velasquez '27 and Associate Professor of Education Jennifer McCloud. Avila and Velasquez will be the first two students to attend Roanoke College under the Bridges Program, which was created by professors in the Education Department to help recruit more future teachers of color to Roanoke College and surrounding school divisions.
New partnership aims to increase teacher diversity in local schools
Jasmin Avila '27 remembers what cemented her decision to become a teacher.
While she was visiting elementary school classrooms as part of the Teachers for Tomorrow program, the William Fleming High School senior noticed the look on children's faces when they learned something for the first time.
"I think that is what sealed the deal for me," she said, "just interacting with the kids and seeing that when they learn something new that is really big to them, it amazes them."
Now, Avila is about to be one of the first two students to attend Roanoke College through its new Bridges Program, which aims to recruit aspiring teachers of color to the College, where they can earn degrees in education and then secure jobs in a local school division.
Professors in the Education Department at Roanoke won't be the only ones monitoring the success of students like Avila in the Bridges Program. The program was recently selected as a Research-Practice Partner (RPP) in the National Center for Research on Educator Diversity (NCRED) at the University of Houston. The Bridges Program is one of only three such programs in the country that was chosen to join the Greater Houston Community Teacher Equity Development Program as an RPP, and it is the only liberal arts school in the mix.
"We are honored on two fronts: to work so closely with nationally renowned researchers such as Conra Gist at the University of Houston and Margarita Bianco at the University of Colorado Denver, and to represent the eastern part of the nation in this exciting work," said Associate Professor of Education Lisa Stoneman, who is chair of the Education Department. "We're looking forward to gathering in Houston this summer with our research partners to set our next steps in motion."
As an RPP, the Bridges Program will help build knowledge about how scholars and practitioners can partner effectively to improve teacher diversity nationwide. It couldn't happen at a better time: Data from both the U.S. Department of Education and Pew Research Center indicates that 79% of teachers in America are white. Local figures are more troubling: In Roanoke City, 83% of teachers are white. In Salem, that figure jumps to 92%, and in Roanoke County, 96% of the teachers are white.
According to NCRED, at least half of U.S. public school students are Black, Indigenous or people of color, and research shows that having teachers who look like those students or have similar backgrounds has a positive impact on student achievement, engagement and other outcomes, especially for students of color and Indigenous students. Failure to recruit, prepare and retain teachers of color and Indigenous teachers could put the future of students and the nation at risk, NCRED says.
"I think it's important that there are people who look like the students in the schools," said Avila, who is Latina. "I think students will have a better and deeper connection if they see teachers who are of their color or know where they came from."
Lecturer Karin Kaerwer and Associate Professor Jennifer McCloud, both faculty in Roanoke College's Education Department, remember starting their new jobs at Roanoke in 2020 and first seeing those local statistics.
"We thought, wow, the need is even greater than we originally thought," Kaerwer said, "so we started brainstorming and planning how we could move the needle on that statistic."
Even before their arrival, Stoneman and Lisa Earp, an associate professor of education emeritus, had been talking about updating the education curriculum at Roanoke. They were motivated in part by an email from a former student who had entered a Ph.D. program. The alumna wrote that she'd loved her experience in the education program at Roanoke, but she thought the curriculum could be more diversified. She suggested some additional texts that could be incorporated into class syllabi.
Kaerwer, McCloud, Stoneman and Earp began to craft a two-pronged approach that involves updating the curriculum to include more culturally relevant pedagogy and recruiting more future teachers of color.
Their answer to the second challenge was the Bridges Program, a partnership among Roanoke College, Roanoke City Public Schools, Salem City Public Schools and Roanoke County Public Schools that aims to identify aspiring teachers of color in local high schools, educate them at Roanoke College, and place them back in area school divisions after graduation from Roanoke.
"I think students will have a better and deeper connection if they see teachers who are of their color or know where they came from."
~ Jasmin Avila '27
The key to the program's success, Kaerwer said, is networking in the community, particularly within those integral partner school divisions. "I see our role as a lot of working behind the scenes to bring people together," she said.
It was especially important to the four female professors, who are all white, that they loop in people of color – including men – who could provide authentic feedback and champion the Bridges mission. That meant connecting with folks like Ken Belton '81, a member of the Roanoke College Board of Trustees and Virginia Western Educational Foundation's Board of Directors; Forest Jones '95, director of administrative services for Salem City Schools; and Lori Wimbush, assistant superintendent of secondary education for Roanoke City Public Schools.
The connections are beginning to bear fruit: Jones brought 32 students of color to a basketball game at Roanoke College, then talked to them about Bridges after the game. Eddy Janney, who leads the Teachers for Tomorrow program for Roanoke City, brought some of her students to a Bridges kickoff event in October that featured a picnic and games on the Back Quad. Two of those students were Jasmin Avila and Aimee Velasquez '27, both seniors at William Fleming High School in Roanoke who now plan to attend Roanoke College and become teachers. As part of their financial aid package, both received a Bridges scholarship.
Velasquez said Roanoke College was on her list of schools, but it was the personalized attention she got through the Bridges Program, including being able to interact with professors and sit in on their classes at Roanoke, that made her decide to become a Maroon.
"When I went over there for the Bridges event, I realized how welcoming the program was and how pretty the campus was, and I realized it was a really good opportunity," Velasquez said. "The professors in the Education Department are really cool – I love them, personally. I can't wait to get started with my classes and participate in the clubs and activities on campus."
Avila plans to teach art to students of all ages, while Velasquez hopes to teach high school history and share some of her family's Honduran culture with students.
"It kind of feels like my culture was not represented well in school," Velasquez said. "Getting those different perspectives from different races and genders is really important. If I'd seen that as a child, that would have been super cool."
More about NCRED
The National Center for Research on Educator Diversity (NCRED) is a research hub that was launched in 2020 at the University of Houston. NCRED is committed to dismantling inequity in teacher development systems through supporting the academic and professional advancement of ethnoracially, culturally and linguistically diverse educators.
NCRED has three aims for the knowledge base around educator diversity:
● ESTABLISH – Serve as the institutional home for the generation of knowledge grounded in evidence-based outcomes.
● DISSEMINATE – Facilitate dissemination of scholarship across a wide range of researchers, scholars and practitioners.
● APPLY – Serve as an organizing hub for innovative research practice partnerships committed to educator diversity.
All of NCRED's Research-Practice Partners (RPP) are committed to increasing the presence and retention of Teachers of Color and Indigenous Teachers in high-need schools through one of 11 domains of inquiry described in the Handbook of Research on Teachers of Color and Indigenous Teachers, a knowledge project that involved the collaboration of over 60 researchers from a diverse set of universities across the nation. Together, these RPPs aim to strengthen the knowledge base about how RPPs focused on educator diversity function and sustain.