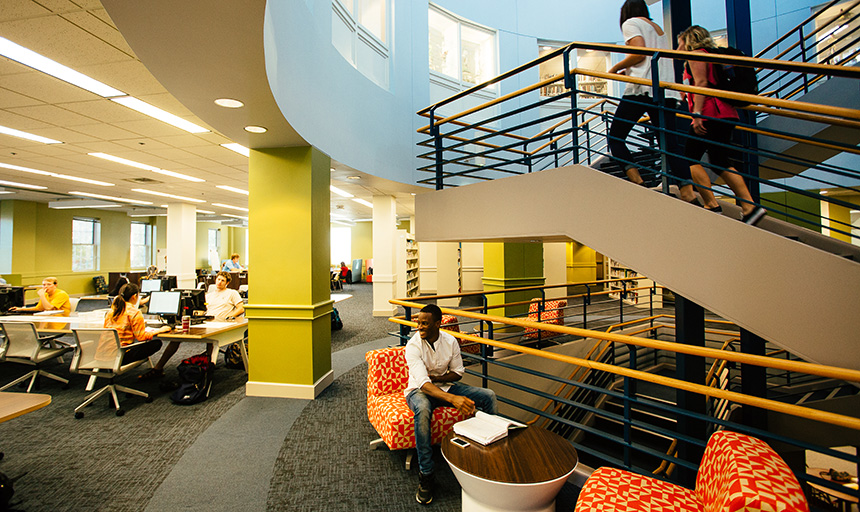 Grant from Cabell Foundation to upgrade spaces in Bast Center and Fintel Library
Roanoke College received a $250,000 challenge grant from the Cabell Foundation of Richmond to help fund upgrades in the College's education department and Bast Center lobby, the ground floor renovation of Fintel Library, and a future renovation of the Belk Fitness Studios.
The Cabell Foundation challenged the College to raise an equal amount for these projects and that challenge was fulfilled.
Education Department and Bast Center upgrades
The Education Department project will create teaching spaces that are aligned with the innovative learning that graduates will model in their own classrooms as they embark on their careers as teachers. The project includes upgrading three education classrooms with the latest teaching technology as well as modern, flexible furniture. The lobby of the Bast Center will also be updated to help tie the Bast Center with the aesthetic of the new Cregger Center.
Several alumni of the College's education program, a parent and an employee, as well as the Eugene M. Bane Charitable Foundation and the Marietta McNeill Morgan and Samuel Tate Morgan, Jr. Trust supported the project with donations.
Humanities Collaboration Center in Fintel Library
The Fintel Library project will create a Humanities Collaboration Center on the library's ground floor. The center will include a flexible, multimedia classroom and lecture venue for the humanities, improved public areas to accommodate individual learning and small group activities, and technology upgrades that align with today's teaching and learning methods.
The Humanities Collaboration Center benefitted from gifts by several Roanoke alumni, a Roanoke parent and a member of the Roanoke College Board of Trustees. The Virginia Foundation for Independent Colleges provided a capital grant to upgrade study rooms.
Elizabeth McClenney, director of Fintel Library, partnered with others on campus to pursue a grant from the National Endowment for the Humanities. Part of that grant award, announced in April, served as a matching funds to help meet the Cabell challenge.
Future Bast Center fitness studio renovations
The Cabell challenge also included a future project to renovate the fitness and dance studios in the Bast Center. The former fitness center (which moved to the new Cregger Center) will be separated into three unique group fitness spaces, with two as fitness studios and one a new dance studio with a springwood floor. This would allow the College to add more fitness classes to meet student demand. The fitness studio project will begin once full funding is secured.
The Cabell Foundation, founded in 1957, was established as a private, non-operating foundation to support the permanent needs of organizations throughout Virginia. Since its inception, the foundation has provided permanent gifts and challenge grants to a diverse mix of nonprofit institutions.