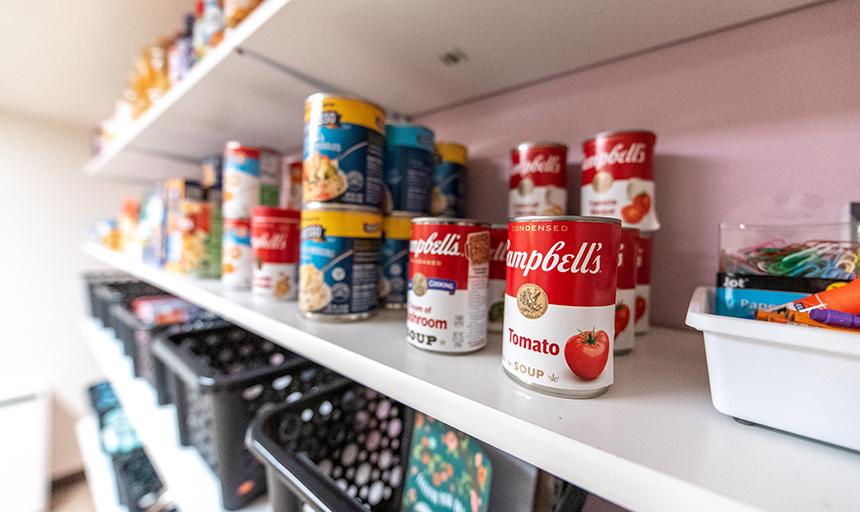 New campus pantry meets student needs at no cost
College can be demanding for any student, but when one lacks basic necessities such as personal hygiene products or food, the pressure to keep up with academics, extracurriculars, a social life and self-care can be downright overwhelming.
That was the concern that drove Ellasen Spangler '22, assistant director of residence life and housing at Roanoke College, to collaborate with resident advisors (RAs) on a new campus pantry that offers a wide variety of necessities at no charge. One Campus Pantry, which officially opened on Jan. 19, is located in Wells I and is open to all students with Maroon Card access every day from 9 a.m. to 9 p.m.
"If you are not feeling well, strong and connected, you aren't going to progress well in college," Spangler said. "All students deserve to be on a level playing field."
When Spangler was a student at Roanoke College, she saw peers borrowing essentials from other students in the dorms or shouldering the stress that comes with financial insecurity. Lewis Edwards '24 has noticed the same issues in the Wortmann Complex, where he is the head resident advisor. Both said that although the Office of Residence Life & Housing is more than willing to meet student needs, some students are too embarrassed to reach out for help.
"I think there is a general feeling that Roanoke students have everything they need and it is a wealthy school, but that's not necessarily the case," Edwards said. "There are plenty of students who don't have everything they need because they can't afford everything or maybe don't have family support, transportation or time to work a job. I think this pantry is important because it helps people that may not want to speak up about not being able to afford a tube of toothpaste or body wash."
After discussing the issue with RAs, Spangler began collecting items in her office over summer 2022. As word spread, she began to receive donations of money and goods, and the collection quickly outgrew her space. Jimmy Whited, director of residence life and housing, gave her the green light to locate a permanent space on campus to house the pantry.
"If you are not feeling well, strong and connected, you aren't going to progress well in college. All students deserve to be on a level playing field."
Ellasen Spangler, assistant director of residence life and housing
It was imperative that the pantry be located in a low-traffic area where students could visit anonymously to avoid embarrassment. Spangler found a storage room on the lower level of Wells I that fit the description. Better yet, it is located next to the College's new commuter lounge, which also opened earlier this month. The commuter lounge provides comfortable seating, two computer stations, and access to kitchens and laundry rooms. The idea is to give commuter students, of which there are more than 350 at Roanoke this year, a space to relax or catch up on work, meals or chores between classes.
"The pantry was El's passion project, and the commuter lounge has been mine," Whited said. "It has been on my heart for a while. We wanted to give them a permanent home, and commuter students, who are not on meal plans, could use the assistance provided by the pantry."
Spangler said the pantry was partly inspired by Out of the Closet, a service that provides free clothing for transgender and gender non-conforming students at Roanoke College. The closet is sponsored by the Department of Religion and Philosophy and the Center for Spiritual Life & Campus Ministry. It is located in West Hall 324 and is open anytime West Hall is open.
Spangler credited a number of people with helping to make the pantry a reality. Spangler's father, Bobby Spangler, and friend Josh Parks built and donated the shelves. Her mother, Heather Spangler, helped paint a colorful mural on one wall. Spangler outfitted the room with a comfy chair and a side table that holds a wish book where students can jot down items they need but did not find in the pantry.
It didn't take long before donations of cash and products began to pour in. Spangler said she prefers product donations, which are more transparent than cash, but greatly appreciates every donation. Melanie Trexler, associate professor of religion and philosophy at Roanoke, was a constant cheerleader for the project who connected Spangler to the Virginia Synod for help with donations. The Virginia Synod donated a pile of hygiene products. Spangler's longtime friends, Hunter and Anne Moore, made a cash donation, and Semtner Dental of Roanoke supplied toothbrushes, toothpaste and dental floss. A number of faculty and staff also contributed.
Now, the pantry is flush with everything from feminine hygiene products, shampoo and deodorant to foodstuffs like peanut butter, canned soup and raisins. It also offers notebooks, pens and other school supplies.
"I believe the pantry is going to be extremely valuable," Edwards said. "I think now that it's open, we'll see even more of the community come together, and it's going to be a great resource for those who need it. We're all in this together, and this is one campus. Nobody should be deprived of the basic things that they need."
To learn more about donating to One Campus Pantry, including current needs, email Ellasen Spangler at spangler@roanoke.edu.