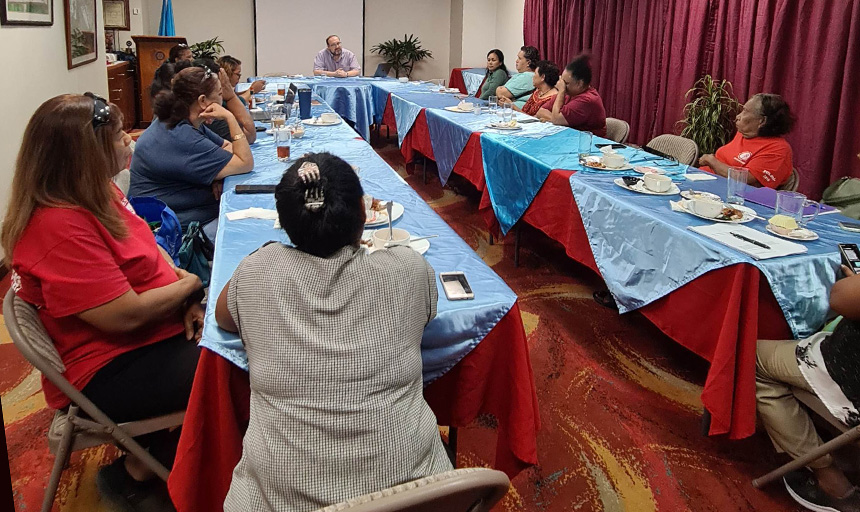 Chad Morris presents to a group at the Palau Health Summit. Photo by Selma August.
Chad Morris presents at Palau Health Summit
Chad Morris, professor of anthropology, was a featured presenter at the 2023 Palau Health Summit. Morris was invited by the Palau Ministry of Health & Human Services to give two presentations at the event: "Utilizing Policy, Systems, and Environmental Change Strategies for Advancing Health Equity" and "Leveraging Partners to Reduce the Burden of Chronic Disease."
Morris has long had a special interest in public health programs in Palau and has taken several Roanoke College classes to the island nation located in the western Pacific Ocean in the past. The presentation on chronic disease was a project that Morris and his classes worked on. Morris and two students, Selma Sosic '23 and Hailey Draper '23, conducted focus groups around this topic while in Palau last year. They also conducted interviews with mammography screening staff, physicians and members of the Belau Cancer Society.
This fall, Morris' class on the anthropology of global health analyzed that data. The final report, which Morris shared at the health summit and with community partners last month, detailed the barriers working against screening goals in the country and ideas to help leaders and their health partners increase screening rates. The themes for improvement centered on several areas: improving physician and clinician interactions, reducing costs associated with mammography and breast cancer treatment, improving the mammography clinic, sharing information more effectively and improving community support.
Morris' travel to Palau was supported by the Palau Ministry of Health & Human Services, Roanoke College and the VFIC Mednick Faculty Fellowship program.