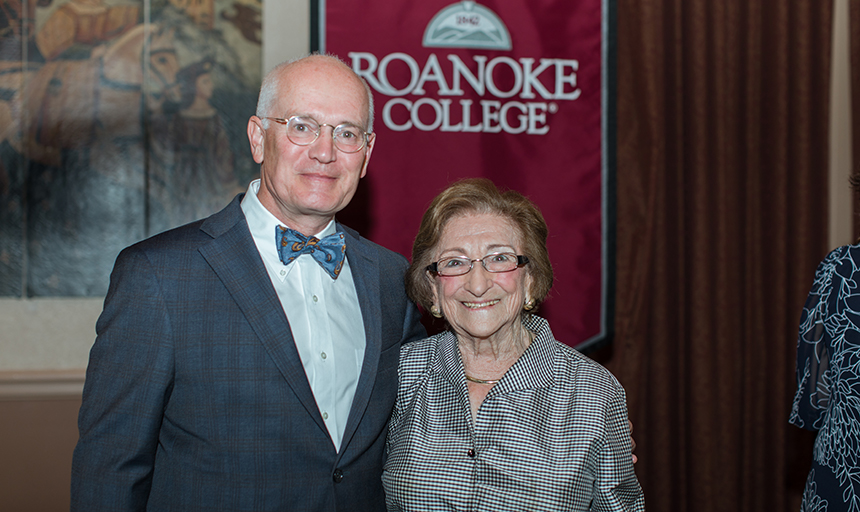 Regine Archer receives Charles Brown Award from Roanoke College
Roanoke College has recognized former president and current chairman emeritus of Blue Ridge Beverage Company, Regine Archer, for her many contributions to the city and College communities.
The award is given each year to a Salem resident who has made significant professional and civic impacts on the city's quality of life. It is named for Dr. Charles Brown, the College's first dean and a former mayor of Salem.
Archer, who was born in Poland in 1924, was forced to assume a false name and hide in a convent in Belgium following the Nazi invasion until the area was liberated in 1944. She met her husband, American James Archer, while working for the U.S. Army.
The Archers moved their family to Salem in the 1950s and purchased Blue Ridge Beverage Company, where they worked together until James's sudden death in 1972. Regine took over as president and grew the company into one of the largest wholesale beverage retailers in the commonwealth of Virginia. At 94 years old, Archer currently serves as chairman emeritus of the company.
Archer's graciousness has benefited the college and Salem communities, and the commonwealth as a whole, in a number of ways.
Among them, the Archer Family Endowment within the Salem Educational Foundation, established in memory of her late husband. Awards from this endowment are made to academically outstanding graduates of Salem High School who plan to attend a four-year college or university. Additionally, she has been a loyal supporter of Roanoke College and created the Regine Archer Endowed Scholarship for International Students and has served on the College's Fine Arts Endowment Committee.
Archer's nominator had this to say of her many civic contributions: "Regine is a pillar of the community and always advocates for programs and initiatives which better Salem. As an individual and a business owner in Salem, Regine embodies what it means to be a Salemite. She is innovative, loyal, proud, and industrious."