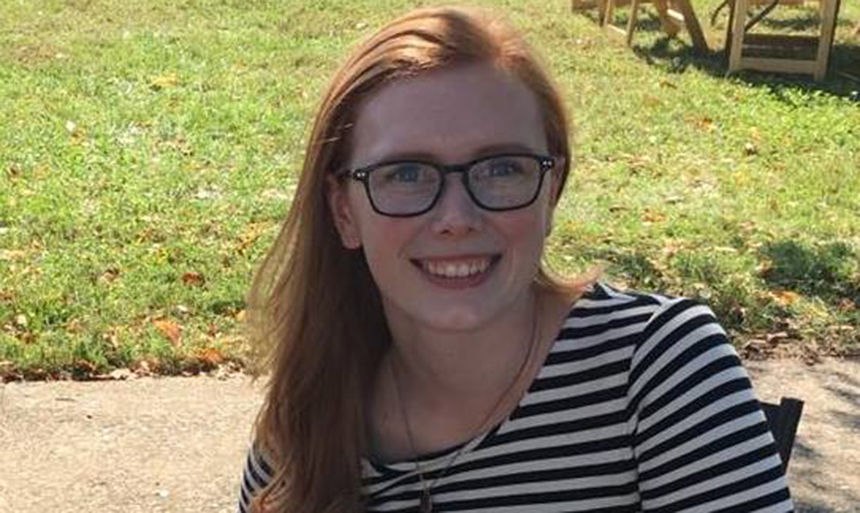 Alumna heading to Nepal with Fulbright honor
When Claire Kirchoff '17 was a student at Roanoke, she witnessed a friend learn that she'd been selected as a Fulbright Scholar. The friend was in Commons when she found out, and students all around were applauding her and congratulating her accomplishment.
When Kirchoff found out this spring that she'd been selected for a Fulbright English Teaching Assistant (ETA) Award, the celebration was a little different. Other Fulbright candidates on Slack — an online group chat application — congratulated her with comments and emojis.
"Having the Slack page was kind of like a virtual version of that where everyone was happy for each other," Kirchoff said.
That doesn't lessen the excitement, though, as Kirchoff is looking forward to where the Fulbright ETA will take her — to teaching English in a village in Nepal. She's scheduled to be there from March to December 2021.
The Fulbright U.S. Student Program provides grants for individually designed study/research projects or for English Teaching Assistant Programs. During their grants, Fulbrighters will meet, work, live with and learn from the people of the host country, sharing daily experiences.
Two Roanoke alumni were selected this year. Paige Stewart '20, a communications and Spanish major from Lititz, Pennsylvania, has been selected for a Fulbright ETA to Taiwan. Nepal and Taiwan are both first-time destinations for Roanoke Fulbright scholars.
Kirchoff, born and raised in Nashville, Tennessee, graduated from Roanoke in the spring of 2017 with a psychology degree and then finished her master's in educational psychology from the University of Virginia in the fall of 2018. During her time at Roanoke, she saw multiple friends earn Fulbright grants and travel the world with them.
She didn't consider applying for the program until a few years later, and had a couple choices of how to go about applying. She could have gone through UVA, the bigger and more nationally recognizable school, but then she thought back to all her friends who had earned Fulbrights at Roanoke.
She thought about the individualized attention they got, and how familiar the advisors were with the students. Kirchoff saw that hundreds of UVA students were applying for Fulbrights, while only about a dozen Roanoke students were submitting applications.
So Kirchoff reached out to Major Scholarships and Fellowships Director Jenny Rosti, who already knew Kirchoff by name.
"It just made more sense to me to go with someone who knew more about me and knew more about my experiences," Kirchoff said. "Even though UVA's a bigger name, a bigger school, it just made more sense for me to go with Jenny. She knew me, you know?"
Rosti said she was elated to have Kirchoff come to her in the spring of 2019 for help with the application.
"Knowing several of our students who had received Fulbrights, she said she figured she would receive more personal attention from us than from the larger school," Rosti said.
"It just made more sense to me to go with someone who knew more about me and knew more about my experiences. Even though UVA's a bigger name, a bigger school, it just made more sense for me to go with (Roanoke Major Scholarships and Fellowships Director) Jenny (Rosti). She knew me, you know?"
Claire Kirchoff '17, on why she chose a Fulbright advisor from Roanoke instead of UVA
The story of Kirchoff's interest in Nepal begins in a small village in Nicaragua and ends in a Charlottesville middle school.
While she was a student at Roanoke, Kirchoff went to a village in Nicaragua with a few other students to help them conduct research for a senior thesis.
"I absolutely fell in love with the country and living in a village and being disconnected from greater society," Kirchoff said. "I was like, 'This is great. When can I do this again?'"
While she was finishing her master's at UVA, she tutored middle school students in Charlottesville. She found there's a surprisingly large Nepali population in Charlottesville, and she was fascinated to compare her experience to theirs. Not only did she tutor them in English, but she traded stories with the students and learned about the differences in their cultures and upbringings.
"We had a lot of conversations comparing what school is like here in America and what it was like back in Nepal and the differences in the teaching and the differences in just being at school," Kirchoff said. "Being at school is different, and the environment is different for them."
When she was applying for Fulbright, she learned that she didn't speak Spanish at a level high enough to go to a Spanish-speaking country such as Nicaragua. But there wasn't a language requirement for Nepal, and Kirchoff had a personal connection to Nepali immigrants. So she applied for the program in Nepal — and got it.
Kirchoff hopes her time in Nepal also helps her continue her educational pursuits She's aiming to get a Ph.D. in educational psychology (building off her current master's, specifically examining the role of education in rural countries that haven't been Westernized. While the bigger cities in Nepal such as Kathmandu are somewhat westernized, the rural areas are not, Kirchoff said.
"Out in the country, they have very little connection with the outside world, and I'm very interested in how much of a role education and Western classroom settings play in that world," Kirchoff said.
Kirchoff and the others selected for the Fulbright programs are carefully monitoring the state of international travel amid the COVID-19 pandemic, but she's hopeful that the world will return to normal by next March.