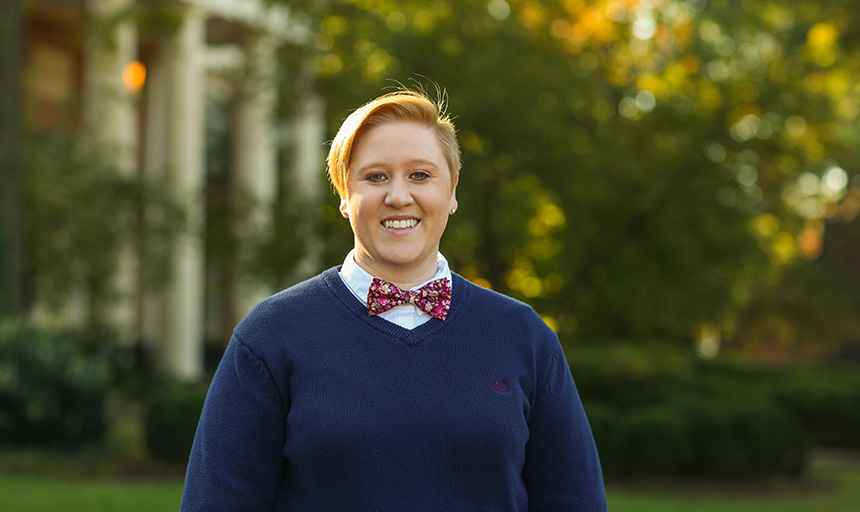 Clark receives PEACE Award from Southeastern Association of Housing Officers
Rachael Clark, associate director of Residence Life & Housing at Roanoke College, has been honored with the PEACE Award from the Southeastern Association of Housing Officers.
The Providing Educational Advocacy for Cultural Excellence (PEACE) Award is presented to a member of the Southeastern Association of Housing Officers (SEAHO) who has made outstanding contributions to the region through the advancement of diversity and multiculturalism. That might include advocacy, leadership, mentorship, educational initiatives or programming.
In addition to her regular job duties at Roanoke College, Clark acts as the LGBTQ+ coordinator on campus, where she serves students by matching them with mentors, advocating on their behalf and helping them with other needs. She is also sponsoring a new intentional learning community next fall that will house students without regard for gender or sex.
Clark has received the SEAHO Outstanding Service Award for the Commonwealth of Virginia twice, won Advisor of the Year in 2022 for her work with the student group RC Pride, and was awarded the Garren Diversity Award from the Office of Multicultural Affairs in 2022. In addition, she was named one of Roanoker Magazine's 40 Under 40 for 2023.
Upon learning about the 40 Under 40 honor, Clark told the Roanoker Magazine: "I am passionate about Roanoke College and the students we serve. Our LGBTQ+ population on campus is growing, and it is providing a fountain of diversity that is just stunning to witness and exciting to be a part of. It is life-giving and life-changing."