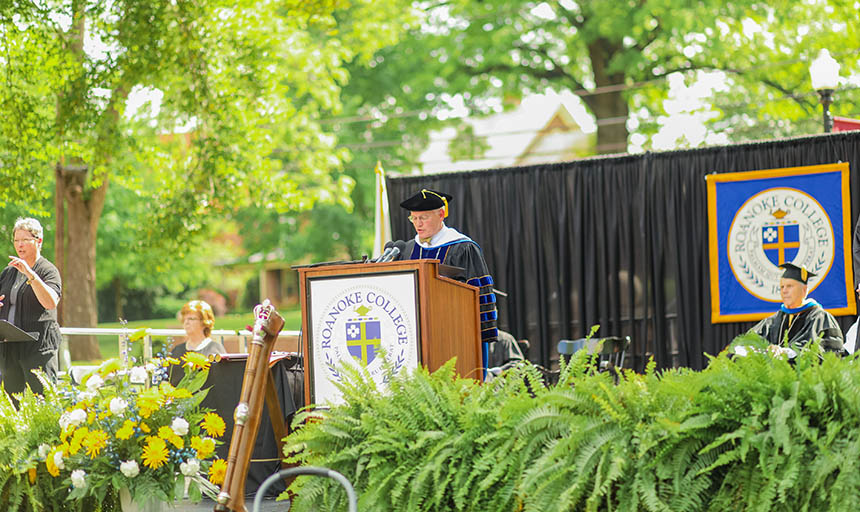 Commencement 2019 President's Welcome
Welcome Class of 2019, honorary degree recipients, and everyone who shares pride and admiration for our graduates' achievements.
The glow of graduation is enhanced by our presence on the Turbyfill Quadrangle. Thanks goes to the many people who made it possible. Thanks to Susan Rambo, our marshals, our registrar's office, our ushers, our safety staff, our buildings and grounds and housekeeping staff and all faculty and staff.
Special thanks to our music ensemble under the direction of Dr. Marc LaChance and to the Roanoke College Choir under the direction of Dr. Jeff Sandborg for adding pomp and circumstance to our ceremony.
"The most momentous duty of one generation to the next is its education" said our founder, David Bittle. Parents, we thank you for rising to your "most momentous duty" to this Class of 2019. Class of 2019, please join me in expressing your appreciation to your families. And it is perfectly acceptable to wave.
"How we spend our days, is, of course, how we spend our lives" said Annie Dillard.
You spent many days as you lived your lives at Roanoke.
You arrived here on August 29 four years ago. The temperature was 82 degrees.
Sean Burch, alumnus and Mount Everest climber, was with us. You built Roanoke's 9th Habitat for Humanity home.
Then days took flight.
During your days, you enjoyed lomo saltado or burrito day in the Sutton Commons, hung out at Mill Mountain, visited Sheetz late night. You were the voice of the Maroons. Theology on Tap, FOTQ, sunrise hikes, Peace Month occupied your days and nights. ODAC tournaments, Pi Day, and Philanthropies occupied more.
Hammocks bloomed on quads. You listened to WRKE.
You relayed for life. You were Stats Crew. Participated in your first presidential election and talked about political issues at Teach-Ins. You considered the statue and what to do about it.
You witnessed the end of Cregger Center construction and the beginning of enjoying it. There were demanding lessons in classes. There were the Lessons and Carols of Christmas. Prez Balls included "Letting the Good Times Roll" and "Partying Like Its 1842". You celebrated Roanoke's 175th anniversary and helped curate Paper Blooms. You made your Pitch. You presented your INQ 300 final work. You studied storm water and Roanoke's environmental footprint. You were All-American, conference champions and contenders, players of the week.
You filled printers with ink for papers written for INQ classes. You worked with the Garden Club and Beekeeping Club between trips to National Parks, Spain, Belize, Ghana, Japan, Rome, and Sweden. There were applications for Fulbrights, Gilmans, Oxford, and Harvard to complete.
You worked in senior seminars, business policy, honors projects. You set up Colket Events and started the Riverfest. Toys Like Me were shared. Who can forget Bingo nights with amazing prizes? Who could forget the semester in Washington? You showcased research before you visited Parkway and Old Salem.
Formals took place at Billy's. Informal conversation happened daily on paved walkways. You painted the Rock.
You celebrated Lunar New Year and observed of Passover. You looked for parking spaces on your way to class.
There were Martin Luther King events and Our Town performances. There were long nights studying before the sun broke on Darwin Days.
You costumed in top hats and bonnets for Bittle's Birthday. On Concept's Edge consumed you. You turned consumed at Mac and Bob's and Macado's. Diversity Dine-Ins and Catawba Challenges focused you. You sold t-shirts in Colket for your philanthropy. Martin Luther arrived in statuary form.
You wrote and read Brackety-Ack and Pravda.
Tarantino was basic. You answered in Quiz Bowl. Maroon Alerts advised you to move your car from Market Street.
So much to recall- so much to remember- so much to reflect. But there was more happening in the world as you spent your days.
While you were attending senior seminar or INQ 240 the world sped on.
3 new prime numbers were discovered during your Roanoke days. The latest has over 24 million digits. Four new chemical elements were added.
The Olympics took place in Brazil and the Republic of Korea. David Bowie, John McCain, and Justice Antonin Scalia died. Charlottesville shocked. Kim Jon Un perplexed.
Hamilton took Broadway by storm. Storms Maria, Irma, and Harvey wreaked havoc. A solar eclipse passed. SpaceX recycled rockets. CO2 was recycled into stone. A warm-blooded fish was found.
Women marched in 50 states. The Nation paid more attention to the National Anthem than ever.
There were mass killings in Europe and the United States. The Supreme Court ruled on same sex marriage.
MeToo became a movement. Brexit cannot find an exit. Zika lurks. ISIS waxed and waned and waxed. The Chicago Cubs broke their curse. We saw Mars, Jupiter, Saturn, Pluto, and Ultima Thule closer than ever as we left our Solar System. Doctors grew human vocal chords from scratch.
While you wrote your reports, Robert Mueller wrote his.
Syria, Flint, and Orlando became grave concerns. Jon Snow, Cersei, and Daenerys vied for the Iron Throne. A Leonardo da Vinci painting sold for $450 m.
The phrase "fake news" reveals over a billion Google results.
As I close this welcome, let's contrast real Roanoke to the world's obsession with fakery.
What happened during these days at Roanoke is real. By real, I mean authentic and genuine. The faculty and staff want your Roanoke take-away to be real.
We believe what happens here is different from other places in a real way.
And here is what makes Roanoke real.
When you arrived you received a coin with a challenge. With the coin you pledge yourself to Roanoke's reality. On your coin, it listed pursuit of truth, commitment to community, service to others, and doing your personal best. Those 4 statements are "real Roanoke" and they can help you for the rest of your days.
It goes like this…
Pursuit of truth…
Your mind is far better equipped about how to think. Use those skills in the pursuit of truth. Reject half-truths and those who peddle them.
Commitment to community…
You understand what it means to belong to a community. You have the lasting, deep relationships that community imparts. Treasure them and find new ones. Transfer your sense of community and relationship to the world. Your value in building community is real.
Serve Others…
The world needs you to serve and assist others. Just do it. The needs of others are pressingly real.
Do your personal best…
You worked hard here on exams, with papers, in leadership, in wins and losses, in research or performing, in competing and completing, in struggling with ultimate questions and purpose. Based on your effort, you can feel confident about your potential influence on the world. Do your best.
Four real aims at Roanoke. Pursue truth, contribute to community, serve others, do your best.
As I welcome everyone to this glorious Commencement Day, let's celebrate and remember what is "real Roanoke". Hold it close.
Congratulations and welcome to all.