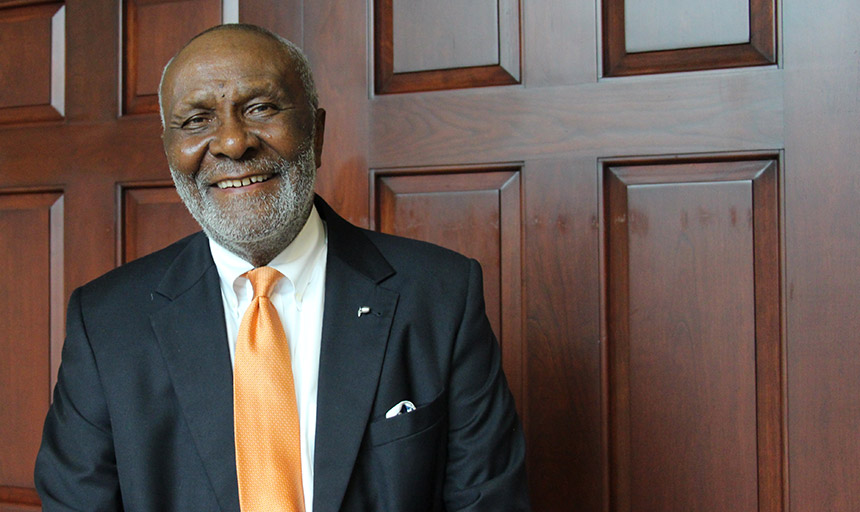 6.21.2017
By Roanoke College News
Lewis honored for impact on education in Roanoke Valley
Peter Lewis' life is a testament to his calling - to help guide young people on a positive path.

This longtime Roanoke City teacher, principal and coach and founder of an educational nonprofit for children was recognized Wednesday for his impact on education in the Roanoke Valley.
Lewis received the Margaret Sue Copenhaver Contribution to Education Award during a luncheon that marked the conclusion of an annual three-day training conference at Roanoke College for teachers and administrators.
The Margaret Sue Copenhaver Institute for Teaching and Learning, held June 19-21, is named for Copenhaver, a retired teacher from Richmond who demonstrated a passion for teaching. The Institute, which opened in 2000, is funded by an endowed gift from Copenhaver's sister, Helen Hanes. Administrators of the Institute select a recipient for the Copenhaver Award, given bi-annually, who they believe exemplifies the late teacher's commitment to education.
"This is a distinct honor and one that I will not ever forget," said Lewis, while accepting the award. Lewis, a native of Washington, D.C., moved to the Roanoke Valley in 1975 and bought a farm in Copper Hill.
There he hoped to one day accomplish his goal - to create an educational retreat for less fortunate children. He went on to work for 25 years in Roanoke City schools in various roles, including as a teacher, coach, assistant principal and principal of an alternative education program for troubled students.
"Imagine the number of lives he has touched."
Connie Herman, a member of the Institute's steering committee
Throughout this time, Lewis and his family began hosting educational camps for children at their farm. Eventually, their work became Apple Ridge Farm, a nonprofit organization that gives low-income and inner-city children opportunities to learn through academic, outdoors and sports camps.

"Imagine the number of lives he has touched," said Connie Herman, a member of the Institute's steering committee, about Lewis' work at Apple Ridge Farm at the luncheon.
Thousands of children have participated in Apple Ridge Farm's educational camps since 1978 when it became a non-profit.
Herman described Lewis as "a person that we could always count on" in the school system.
"He knows those children and always knew what they needed when they needed it," she said.
Lewis' son, John Lewis, now runs Apple Ridge Farm as executive director. Peter Lewis, who is retired, still is involved, largely in its fundraising efforts.
Peter Lewis has earned other accolades. In 1995, he received the Humanitarian Award for the Roanoke chapter of the National Conference of Christians and Jews. He also was named Philanthropist of the Year in 1999 by the Association of Fundraising Professionals First Virginia Chapter. The American Red Cross honored him as a Community Impact Hero in 2005.
More than 150 educators from Virginia, North Carolina, South Carolina and Ohio attended this year's Institute. The Institute offered workshops and other training based on the theme, "21st Century Skills: Inspiring Creativity in the Classroom."