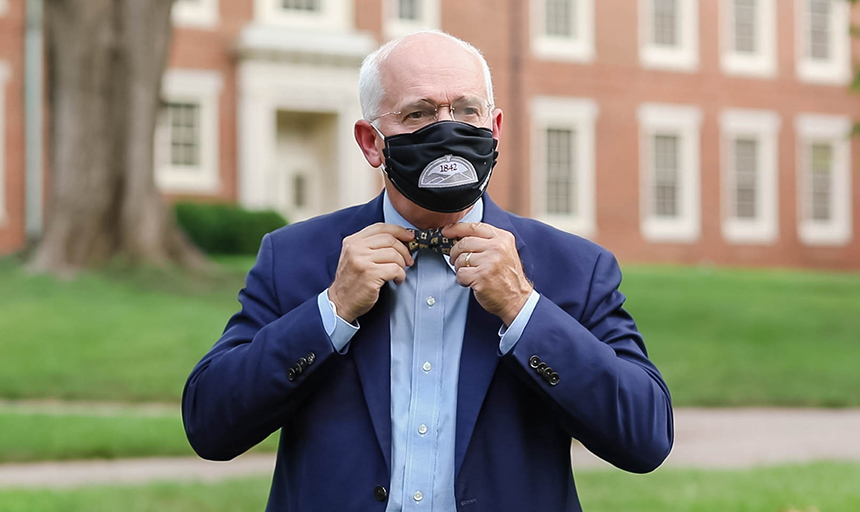 COVID-19 update from Pres. Maxey
Dear Maroons,
This is an urgent and important communication. As of this morning, we have 70 students with confirmed cases of COVID-19.
We must work together to get this under control immediately. The next few days are a critical situation for our spring semester. It is our hope that everyone will take this situation seriously and adhere to our guidelines in order for us to finish the semester in person and on campus.
We also have our Class of 2021 graduates in mind. Let's make sure they can finish their spring semester on campus – it's important to our seniors and all of us!
While I am speaking to all of our students - I know there are many of you who have taken our guidelines seriously since the beginning. Thank you for wearing your mask, sanitizing your hands and maintaining your distance. I thank you for doing the right thing.
Unfortunately, many of our students are not doing this consistently. We need you to step up and do what is right – for you, for your friends and family and for our college community.
Report test results
We have reports that many students are being tested off campus and not reporting positive results to Student Health Services. This is not helpful for anyone and potentially dangerous for the students, faculty and staff around you. Our revised COVID-19 policies for this year require students to report symptoms of COVID-19, positive tests, and possible COVID-19 exposure.
Avoid gathering at off-campus establishments
Most of the cases we are aware of have been related to socializing at off-campus venues. Please consider your off-campus behavior. Just because you can go to a bar and socialize without your mask while you are "eating or drinking" doesn't mean you should do this. Doing so is directly putting your fellow students, your faculty and staff and their families at risk.
Actions taken by the College
We have taken several actions to attempt to address the COVID-19 outbreak on our campus. If these measures do not bring the outbreak under control, it is a possibility that we will have to complete the semester with remote classes and ask students to return home immediately. None of us want this outcome.
Students must report symptoms of illness or a positive COVID-19 test to student health services.

This is part of the College's COVID-19 policies.
Most in

-

person events need to go virtual

or be postponed.

The College is

temporarily suspending

in-person social events and activities,

unless they are

authorized

by the College, and meeting all COVID-19 protocols.

If you are considering attending an off

-

campus, non-col

lege sanctioned event,

DO NOT

.

T

his

practice has led to the current and other outbreaks

.
Residence Hall visitation has again been limited to those who live in the residence hall. No visitation from other residence halls or from off

-

campus students will be allowed until further notice.
Additional living spaces are being prepared to serve as isolation

room

s for students.
Many of our frontline employees, such as dining staff, health services, housekeeping, campus safety and residence life are on the front line every day doing their best to serve students. We need students to appreciate the risk these staff members are taking. Please do what you can to minimize the risk to these and other employees and their families.
Vaccines
Many of you have received a vaccine or are in the process of being vaccinated (had the first shot but waiting on the second shot.) A reminder that someone is not fully "vaccinated" until after they have received both shots (unless Johnson & Johnson) and two or three weeks have passed. The weeks following the final shot are critical to allowing your body to fully respond to the vaccine. You can still test positive once the vaccination process begins so caution is required. The College's COVID-19 protocols will continue to protect students and lessen changes of infection, even while the vaccination process is ongoing.
Stress levels
We are all tired of the pandemic restrictions. The fatigue has led to an increasing amount of stress for everyone. Students are stressed. Faculty and staff are stressed as well. Everyone is working hard to try to make it to the end of the semester. We recognize that and are trying to address this issue as well. I remind you of the resources available to you. Student Health Services is here to help you. Testing positive is not something students will be punished for but we need students to be honest with us. You may also need the resources of the Counseling Center or Maroon.Care 24/7 online telehealth. Please reach out when you need these resources. We can all work together to support one another.
A few days to re-boot
Let's use the remainder of this week and the weekend as a "re-boot" time for our campus. Let's go back to the basics when we were highly successful.
Complete the

Daily Health Assessment

at

covid.roanoke.edu

to report any COVID-19 symptoms you may have.
Wear your

mask

. In class, indoors when social distancing is not possible, and wear it off campus when socializing or in local businesses.
Wash your hands or use hand

sanitizer

.
Maintain six feet of physical distance.
Avoid

off

-

campus

venues

that are not taking COVID-19 seriously.
I will be communicating with you in the coming days. My hope is that over the next few days, I will see more cooperation from everyone.
This is a critical moment to help us get to the completion of a successful year. Let's choose to be successful together.
Please reach out if you have questions. You can contact questions@roanoke.edu.
Be safe, Maroons!
President Michael Maxey