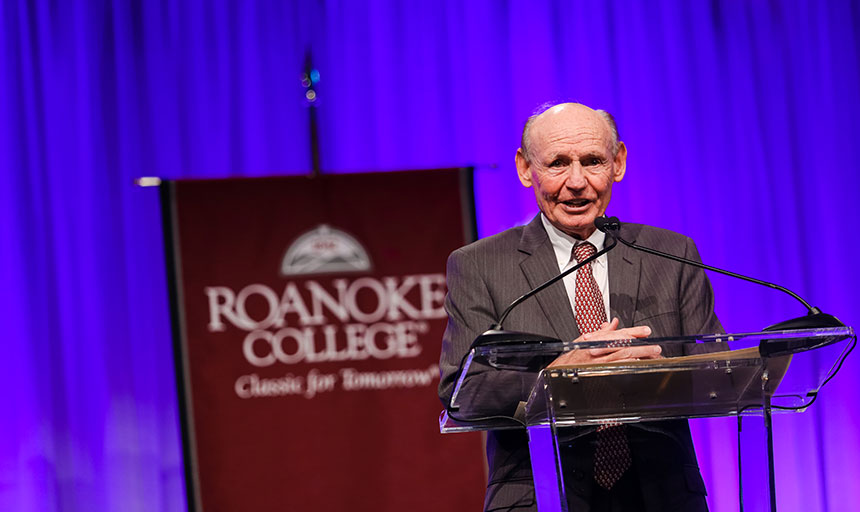 Morris Cregger '64, chair of Roanoke College's Board of Trustees, speaks to the crowd at the dedication ceremony for the new Morris M. Cregger Center.
Roanoke College dedicates new Cregger Center
His dream now is reality. Morris Cregger stood before a crowd that included long-time friends, members of Roanoke College's Board of Trustees, the College's faculty, staff and students and many others. At times, he fought back tears.

"There were hundreds and hundreds of people who came together to make this dream happen," said Cregger '64, as he spoke about the new Morris M. Cregger Center at Roanoke.
After several years of fundraising and construction, the athletic and academic center officially was dedicated on Thursday, Oct. 27 during a ceremony in its arena. The 155,000-square-foot facility opened in August. It rises five stories and features a 200-meter indoor track in the Kerr-Cregger Field House, a health and human performance lab, an athletic training clinic, a performance gymnasium, the Belk Fitness Center, team locker rooms and more.
The ceremony included remarks from Roanoke President Mike Maxey, Scott Allison, director of athletics, and Cregger '64, for whom the center is named. Cregger, who played four sports while at Roanoke, is chair of the College's Board of Trustees and a charter member of the Athletic Hall of Fame. He is CEO of Cregger Co., Inc., a South Carolina-based plumbing supply business with 32 locations.
Others who spoke included Board of Trustees members David Guy'75 and Nancy Mulheren '72 and Dr. Matt Rearick, chair of the College's Health and Human Performance department.
"This space engenders excitement," Rearick said. "You can feel it."
He explained that not only does the new center offer premium athletic space, it provides a home for Roanoke's Health and Human Performance department and its 200 student majors. The center houses a lab for the department, as well as classrooms and faculty offices.
For its athletic offerings, the Cregger Center and the area surrounding it already is in demand. It will host several national and state-level sporting events in the next few months. They include the Division III NCAA men's and women's national soccer championships at Kerr Stadium in December and the Virginia High School League's indoor track championships in February.
"The Cregger Center helps us to spread the good name of Roanoke College," said Allison, during the ceremony.
Other features of the new center include Luther Plaza, the outdoor space at the center's entrance on High Street, where a statue of Martin Luther stands. It was created by local sculptors, Betty and Polly Branch.
At the back of the center is an outdoor patio that overlooks Kerr Stadium. The patio is named Pirro Patio in memory of former Roanoke lacrosse player and coach, John Pirro '77.
More than $30.5 million was raised for construction of the Cregger Center. Its estimated economic impact is $1.4 million annually.
"Today is a day to revel in what we shaped," said Maxey, during the ceremony. "The Cregger Center shows us what we can do together to make Roanoke College a better place."