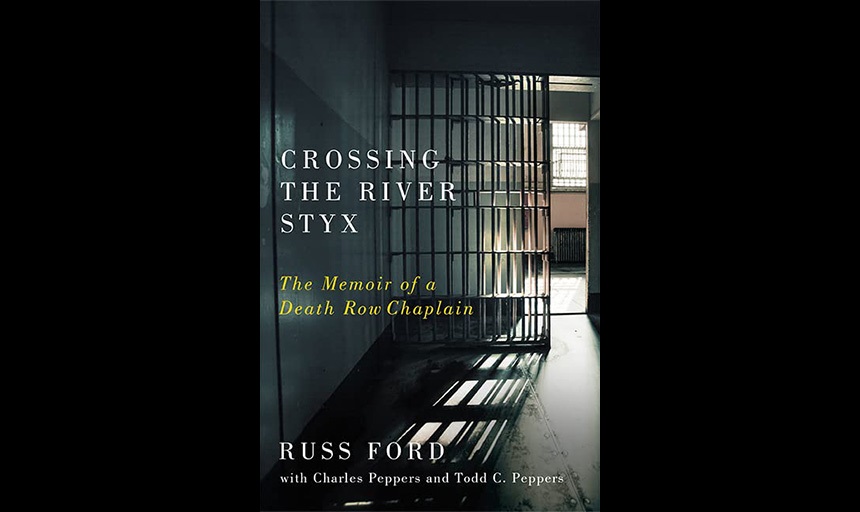 A new book co-authored by a Roanoke College professor guides readers through the shrouded world of death row. Published by the University of Virginia Press, it was released in March, coinciding with the anniversary of Virginia's historic decision to become the first Southern state to abolish the death penalty.
'Crossing the River Styx'
For more than a decade, the Rev. Russ Ford walked through the valley of the shadow of death, ministering to men in their final moments on death row.
Ford served as head chaplain for the condemned in Virginia prisons through the 1980s and 1990s. He built relationships, often spanning years, with his charges. Broken men. Hopeless men. Scared men and unrepentant men.
Ford often saw parallels between his work and that of a guide of myth shepherding souls to the River Styx for their journey into the next world. Now, on the second anniversary of Virginia's abolishment of the death penalty, he's opening up about his experiences in a new memoir, "Crossing the River Styx," co-authored by Roanoke College Professor Todd Peppers.
"It's difficult to write about the death penalty because, often, the men at the center of it are gone," said Peppers, Roanoke's Henry H. & Trudye H. Fowler Professor of Public Affairs and coordinator of the Turk Pre-Law Program. "But Russ is a witness to it. He stood with these men in moments that were sacred and painful. In one execution that took place, Russ said he felt like he was spiritually and emotionally pulled across the river, too. That he went with the man somewhere.
"No one who's stepped into one of these death houses comes out unscarred. That's one of the reasons I help write these books. The people who do this work deserve to be recognized."
The new book is the third that Peppers has been part of delving into the shrouded world of the death penalty. He previously co-authored "A Courageous Fool: Marie Deans and Her Fight Against the Death Penalty" and "Anatomy of an Execution: The Life and Death of Douglas Christopher Thomas." His oldest child, Charles, a recent graduate of Grinnell College, also co-authored the Ford memoir.
In a recent chat, Peppers shared what drew him into working on this complex issue and why he feels these stories are vital to preserve.
Professor Todd Peppers (left) worked with the Rev. Russ Ford to chronicle Ford's years of service as head chaplain on Virginia's death row.
Peppers' work in capital punishment research started during his second year at Roanoke College when he taught a seminar class on the subject.
"I brought in lots of speakers with different experiences. Two local prosecutors who tried a death penalty case. A woman whose young daughter was murdered and who fought against the death penalty being applied.
"Then I brought in Laura Anderson, who was a spiritual adviser to the second-to-last juvenile offender executed in Virginia. Hers was the first book I agreed to do. I met Helen Prejean, a Catholic nun who wrote 'Dead Man Walking.' Through her, I met Marie Deans, who had been diagnosed with cancer and who wanted to tell her story. She became the second person I wrote about.
"These folks, it's hard for them to write their stories alone. It's hard for them to get emotional distance from what's happened. There is PTSD. They start reliving their memories, and there's a physical reaction. It's very difficult stuff."
Peppers' work in the classroom continues to explore the American judicial system with courses in constitutional law, judicial process and civil liberties. He's also brought in numerous speakers to meet with students.
"They get to engage with very bright people with unique experiences. And they're not preached at. It's a conversation. They meet people who've lived through something very different and have something valuable to share. They can ask hard questions and push back. We get into debates and discuss points and think about them. I think it's incredibly valuable for our students to have opportunities to interact with all these different types of players."
Peppers said he's come to see a clear, connective tissue between the experiences of people who've been plunged into the world of death row.
"The common theme in all this work is the damage and the trauma that the death penalty creates. To watch another person die, it tears at you. No one comes out unscathed.
"That's a complicated message. In this new book, we try to introduce people to that complexity. We try to convey the very flawed, damaged and oftentimes highly culpable nature of these men. The book is structured in such a way that Russ is your guide through this world, and he's showing you the full and profound human cost of state-sanctioned death. That's something I think Virginians need to know. These were our policies, and these were the consequences."
MEDIA SPOTLIGHT