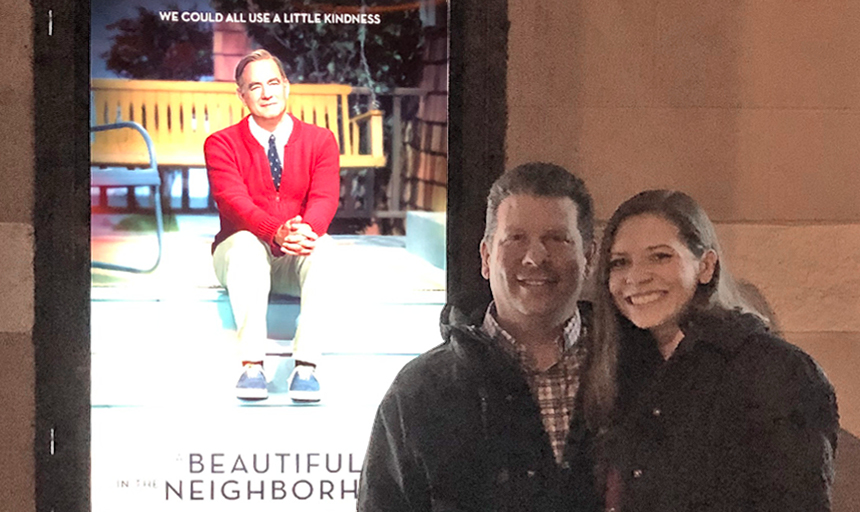 Dr. Crozier reflects on A Beautiful Day in the Neighborhood movie
There's been lots of talk about the new movie "A Beautiful Day in the Neighborhood," which tells the story of the real-life friendship between journalist Tom Junod and Fred Rogers, star of the children's television show "Mister Rogers' Neighborhood.'
Dr. Brooks Crozier '91, biology professor at Roanoke College, has a very special interest in this particular movie: Fred Rogers was Crozier's uncle, brother of Crozier's late mother, Nancy Rogers Crozier.
On November 22, Crozier and his family, including wife Jennifer Crozier '91, son Jamie, daughter Ellen Crozier Boeji '16 and her husband Brad, saw the movie in Roanoke on opening night. They wanted to see just how accurately actor Tom Hanks portrayed "Uncle Fred."
We asked Dr. Crozier to share a few thoughts about the movie.
I thought the movie was well done. Fred was such a unique individual that I felt it would be difficult to capture him in a role like this. Tom Hanks really captured Fred's demeanor and sensibility in some key moments in the film. The film is deeply emotional, touching on some serious themes.
And of course the moment I was waiting for … Before the filming began, the production team visited Fred and his wife Joanne's apartment in Pittsburgh to get the layout. They took actual items [to be returned] from the apartment in order to build and decorate a set. One item was a watercolor my mom painted and gave to Fred and Joanne. Mom joked that it would end up on the cutting room floor, but there it was in the film. I was so happy to see it. All I'll say is that if my mom had named the painting it would have been "Three bananas small" – a family inside silliness making this so much more touching.
There were also some really nice cameos, mostly in a restaurant scene. My aunt Joanne, for instance, is eating at one of the tables and has a really nice moment on-screen. Worth watching!
Want to see a clip of Crozier's mother taking him and his brother to visit "Mister Rogers Neighborhood?" Check out our story from earlier this year.
Crozier also sat down for an interview with WDBJ7 recently. You can see that story on WDBJ7.com.