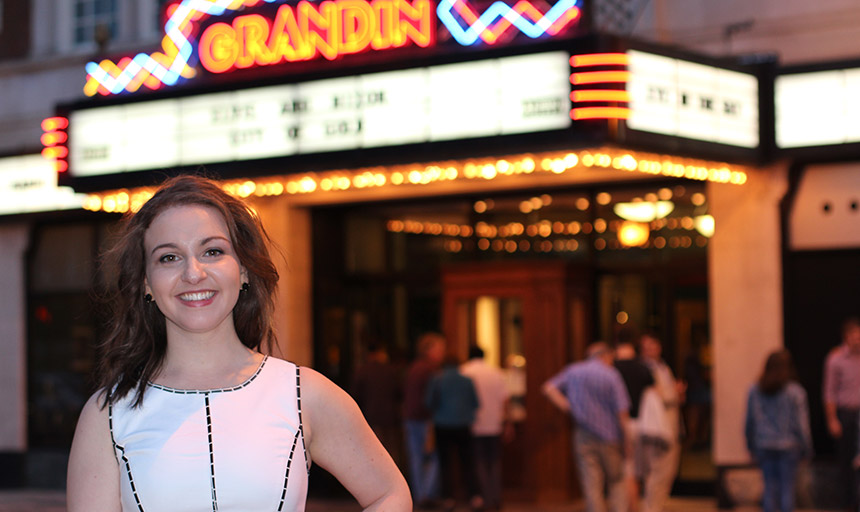 Steph Spector '16 at the premiere of "Daylily Day" at the Grandin Theatre in Roanoke last April.
1.17.2017
By Roanoke College News
RC student-produced movie lands spots at numerous film festivals
A film written and produced by a Roanoke College alumna debuted at several U.S. film festivals this past fall.

"Daylily Day," which features a young couple, a tragedy and a daylily festival, earned a spot at the following New York international film festivals - Big Apple Film Festival, Hamilton International Film Festival, Williamsburg International Film Festival and Hudson Valley International Film Festival. The film also made an appearance at the Richmond International Film Festival in Virginia.
At the Hudson Valley Film Festival, Dr. Diane Montgomery was nominated for Best Supporting Actress for her role as a doctor in "Daylily Day."
Stephanie Spector '16 wrote and produced "Daylily Day" during her senior year at Roanoke. The film debuted last April at Roanoke College and at Roanoke's Grandin Theatre.
"You can't make a good movie from a bad screenplay," said Joe Boucher '87, director of the Colket Center at Roanoke, who played a major role in helping Spector produce "Daylily Day." Boucher is a former Hollywood producer.
The writing skills that brought Spector's screenplay to reality also helped her land her current position at Gotham Writers Workshop in New York City as the director of contests and conferences.
"My main goal for this project was to have fun and empower students with hands-on filmmaking experience," said Spector. '"Daylily Day' was successful in those respects, so hearing that it got into festivals was like sprinkling funfetti over an already sweet cake."
Spector's final goal with "Daylily Day" is to make it accessible to the public online, and she said she is excited about future new projects.