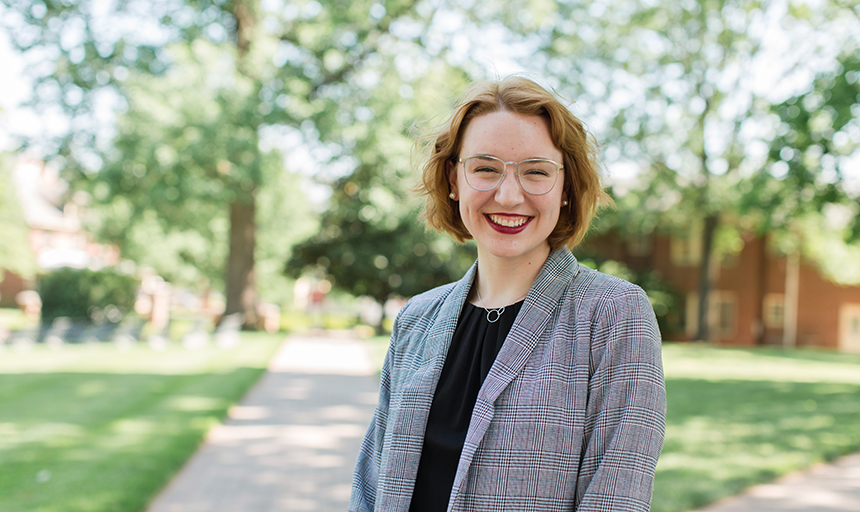 Destinee Harper '21 appointed to Fulbright Summer Institute in UK
Destinee Harper '21, a literary studies major and Spanish minor from Harrisonburg, Virginia, is the 8th Roanoke College student appointed to the US-UK Fulbright Summer Institute in the past 7 years.
"The Fulbright Commission's Summer Institutes, open to only US freshmen and sophomores, are insanely competitive – last year only 59 US students earned it," says Director of Major Scholarships and Fellowships Jenny Rosti.
Harper will spend four weeks in June and July at the University of Sussex where she will study "Britishness and British culture." Over the course of her time spent in England, she will explore Brighton, Bath, Stonehenge, and the Harry Potter set at Warner Brothers Studio.
"I was initially interested in the program because I really enjoy British literature, and I've been looking at train tickets to Bath so that I can visit Jane Austen country as well," Harper said. "Upon looking more in detail at the program, I realized how much more in depth it is. I will be acquainting myself with their day-to-day culture, which I am so excited for."
Harper is involved with the Student Center for Civic Engagement as a volunteer coordinator at the Samaritan Inn, serves as a resident advisor and an alternative break leader, and co-hosts a radio show called "An Hour of Dates" on WRKE. She also participates in the Best Buddies Club and was recently inducted into Sigma Tau Delta, the international excelled English honor society.
Fulbright Summer Institutes cover participants' major costs and provide them with a distinctive support and cultural education program, including comprehensive pre-departure guidance, enrichment opportunities in country and an opportunity to be part of the Fulbright alumni network.
The Commission selects participants through a rigorous application and interview process. In making these awards, the Commission looks not only for academic excellence but a focused application, a range of extracurricular and community activities, demonstrated ambassadorial skills, and a plan to give back to the recipient's home country upon returning.
Penny Egan CBE, Executive Director, US-UK Fulbright Commission said: "Study abroad is a truly transformative experience for so many of those who are able to participate in it. I know this year's cohort will make the most of this opportunity to immerse themselves in British culture and I'm sure this experience will leave a lasting impression, on both the Summer Institute participants and on those they meet and mingle with during their time here."