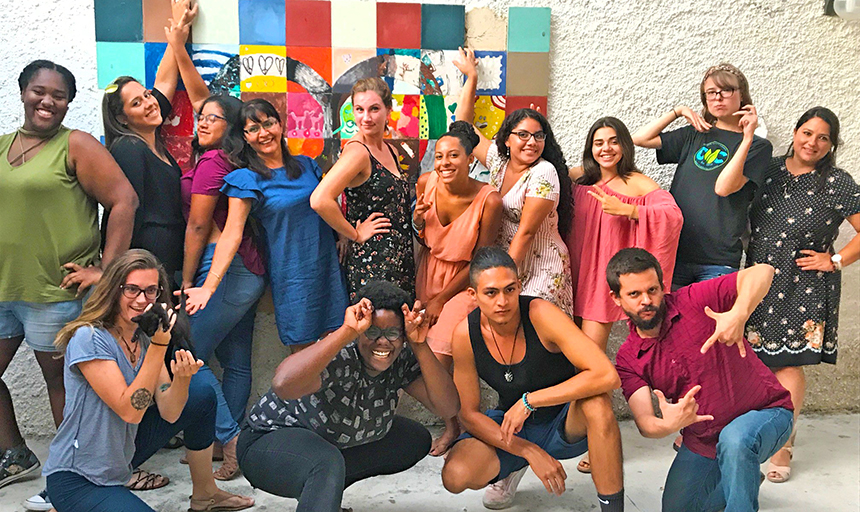 Ongoing Action to Focus on Diversity and Inclusion
The following communication was shared with faculty, staff and students on June 26, 2020.
To: Roanoke College Faculty, Staff and Students
From: President Michael Maxey and the Diversity and Inclusion Steering Committee (DISC)
Date: June 26, 2020
Subject: Ongoing Action to Focus on Diversity and Inclusion
This memorandum is written to inform you about Roanoke College's focus on diversity and inclusion. You can expect regular communications from the College and the Diversity and Inclusion Steering Committee in the future. Our plans and actions will continue to include feedback from students, faculty, staff, alumni and local community members.
On Friday, June 19, for the first time in our 178-year history, Roanoke College recognized Juneteenth, a day commemorating the effective end of slavery on June 19, 1865. The College also committed, on that day of commemoration, to communicate ongoing plans to focus on diversity and inclusion.
We know we must do more to support our Black students as well as all communities of color. Roanoke College has heard your calls for more – more commitment to, acknowledgement of and transparency around diversity at the College. We believe that together, we can make real progress. Following is a description of actions taken and plans for the future.
Diversity, Equity and Inclusion at Roanoke College
Though much has taken place during the past 20 years, we would like to highlight four pivotal decisions made to advance diversity, equity and inclusion at Roanoke College.
In 2000, Roanoke College formed the Office of Multicultural Affairs (OMA). OMA, marking its 20

th

anniversary this year, was formed to better support underrepresented minority students, while acknowledging the need to increase diversity and inclusion on campus.

In 2018, the College created the position of LGBTQ Coordinator, for the purpose of increasing the visibility of needs of our lesbian, gay, bisexual, transgender, and queer, intersex, asexual, plus, (LGBTQIA+) community members. The role of the LGBTQ Coordinator is to ensure that services and supports for LGBTQIA+ community members are adequately developed, implemented and available. Our LGBTQ Coordinator chairs the LGBTQ Advisory Council, established in 2019. The Council consists of faculty, staff and students.

In 2019, the Diversity and Inclusion Steering Committee (DISC) was assembled. DISC is comprised of a multidisciplinary team that evaluates and informs the College's practices related to diversity, equity and inclusion. The committee is chaired by

Vice President for Academic Affairs & Student Affairs, Dr. Richard Smith. Dr. Smith's direct line of communication to senior leaders at the College, including the President, enables the committee to carry out meaningful action swiftly. The purpose of the committee is to develop a campus-wide agenda for diversity and inclusion and to ensure that the necessary collaboration and coordination is occurring to achieve that agenda.

This month, June 2020, the College officially unveiled the Center for Studying Structures of Race, a center committed to studying historical and contemporary issues dealing with race and the legacies of slavery in modern American society. The Center will serve as a venue for teaching, research and community engagement about issues of race, and emphasize the examination of forms of institutional racism at local, national and international levels. Efforts to develop the Center began more than a year ago. It will be located in the renovated quarters of slaves owned by a family who lived in a private residence, built in 1853, that was purchased by Roanoke College in 2002. The Center plans to host a variety of events open to the public, aimed at encouraging civic engagement and civil, informed debate.
Current Roanoke College Diversity, Equity and Inclusion Actions
Diversity and Inclusion Statement
In fall, 2019, the Diversity and Inclusion Steering Committee (DISC) committed to developing an official Diversity and Inclusion Statement, and terminology, for the College. The following statement was approved by the College this year.
Roanoke College Diversity and Inclusion Statement 2020
The promise of the Roanoke Difference has always been dependent on Roanoke College's ability to embrace diversity and inclusivity. Whole person development can only succeed in a community where students, faculty, staff and alumni see that each of us matters, each of us belongs and each of us has a purpose to find and to live. Therefore, Roanoke College is united in its commitment to inclusive excellence and to embracing the valuable contributions of each member of our community. In every facet of life at the College, we seek to create an educational environment and campus experiences that are socially aware, culturally inclusive and globally mindful, and that celebrate diversity, strive for equity and are free from discrimination.
Definitions
Diversity

includes everything that we are and that we are not; it is all-encompassing. It is the range of human differences, including but not limited to race, ethnicity, gender, gender identity, sexual orientation, linguistic differences, cultural backgrounds, age, socio-economic status, physical ability or attributes, religious or ethical values system, national origin, diverse opinions, academic passions and political beliefs.

Inclusion

is when everyone feels valued and respected, despite differences. Inclusion is involvement and empowerment, where the inherent worth and dignity of all people are recognized. Inclusion is the act of capitalizing on distinctive, unique campus cultures while encouraging strong institutional unity.

Inclusive Excellence

is an ongoing, collaborative process uniting students, faculty, staff, administrators and alumni in the work of embedding diversity and inclusiveness throughout College life.
Memorial to Slave Labor
In January 2020, the College held town hall meetings to discuss a proposal for Slave Laborers' Memorials, to be created and displayed on the Roanoke College campus. This idea was informed by a Roanoke College student group's recommendation surrounding the concept of a memorial. Though the Spring 2020 semester was disrupted and the project's progression curtailed, leaders have been working diligently to move forward on this significant plan of action. Currently, there are five recommendations ready for presentation to the Board of Trustees Building and Grounds Committee. What we can share with you is that African-American artists will be commissioned to create the memorial; the entire historical accuracy and integrity of all slave memorial remembrances will be ensured; and there will be opportunities for students to engage in the commemoration. These efforts will be incorporated in campus visits and tours.
Faculty Recruitment
In 2018, the College became more intentional in the development of culturally competent training and hiring practices in order to work toward our ultimate goal of diversifying our faculty. Training for hiring committees was conducted around ways to avoid structural and implicit bias in the College's hiring processes. Also, beginning in the fall of 2018, all hiring committees were required to appoint a Search Advocate, charged with ensuring that the process conformed to best practices. Furthermore, all faculty openings were posted to The Registry for Diverse and Strategic Faculty, an online job ad site established by Texas Tech University.
In July 2019, the College joined the Consortium for Faculty Diversity at Liberal Arts Colleges (CFD). The CFD has a searchable database of faculty candidates from diverse backgrounds where members can search for candidates who might be good matches for campus openings. And finally, the College developed a Julius Dreher Postdoctoral Fellow position, named for the third president of the College, who, during his tenure, brought international and Native American (specifically, Choctaw) students to the College.
The College set a goal to have two Dreher Postdoctoral Fellows in residence – one to start in Fall 2021 and one to start in Fall 2022. That would mean by Fall 2022, we would have established two people, in different departments, with the expectation that we maintain that level in future years. We seek candidates who have interest in mentoring underrepresented students, diversifying curricular offerings, or sponsoring diverse community engagement. We plan to increase the percentage of our general education courses that focus on race, ethnicity, gender, and social justice.
This summer, faculty and staff are participating in a range of anti-racism training opportunities for faculty and staff.
The Henrietta Lacks Legacy Seminar
Established at Roanoke College in September 2019 to recognize and support the idea that scientific contributions come from people of all ethnicities, genders, backgrounds, countries, religions and education. The series hosts events that showcase scientists of underrepresented backgrounds who can provide models for our students.
Henrietta Lacks was an African-American woman, born in Roanoke in 1920, and lived her life in Virginia. Cells isolated from her cervical cancer without her consent were developed into a human cell line, referred to as HeLa cells, that were used to revolutionize medical research.
Research and Listening
In spring 2019, the College administered the Higher Education Data Sharing Consortium Diversity and Equity Campus Climate Survey, with the goal of understanding the Roanoke College community's perceptions of campus climate and support for diversity and equity. The Diversity and Equity Campus Climate Survey Committee was established in late fall 2019 and charged with analyzing the survey results and recommending priorities to the Chair of the Diversity & Inclusion Steering Committee, Vice President for Academic Affairs & Student Affairs, Dr. Richard Smith. Committee members include faculty, staff, students, and a member of the Roanoke College Board of Trustees. An analysis of the survey was completed this week, and the official report delivered to Dr. Smith, on June 25th, including recommendations for the College around diversity, equity and inclusion, which will be shared in future communications around these issues.
The New River & Roanoke Valleys Diversity Professional Network
This network aims to connect people, possibilities, and partners that build businesses and drive the economy. The network understands the value of long-term relationships and is dedicated to creating positive change in diversity and inclusion initiatives. Roanoke College will seek membership and alliance with this network to strengthen faculty and staff recruitment and retention efforts made by the institution.
Courageous Conversations
The Diversity and Inclusion Steering Committee and the Office of Multicultural Affairs will continue to collaborate with campus partners and the community to host panel discussions with students, faculty and staff to address national and local issues. Examples of these courageous conversations will be: social justice activist panels; webinars addressing the community topics; and a continuation of healing circles, diversity dine-ins and Shades of Maroon activities for our student body. These activities will enable the College to listen with intent and collaborate to develop solutions that better support Minority students, faculty and staff.
Representation
We will explore efforts to foster more purposeful alumni engagement around diversity, equity and inclusion issues. The College will work with the leadership of the Alumni Executive Council to explore structure changes that adopt and emphasize the alumni focus.
We will also work to ensure that underrepresented groups are more thoughtfully represented throughout the College communications channels.
Following is a list of the DISC committee members, please do not hesitate to reach out with feedback or questions. We must work together as a community to make real progress toward diversity, equity, and inclusive excellence at Roanoke College.
Thank you for your support.
Diversity and Inclusion Steering Committee Members:
Rev. Chris Bowen, Dean of the Chapel

Wes Brusseau, Associate Director of Student Health and Counseling Services/ LGBTQ Coordinator

Laura Leonard, Assistant Director of Academic Services for Accessible Education

Kathy Martin, Director of Human Resources

Elizabeth McClenney, Director of the Library

Natasha Saunders, Director of Multicultural Affairs

Chair, Richard Smith, Vice President for Academic Affairs & Student Affairs, Shirley C and Donald E Morel Dean of the College

Gail Steehler, Associate Dean for Academic Affairs and General Education Professor