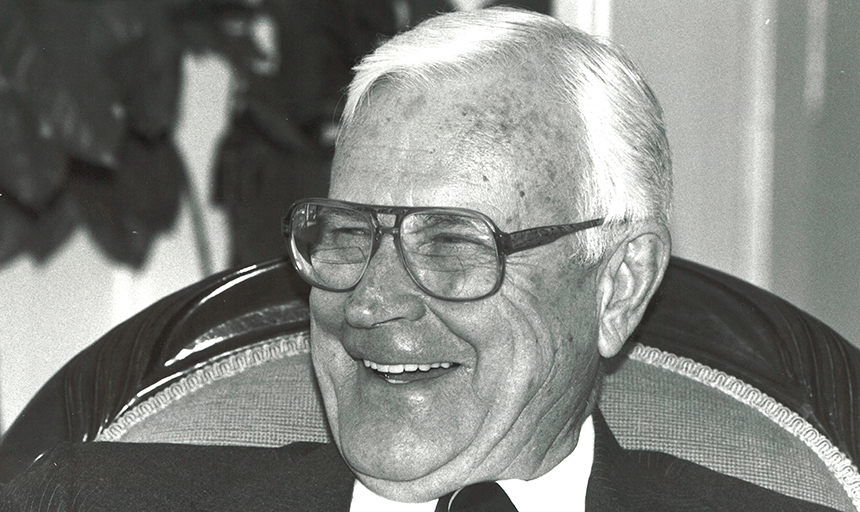 Don Sutton celebrates milestone birthday
Donald M. Sutton Sr. —known as "Mr. Roanoke College" — celebrates his 100 th birthday on Friday, Oct. 1.
From 1956 to 1983, Sutton held a number of positions at Roanoke College: Director of Student Activities, Dean of Men, Dean of Students, Director of Student Financial Aid, Director of Development, Director of Planned Giving and Director of Alumni Affairs.
The Sutton Commons and Sutton Patio are named in his honor, and upon retirement, he was bestowed "honorary alumnus" status. And in honor of their 50th reunion in 2020, members of the Class of 1970 established the Donald M. Sutton Sr. Endowed Student Scholarship.
"When I think of my time at Roanoke and who made the greatest impression on me, Dean Donald Sutton is at the top of the list," said Bob Jackson '68. "He always carried himself with dignity and genuinely cared about each of the students. What a wonderful place Roanoke College was in the 1960's because of people like Dean Sutton. Thank you, Dean Sutton, for the great example your life of character and integrity is setting for us to this day."
Retired David F. Bittle College Historian Dr. Mark Miller, professor of history and geography, emeritus, has recorded a video about Sutton's contributions to Roanoke College. The Roanoke College Choir recorded a video birthday song for him as well.
Many Roanoke graduates recall the impact Sutton made on their academic experiences, whether helping them financially or guiding them as a mentor.
Ellen Lankford Brown '73, thanked Sutton for his "extraordinary contributions to our College and to thousands of Roanoke College students for decades."
Brown said she applied to Roanoke in 1968, her junior year of high school, and was accepted early. Sutton was "the second college official to welcome me warmly. He helped me to secure a grant and a scholarship which I kept for four years, graduating in 1973 cum laude. I was hired six days after graduation from Roanoke and worked in Human Services for 42 years."
Alumni are celebrating Sutton's milestone birthday with a gift to the Donald M. Sutton Sr. Endowed Student Scholarship, which currently is more than halfway to its goal of $100,000. For more information about supporting this scholarship, please contact Director of Development Stephen A. Esworthy '91, at (540) 375-2028 or esworthy@roanoke.edu.