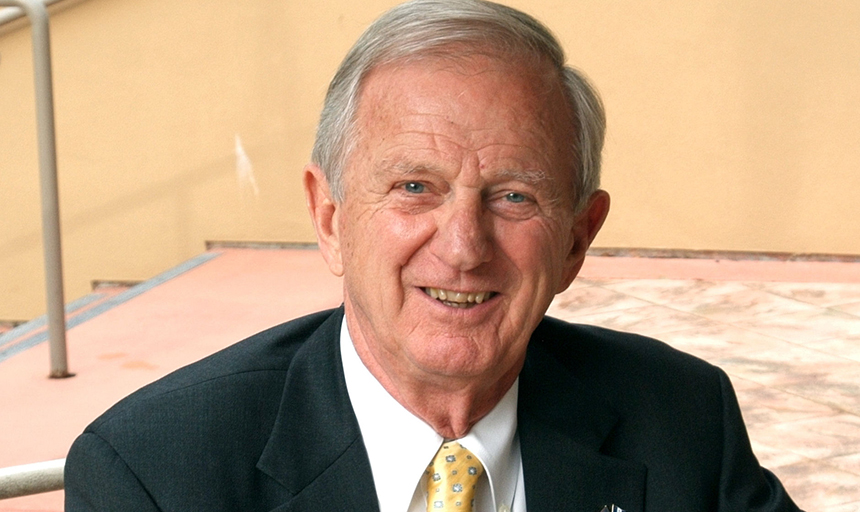 Durward Owen presented Roanoke College Medal
Durward W. Owen '55 received the Roanoke College Medal — Roanoke's highest honor for alumni — during the virtual Alumni Weekend, held April 15-17.
Owen is the former executive director for Pi Kappa Phi National Fraternity, a national membership association of more than 62,000 members. During 35 years as the executive director, he created a national philanthropic organization, PUSH, Inc., for Pi Kappa Phi. PUSH, now known as the Ability Experience, provides service, awareness and volunteerism on behalf of physically challenged individuals. He also developed the Pi Kappa Phi Foundation, an educational foundation of the fraternity.
Owen has served on the boards of numerous organizations, including the North Carolina School of the Arts, Opera Carolina, and the Western Carolina Children's Foundation.
At the conclusion of the Medalist presentation on April 16, 2021, Roanoke College President Michael C. Maxey announced the establishment of The Durward W. Owen '55 Leadership Scholarship. The scholarship has been established in Owen's honor to provide financial aid to a member of Xi Chapter (Roanoke College) of Pi Kappa Phi who has exhibited superior leadership skills during their college career.
Owen was the 2020 Medalist, and his presentation was delayed by the pandemic and cancellation of the 2020 Alumni Weekend. Owen's video medal presentation can be viewed online.
The Roanoke College Medal recognizes outstanding alumni whose professional accomplishments, community engagement and service to the College represent the ideals of leadership, integrity and citizenship that Maroons hold dear. The medal is a bronze cast of the College seal. It symbolizes the lifetime accomplishments of the champions of Roanoke College.