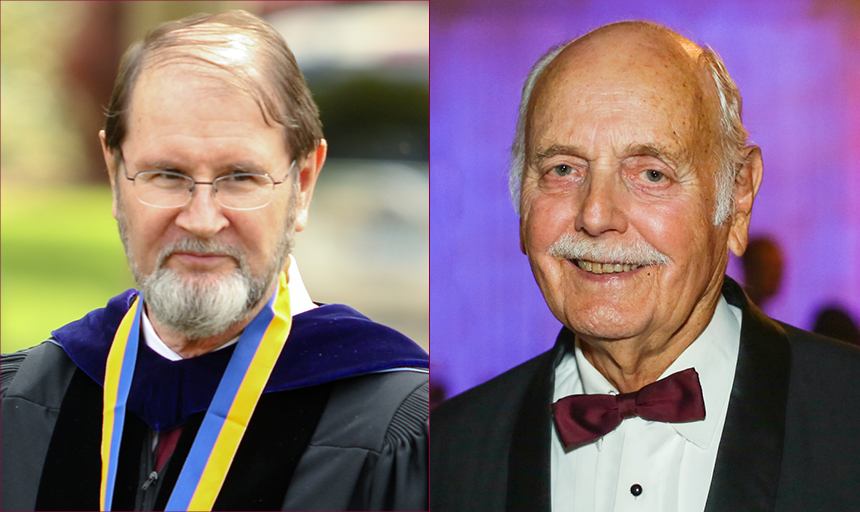 Dr. Chuck Early (left) and Dr. Donald Moe
Roanoke remembers Dr. Chuck Early and Dr. Donald Moe
Two longtime Roanoke College professors have died. Dr. Charles "Chuck" E. Early, Professor of Psychology, Emeritus, died Sunday night July 10, 2022, in Bluffton, SC. Dr. Donald G. Moe, Associate Professor of Music, Emeritus, died on Saturday, July 16 in Waynesville, N.C.
Early retired in 2015 after 27 years of service. He was 77. Early served as chair of the psychology department for many years and was a beloved friend to all. He was a capable leader to his colleagues, a mentor to his students, truly a gentle and compassionate man, and dear friend to many here at the College.
Moe taught at Roanoke College from 1968 to 1996. Moe was the first person to play the Casavant pipe organ when it was originally installed at the dedication of Antrim Chapel in 1970. He returned in 2018 to play the renovated organ dedicated in his honor.
Obituaries for Early and Moe are shared below. A memorial service for Moe will be held at 1:30 p.m. on Saturday, July 23, 2022 at Grace Covenant Presbyterian Church in Asheville, N.C.
The Early family is planning a memorial service later this year.
Dr. Charles "Chuck" Early 77, died on July 10, 2022, in Bluffton SC. He was a beloved Professor of Psychology at Roanoke College from which he retired in 2015, after 27 years of service. Prior to earning his Ph.D. in psychology, he was a Captain in the Air Force and earned his Black Belt in Tae Kwon Do while stationed in South Korea. He was accompanied in his adventures by his beloved wife, Sylvia.
*He served as Chair and led the department with compassion, empathy, gentle humor and wisdom. We were all honored and joyful to be part of his harmonious crew, an unusual situation when contrasted to other more fractious departments. He became a dear friend and mentor to his faculty and to thousands of students who will remember him fondly.
*His passions were in the teaching of the history of psychology (in which he edited a textbook), the nature of consciousness, the adventure novels of Edgar Rice Bourroughs (Tarzan series, John Carter of Mars and many other science fiction and fantasy novels. He was a genuine "Trekkie," and often called "Number one."
*One overriding passion for Chuck was the dessert offering at the Commons at lunchtime. One special treat was the fruit pie selection—especially cherry pie. This was encouraged by Angela, one of his staff, whose VA auto license plate says "Baker." This extra special Cherry Pie was often brought to him on Chuck's birthday, or for any other frivolous excuse, so as to witness his ecstatic reaction.
*Charles loved star gazing and was an amateur astronomer who several times in May ventured to the Texas Star Party at the Prude Ranch near Ft. Davis, Texas, at an elevation of over 5,000 feet above sea level. There, near the McDowell Observatory of the University of Texas in Austin, the brightness of the Milky Way casts your shadow upon the ground.
*As Carl Sagan suggested Chuck (and we all) are made of star dust. Chuck will return to our origin and become star dust once more. Now, when you look up, you'll see Chuck.
A Life Well Lived.
He will be sorely missed.
Dr. Donald G. Moe – Ph.D., Fellow of the American Guild of Organists. Born June 2, 1932 (Milwaukee, WI) passed away July 16, 2022 (Waynesville, NC)
Dr. Donald G. Moe died peacefully at his home in Waynesville, NC surrounded by family, on Saturday, July 16, 2022. Don moved from Rock Hill, SC to Waynesville with his family in January of 2020. He is survived by his wife of almost 70 years, Gloria; his son and daughter-in-law, Tim and Ginny Moe, his granddaughter, Josie Moe and his great-grandchildren, Bradley Moe and Autumn Burkhalter, all of Waynesville; his daughter and son-in-law, Jennifer and Dave DiCecco of Muscle Shoals, Alabama, his grandson and wife, Michael Kettler and Kate Moore of Maplewood, New Jersey, and great-grandchildren Ellie and Max Kettler; as well as a brother, David, and sister, Joanne, along with numerous nieces, nephews and in-laws. He is predeceased by his daughter, Suzanne Moe Kettler, and parents, Oscar Julius Moe and Edith Blanchard Moe.
Dr. Moe was Professor Emeritus in Music from Roanoke College in Salem, VA moving to Rock Hill, SC in 2004 to be near his son, Tim's family. He was a lifelong organist, pianist, choral conductor, and scholar specializing in the Music of J.S. Bach. His higher education included a B.S. in Music Education from the University of Wisconsin in Milwaukee, a Master of Choral Conducting from Indiana University, and Ph.D. in Choral Literature from the University of Iowa. Significant teachers and mentors include, Eugene Groth (piano and theory), Daniel Moe and Helmut Rilling (choral), and especially, Gerhard Krapf on organ. Don participated in many musical organizations, serving in various capacities with the American Guild of Organists, including Dean of the Roanoke, Virginia chapter. He taught at Roanoke College for 28 years leaving a lasting legacy with his students. He was a committed Christian and served many churches as organist, choir director, singer and in other volunteer capacities. After retirement, he continued to remain active in the community, and in the musical life of Oakland Avenue Presbyterian Church in Rock Hill, SC where his son, Tim, served as Music Director. In addition, he served as a singer and consultant with the York County Choral Society.
A memorial service will be held at 1:30 p.m. on Saturday, July 23, 2022 at Grace Covenant Presbyterian Church in Asheville with a private family committal at Grace Church in the Mountains in Waynesville, at a later date.
In lieu of flowers, the family asks that memorial contributions be sent to either Grace Covenant Presbyterian Church, 789 Merrimon Avenue, Asheville, NC 28804 or Grace Church in the Mountains, 394 N. Haywood Street, Waynesville, NC 28786.