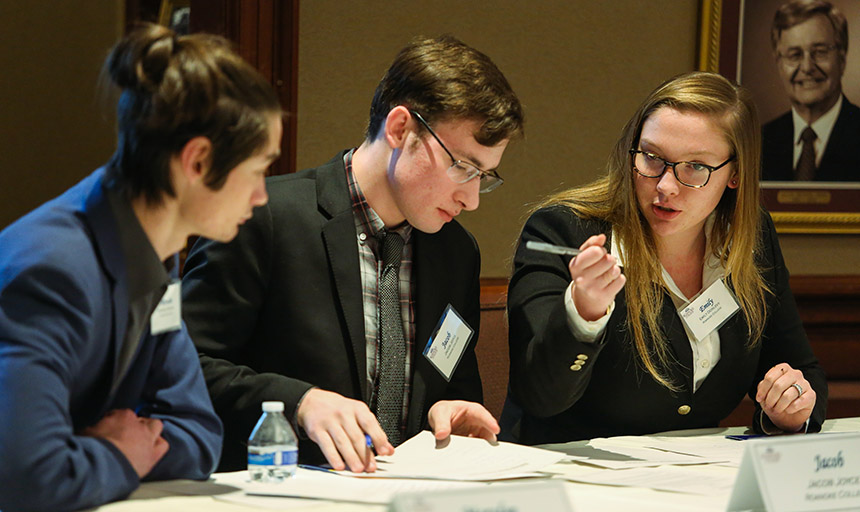 Students compete in statewide Ethics Bowl hosted at RC
Roanoke College hosted the 20th annual Virginia Foundation for Independent College's Ethics Bowl on Feb. 10-11, 2019. Washington and Lee University's team took home first place honors and the coveted Batten Trophy; Virginia Wesleyan University's team was runner-up. Sixty-nine students from 15 of Virginia's leading independent colleges and universities competed, and Roanoke fielded two teams, each of which won two of four matches.
In each round, schools faced off in pairs and were given a question based on an ethical case study to consider. The event theme this year was "Ethics and Justice," and cases highlighted potential ethical dilemmas dealing with gender, LBGTQ+ rights, gentrification, incarceration, underrepresented communities and more. Teams had no more than six minutes to consider their stance and strategy before presenting to a group of three judges.
Teams were judged according to whether their presentation was clear and systematic; how well they identified and discussed the central moral dimensions of their case; and whether or not they showed an awareness and consideration of different viewpoints. "Collegial and thoughtful discussion" is a general guideline as well.
Emily Donlevy '21, Jacob Joyce '19, Mars Woddail '19 and Alexa Chapman '19 comprised one Roanoke team, though Chapman, an active member for practice leading up to the Bowl, was unable to compete due to illness. Roanoke's second team, which included Sophia Kachur '22, Margaux McGinty '22, and Hana Smith '19, also was plagued by illness, with McGinty and Smith bowing out after two rounds.
Her teammates' absences left freshman Kachur competing by herself in rounds three and four. She said that the prospect made her nervous but that she "didn't really consider not going through with it. When I found out my teammates were sick, I thought 'I might as well do this. I don't expect to win, but I can at least get some experience out of it and learn what to do next year.'"
"All of us…leave the competition with new energy and a sense of enthusiasm about this generation of future leaders."
-Gary Thomson, VFIC board member and event moderator
But, win she did—both rounds—to the consternation of her opponents, who filed a rules challenge. However, Kristina Preisner, the VFIC assistant director of special events and development, said that the rules are not totally clear on this point. "Teams are supposed to recruit three to five members," she said, "But we do not specifically say you have to compete with three to five." The rules challenge was struck down and Kachur's wins stood. The VFIC may clarify the rules in the future, Preisner said.
Two Roanoke faculty members serve as team coordinators, Dr. Hans Zorn, professor of religion and philosophy, and Dr. Brent Adkins, professor of philosophy. Of the rules controversy, Adkins said that "Sophie was glorious" and that, regardless of the rules, "she did beat them."
VFIC Board of Trustees member Gary Thomson has judged or moderated at the Ethics Bowl since 2007 and served as a moderator this year. "The students are fantastic," he said. "All of us 'old geezers' leave the competition with new energy and a sense of enthusiasm about this generation of future leaders…This is an enthusiastic, highly engaged group…I concluded [the last] session by saying 'the future is bright,' and I feel that way each time I leave there. We may not all agree on the issues but to see such engagement done in a collegial way is both healthy and exciting."
The Ethics Bowl was sponsored by the Virginia Foundation for Independent Colleges and Wells Fargo, which has been the primary sponsor of the event since 2002.
Founded in 1952, the Virginia Foundation for Independent Colleges is a nonprofit fund-raising partnership supporting the programs and students of 15 leading independent colleges in the Commonwealth: Bridgewater College, Emory & Henry College, Hampden-Sydney College, Hollins University, Mary Baldwin University, Marymount University, Randolph College, Randolph-Macon College, Roanoke College, Shenandoah University, Sweet Briar College, University of Lynchburg, University of Richmond, Virginia Wesleyan University, and Washington & Lee University.