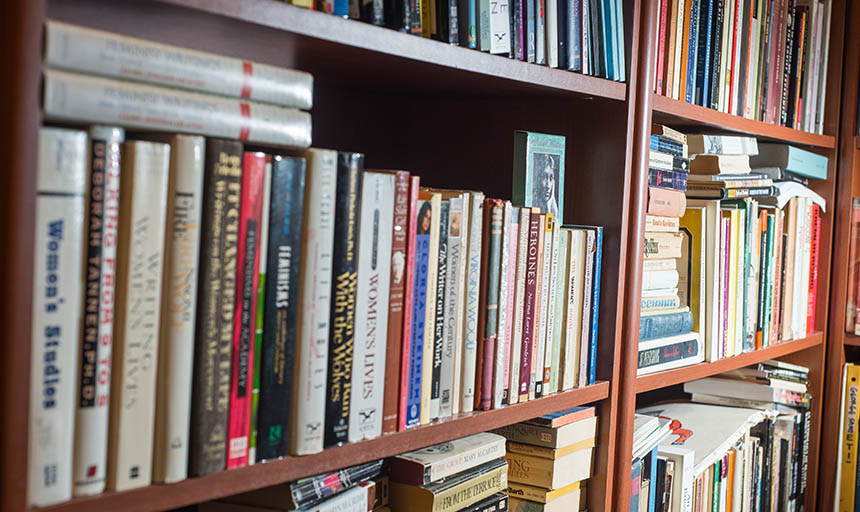 Faculty and alumni books are wide-ranging and well-received
What do the economics of Prohibition, the art of watercolor, a theologian's memories, indigenous labor in the Pacific World, and a female Peruvian revolutionary have in common? Or gun legislation, Shea Stadium, and sleeping animals? In the first case, each is the subject of a recent book written by a Roanoke professor. In the second, Roanoke alumni have authored or co-authored books featuring these topics.
Intemperate Spirits: Economic Adaptation During Prohibition was written by Dr. Alice Louise Kassens, the John S. Shannon Professor of Economics and a senior analyst with Roanoke's Institute for Policy and Opinion Research. In this book, published by Palgrave Macmillan, Kassens uses the basic economic principle of making decisions using a cost-benefit framework to uncover how various groups responded to incentives provided by the Prohibition legislation.
In a chapter titled "Line Tip-Toers," Kassens explores how a religious exemption to Prohibition laws resulted in abuses and bootlegging by "fake rabbis." Her book attracted the attention of the widely-read global news source the Jewish Telegraphic Agency, and she was invited to submit an op-ed. "The clever fake rabbis who made millions off of Prohibition" was published in August.
Dr. Julia A. Sienkewicz, assistant professor of art history, has just released Epic Landscapes: Benjamin Henry Latrobe and the Art of Watercolor (University of Delaware Press, Oct 2019). This work is a winner of the Wyeth Foundation for American Art Publication Grant, an award granted by the College Art Association, an international leadership organization in the field of visual arts.
Epic Landscapes is the first study devoted to famed architect Benjamin Henry Latrobe's substantial artistic canon. Though his architecture is well known, Latrobe's watercolors have received little critical attention. Epic Landscapes rediscovers Latrobe's watercolors and reconsiders the close relationship between the visual and spatial sensibility of these images and his architectural designs. It also offers a fresh analysis of Latrobe within the context of creative practice in the Atlantic world at the end of the eighteenth century.
Sienkewicz has published several scholarly journal articles and written numerous historical reports for the Library of Congress's Historic American Buildings Survey collection.
Dr. Robert Benne, Jordan-Trexler Professor of Religion Emeritus, has just released Thanks Be to God! Memoirs of a Practical Theologian, published by American Lutheran Publicity Bureau. Benne said that he wrote the memoir as an exercise in gratitude for the wonderful life he has been given, and that he organized the book according to the four great callings that we humans are given: marriage and family, church, citizenship, and work. In his case, his work has been that of a "practical theologian," applying his theological convictions to the challenges he encountered in his lifetime: negotiating the 1960s, living through church schisms, and engaging in efforts to connect Roanoke College with its Lutheran heritage. Theologian Carl Braaten praises this account of Benne's life and work and calls Benne "the premier Lutheran public theologian of his generation."
In Beyond Hawai'i: Native Labor in the Pacific World, Dr. Gregory Samantha Rosenthal, assistant professor of history, tells the story of the Kanaka Maoli (Native Hawaiian) men who left Hawai'i beginning in the late 1700s to work on ships at sea and in foreign lands. Their labor, shaped the Pacific World, the global economy, and the environment, Rosenthal asserts. "Whether harvesting sandalwood or bird guano, hunting whales, or mining gold, these migrant workers were essential to the expansion of transnational capitalism and global ecological change."
Author, educator and award-winning scholar Dr. Matt Matsuda of Rutgers University said, "Thoughtful and deeply sourced, Beyond Hawai'i gracefully illuminates the aspirations and struggles of Hawaiian chiefs and laborers, and those of an entire Islander civilization navigating a global capitalist system." The book is published by University of California Press and was released in 2018.
Rosenthal also founded the Southwest Virginia LGBTQ+ History Project, a community-based queer public history initiative and was recently interviewed by the "BOOK CITY Roanoke" podcast about this work.
Dr. Myrna Ivonne Wallace Fuentes, professor of history, recently received high praise for her 2017 book, Most Scandalous Woman: Magda Portal and the Dream of Revolution in Peru. Published by the University of Oklahoma Press, the book chronicles the dramatic rise and fall of the twentieth-century revolutionary Magna Portal within the broader history of leftist movements, gender politics, and literary modernism in Latin America. Wallace Fuentes analyzes how sexism in politics interfered with Portal's political ambitions, explores her relationships with family members and male peers, and discusses the ramifications of her scandalous love life.
In June 2019, The American Historical Review, the official publication of the American Historical Association, reviewed Most Scandalous Woman. Reviewer Susan C. Bourque, former provost and dean of Smith College, wrote that the book "is an impressive and important addition to work on Latin American women and politics" and that "Wallace Fuentes's treatment of Portal is masterful."
An earlier review by Geneviève Dorais in the Journal of Latin American Studies (Cambridge University Press) was equally laudatory. " Most Scandalous Woman is an outstanding study authored by a keen and sensitive historian and a stunningly gifted writer…[it is] above all a tour de force of historical writing. I cannot insist enough on the outstanding quality of Wallace Fuentes as a storyteller."
Alumnus Matt Silverman '88, of High Falls, New York, and Lyons Press publishers released Shea Stadium Remembered: the Mets the Jets and Beatlemania in early 2019. A former Brackety-Ack features editor, Silverman has been a professional writer and editor for over twenty years. He has authored, co-authored and edited numerous publications pertaining to baseball, football and sports in general, including several books. He has been a lifelong fan of Major League Baseball and the New York Mets in particular and blogs regularly.
Silverman was invited to speak about his book for the Authors Series at the National Baseball Hall of Fame and Museum this past summer. The Hall of Fame website describes Shea Stadium Remembered as a "lively tribute."
"It's all here," Silverman said during his Hall of Fame talk, "The departure of the Giants and Dodgers, Bill Shea, the Beatles and Shea's rock roots, the Jets winning the first championship at Shea, the 1969 Miracle Mets, the 1973 pennant, the dismantling of the Mets, the removal of the blue and orange panels, the lousy food, the New York Sack Exchange, the Mayor's Trophy, and Keith Hernandez and the Mets Renaissance. And that's just the first 20 years at the Big Shea."
Ben Williams '07, a former Martinsville Bulletin reporter and the current Science Administrator of the Virginia Natural History Museum, teamed up with activist Andy Parker on his book For Alison, released earlier this year by Apollo Publishers. Parker's daughter was a TV journalist in Roanoke. She and her cameraman were both murdered on live TV, and the act of violence was filmed and shared to social media by the perpetrator. The book chronicles Parker's work as a nationally-known gun safety legislation advocate.
In an interview with writer Dan Smith in The Roanoker blog, Williams explains that his job was to take Parker's first rough draft and polish it up. He described his role as "somewhere between an editor and a co-writer, though slightly closer to the editor end of the spectrum." The book has won excellent reviews from a wide range of well-known activists, politicians and other public figures, and it includes a forward by Senator Tim Kaine.
Marcie Flinchum Atkins '97 describes herself as "a teacher-librarian by day and children's writer in the wee hours of the morning." Her latest of several non-fiction children's books is Wait, Rest, Pause: Dormancy in Nature, published by Millbrook Press. Featuring some of children's favorite creatures, the book explores through photos and text the cycles of the natural world. Kirkus Reviews described the book as "A refreshingly original exploration of a physical process both common and important in the natural world."

Atkins taught in the Franklin County and Salem City school systems in southwest Virginia before moving to northern Virginia, but she returns each summer to co-direct the Hollinsummer Creative Writing program for high school girls at Hollins University. She holds an M.A. and M.F.A. in Children's Literature from Hollins. Her blog can be found on her author's website.