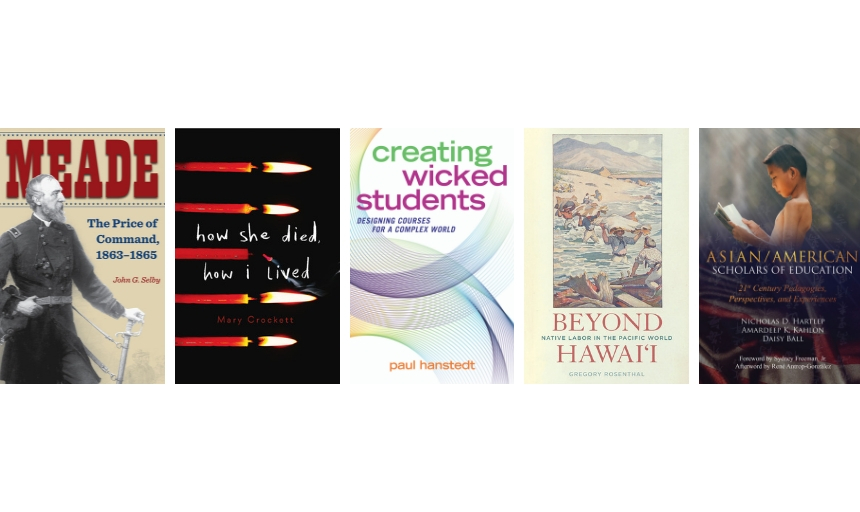 New books by Roanoke College faculty
Below are summaries of books, authored by Roanoke College faculty, that were released in 2018. Enjoy the read!
"Meade: The Price of Command, 1863-1865," by Dr. John G. Selby, professor of history; former John R. Turbyfill Professor of History.
Publisher: The Kent State University Press
Overview: This book "seeks to challenge the prevailing view of George Gordon Meade by offering readers a fresh reevaluation of the general's lengthy tenure at the head of the Army of the Potomac. Victorious at Gettysburg, the biggest battle of the American Civil War, Meade was the longest-serving commander of the Army of the Potomac, leading his army through the brutal Overland Campaign and on to the surrender of Robert E. Lee and the Army of Northern Virginia at Appomattox.".
"How She Died, How I Lived," by Mary Crockett Hill '91, assistant professor, English and Communication Studies.
Publisher: Little, Brown Books for Young Readers
Overview: "A poignant and thought-provoking novel about a girl who must overcome her survivor's guilt after a fellow classmate is brutally murdered.
"Creating Wicked Students: Designing Courses for a Complex World," by Dr. Paul Hanstedt, professor, English and Communication Studies.
Publisher: Stylus Publishing
Overview: "In 'Creating Wicked Students,' Paul Hanstedt argues that courses can and should be designed to present students with what are known as 'wicked problems' because the skills of dealing with such knotty problems are what will best prepare them for life after college. As the author puts it, 'this book begins with the assumption that what we all want for our students is that they be capable of changing the world…When a student leaves college, we want them to enter the world not as drones participating mindlessly in activities to which they've been appointed, but as thinking, deliberative beings who add something to society.'"
"Beyond Hawai'i: Native Labor in the Pacific World," by Dr. Gregory Rosenthal, assistant professor of history.
Publisher: University of California Press
Overview: "In the century from the death of Captain James Cook in 1779 to the rise of the sugar plantations in the 1870s, thousands of Kanaka Maoli (Native Hawaiian) men left Hawai'i to work on ships at sea and in na 'aina 'e (foreign lands)—on the Arctic Ocean and throughout the Pacific Ocean, and in the equatorial islands and California. Beyond Hawai'i tells the stories of these forgotten indigenous workers and how their labor shaped the Pacific World, the global economy, and the environment."
"Asian/American Scholars of Education: 21st Century Pedagogies, Perspectives and Experiences," by Dr. Daisy Ball, editor (with co-editors Nicholas D. Hartlep and Amardeep K. Kahlon) assistant professor of criminal justice.
Publisher: Peter Lang Inc., International Academic Publishers
Overview: "'Asian/American Scholars of Education'… shares the knowledge and travails of Asian-American luminaries in the field of education. This unique collection of essays acknowledges the struggle that Asian-American Education scholars have faced when it comes to being regarded as legitimate scholars deserving of endowed or distinguished status. The chapter contributors in this volume include former doctoral students, children, protégés, and colleagues of the Asian-American endowed and distinguished professors featured in the book."