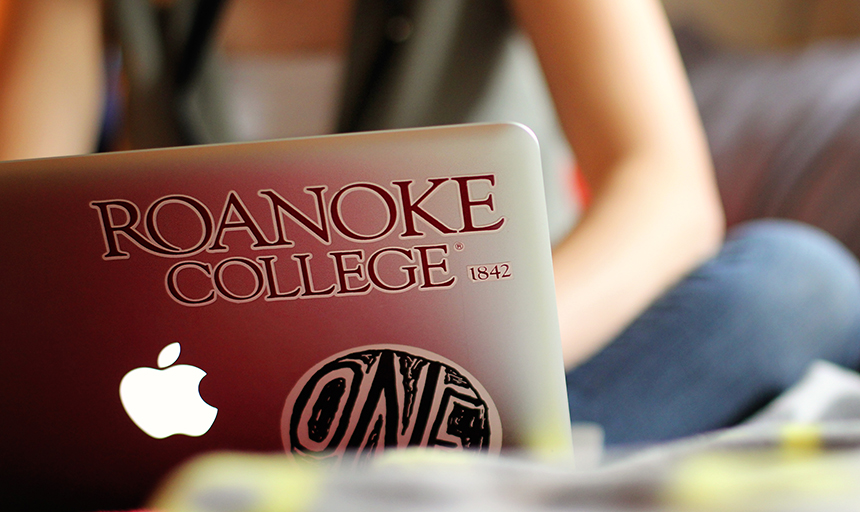 Faculty, staff explore new remote learning territory together
Roanoke College faculty members pride themselves on face-to-face instruction. It's one of the primary reasons students and faculty decide to become part of the Maroon family.
"We chose to be at Roanoke because we value the personal interaction," says Dr. Chris Lee, longtime math professor and director of the Teaching Collaborative. "This is why we're here."
But what happens when that isn't possible? When face-to-face contact proves to be the primary cause of a spreading global pandemic, how can the College continue to provide that same level of instruction and care?
Roanoke faculty and staff are discovering that together. Terri Fox, associate chief information officer for the Department of Information Technology, has been here for 37 years and says this challenge is unlike anything she's seen.
"This is new territory," Fox says. "We're navigating through something that none of us have ever done before, in a very short period of time."
On March 10, faculty were told to start thinking about the possibility of conducting classes remotely at some point, says Gail Steehler, associate dean for academic affairs. The spread of COVID-19 advanced rapidly, though, forcing President Mike Maxey and his cabinet to act. They decided March 11 to suspend in-person classes at least through April 6.
Remote classes are scheduled to begin this week, meaning faculty had less than two weeks to restructure their classes for an online format.
"Things have gone, on the faculty side, as well as we could have hoped," Steehler said. "The faculty have really stepped up and been good problem solvers, with just a marvelous spirit. It's really clear how much they care about their students and want to make things work for their students even when they can't be here on campus."
IT has compiled a list of resources and tips for students as they begin their remote classes this week.
"It's really clear how much they care about their students and want to make things work for their students even when they can't be here on campus."
Gail Steehler, associate dean for academic affairs, about RC faculty
What to expect from remote classes
Professors have redesigned their classes, but they're not reinventing the wheel. Faculty have been instructed to use whatever level of technology they're comfortable with.
Randy Stubstad, director of systems, networking and telecommunications services for IT, says the college isn't trying to implement any new software that might make things even more muddled.
"I think a lot of what we're trying to concentrate on right now is, 'What do we already have?'" Stubstad says. "'What do we have that everybody's familiar with, and what can we do to utilize that in this situation?' If we have to start introducing new software and new things right now, it may just add to the stress level and confusion."
That means using services such as Inquire, a site that faculty already use to post assignments and where students go to keep up with class. It also means using Zoom, a video application that allows faculty to speak with students one-on-one or in groups. Faculty can also share their screens, where they use tablets or other technology to write out lessons and diagrams.
The Teaching Collaborative has put together a page of links and resources for faculty, who have been constantly messaging one another and sharing wisdom and tips.
A buzzword among faculty and staff this week is "asynchronous." While a classroom setting is synchronous, where all students are together and engaged at the same time, professors will now have to make their classes accessible almost at all times. Chris Lee points out that it will be tough to get 25 students digitally connected at the same time, especially if some have better internet access than others.
So instead of holding regular classes, many professors are posting videos or assignments online where students can access them whenever their schedules allow. Lee says he'll still be available during his regular class hours and will invite students to join him via Zoom. He says he'll record those sessions and post them for those who are not able to attend.
Both Lee and Steehler say the silver lining to conducting classes this way is that faculty will have a new set of skills they can incorporate into their future classes. Lee also has a message for students as they prepare for remote classes.
"We're good faculty, you guys are good students," Lee says. "We want to teach, you guys want to learn. We're going to make this happen. I'm absolutely convinced it can be a positive experience."