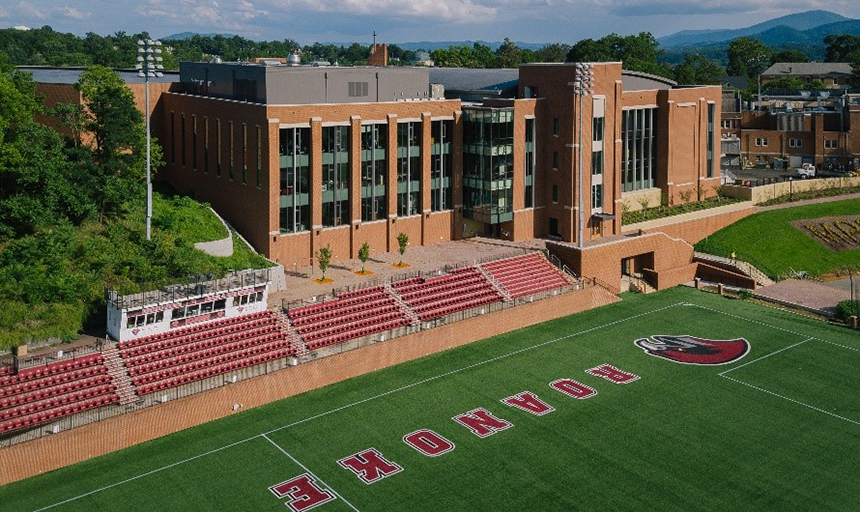 7.21.2020
By Roanoke College News
Update on Fall 2020 Athletics at Roanoke College
Roanoke College Director of Athletics Scott Allison announced Tuesday that fall and winter sport competition will be postponed through the end of the 2020 calendar year (Dec. 31). The decision to postpone NCAA athletics until 2021 was made in conjunction with Roanoke College, the Old Dominion Athletic Conference (ODAC), the most recent decisions made by the NCAA, as well as state and local health officials.
This decision impacts men's and women's cross country, field hockey, men's and women's soccer, and volleyball. These teams will not compete this fall, but the plan is for them to get back to competition once again in 2021. In addition, with no competition until after Jan. 1, this decision will have an impact on our winter sports (men's and women's: basketball, swimming and indoor track & field, and men's wrestling) as well as the sports that have dual seasons (golf and tennis).
Like so many decisions in recent months, this choice was a difficult one, and was made with the health of the campus community in mind.
"The Old Dominion Athletic Conference, out of an abundance of caution, has made the difficult decision to suspend conference competition and championships for fall and winter sports until Jan. 1," stated Allison. "The safety and welfare of our student-athletes and coaches, as well as our campus community, has been and will continue to be paramount in our decision-making."
In delaying athletic competition until the spring, the hope is to help keep our campus community safe while still allowing our student-athletes the chance to practice, train, and compete at some point this academic year.
Please know that we fully intend to conduct intercollegiate athletics during this, the 2020-21 academic year. Our coaches are planning for fall and spring sport individual and team practices to occur during the fall semester while we follow recommended health and safety guidelines. We anticipate there will be opportunities for winter sports teams to gather and practice, according to their usual practice schedules as defined by current NCAA legislation.
To help the ODAC and its member schools provide their student-athletes with the most complete athletic experience possible, NCAA Division III is considering a blanket waiver that would provide unprecedented scheduling flexibility. The scheduling change would provide all conference sports more time for individual and team skill instruction, strength and conditioning, leadership development, and other athletically-related activities during the academic year as health and safety conditions allow.
RC Maroons Athletics will continue to consult with the Roanoke College cabinet, ODAC, NCAA, and health authorities in considering options for spring sports. Further announcements will be on roanokemaroons.com and roanoke.edu/news.
Important Links
Please make sure to use these links to help answer any questions that you may have concerning the 2020-21 season:
"The safety and welfare of our student-athletes and coaches, as well as our campus community, has been and will continue to be paramount in our decision-making."
Scott Allison, Director of Athletics
Roanoke College Athletics Fall 2020 Return to Campus Q&A:
What sports will be allowed to compete in fall 2020?
There will be no athletic competition during the fall of 2020. Pursuant to NCAA rules as well as state and local COVID-19 policies, there is the possibility of practice and training opportunities.
What led to Roanoke's decision to postpone competition?
In consultation with President Maxey, the Roanoke cabinet, ODAC, and health officials, the decision to postpone athletic competitions in the fall was a difficult one and one that required much thought and deliberation. Ultimately, the decision came down to the safety and welfare of our student-athletes as well as our entire campus community. Safety and welfare of the students has been, and will continue to be, the number one priority driving any decisions on whether or not to compete.
Will the fall athletic seasons be moving to the spring semester?
We are exploring opportunities with the ODAC and NCAA to move the competitive season for fall sports to the spring semester. We are hopeful that we may be able to provide meaningful competitions to our fall sport teams during the spring semester.
Will winter sports be able to compete prior to the spring semester?
As of right now, winter seasons (basketball, swimming, and indoor track & field) will not be competing until 2021, with the hope that the winter seasons will be able to compete and maintain conference and national championship opportunities. The athletic department will be working with Roanoke College, the ODAC, NCAA, as well as state and local health officials to explore those opportunities.
When will winter and spring sports know whether or not they will be having a season?
A decision on the winter and spring sports will be made at a later date. Continuous consultation with the college, conference, and NCAA as well as state and local health officials will be occurring in the hopes that there will be a safe return to competition plan for all sport teams.
What impact would, only being able to practice or play a limited number of contests have on my eligibility with the NCAA?
Under NCAA rules, student-athletes will not use a season of competition if their team does not compete during the traditional sport season. On July 9th, the NCAA issued a blanket waiver providing guidance regarding eligibility concerns for teams that play a limited number of contests, or whose season ends prematurely. The blanket waiver states that student-athletes will not be charged with a season of participation for the 2020-21 season if their team cannot complete 50% or less of the sport's maximum allowed contests/dates of competition due to the ongoing impact of the COVID-19 pandemic.
The NCAA also approved a second blanket waiver which permits student-athletes to receive a two semester/three-quarter extension of eligibility if the student-athlete is unable to participate in their sport during the 2020-21 year due to the impact of COVID-19 or if the student-athlete 's team completed 50% or less of the sport's maximum contests/dates of competition due to COVID-19. For more information on these blanket waivers, please refer the NCAA Press Release.
Has the NCAA made any changes to the 2020-21 sport seasons?
Currently, there have been no announcements from the NCAA regarding any adjustments to the seasons of sport championships.
When will student-athletes arrive on campus now that the fall seasons and preseasons have been postponed?
Roanoke College has a planned, staggered, move in scheduled for August 3-17.
The entire Roanoke College plan to Return to Roanoke can be found at:
https://www.roanoke.edu/returntoroanoke
We would encourage everyone to check back often for updates.
Will all athletic facilities be open?
Athletic facilities will be open for use. However, there may be restrictions and regulations regarding the number of people allowed in a certain facility at the same time due to COVID-19 policies and social distancing measures.
Will student-athletes who are on campus for the fall have access to the services and support provided through the athletic-training department?
The Athletic Training Clinic (ATC) will be operational to take care of injuries sustained by our student-athletes. Visits to the ATC will be limited to injuries only. If you are feeling ill, you will be encouraged to make an appointment at Student Health Services for evaluation. If you are needing to come to the ATC, please contact your team's Athletic Trainer or the Head Athletic Trainer, Mike Buurman (buurman@roanoke.edu) to schedule an appointment as we are limited to the number of student-athletes that can be seen at the same time due to social distancing guidelines.
Will student-athletes have access to locker rooms?
Not at this time.