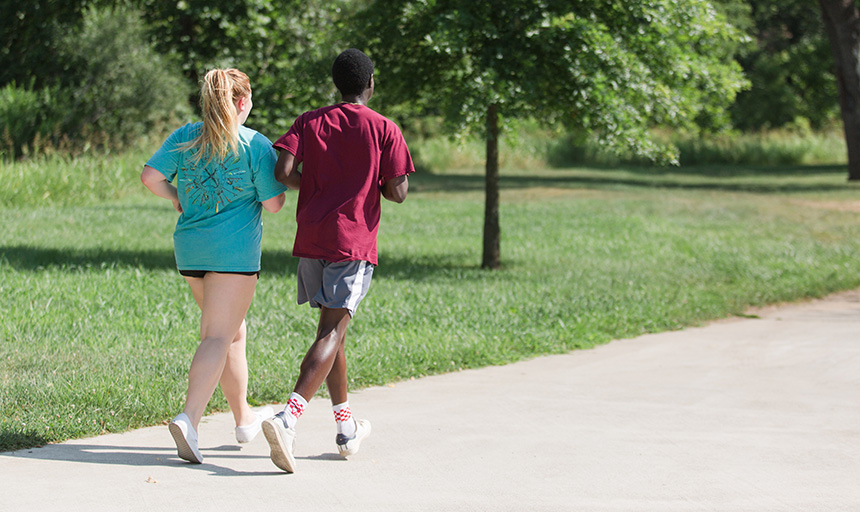 Fun fall festivities
Fall is upon us, and your list of fun, socially distanced things to do may be dwindling. Fortunately, the Roanoke College campus is nestled in a wonderful place for fall activities, and many organizations are hosting events to help safely maintain students' social activity. Below is a list of events and ideas to ensure your social calendar is full of safe, fun and festive activities.
Imagine you are in Germany at Roanoke College's Oktoberfest. On Friday, Oct. 9 from 4 to 6 p.m. on the Back Quad, the College's German Club is teaming up with the Roanoke International Office, Department of Public Affairs, and Department of Modern Languages to give students a taste (literally) of Germany. Students can socialize with friends while indulging in Brats mit Kasespatzle (brats with sauerkraut), Kartoffelsalat (German potato salad), Laugenbrezel (Bavarian-style pretzels with dipping sauces), Apfelstrudel (apple strudel), and Black Forest cupcakes. For students 21 and older, two beers will be provided.
Bring your buddies to a bonfire. Nothing says fall like sitting around a bonfire with some of your friends on a cool evening. CAB is hosting a bonfire and Barren Minds event on Friday, Oct. 16 at 7 p.m. on the Back Quad. Students can also request to reserve a time slot to use the fire pit on the Sutton Terrace.
Get your spook on during "Halloweek." CAB will host a week's worth of festive events during the days leading up to Halloween. Events, to be held Oct. 26-30, include: a "Rocky Horror Picture Show" shadow production, a costume contest, trick-or-treating, pumpkin carving, and dipping caramel apples. The grand finale is Halloween bingo on Friday, Oct. 30.
Take a hike! If you're looking for a socially-distanced friendly activity off campus, going on a hike is the answer! The Roanoke Valley is full of scenic hikes of varied distances, but all with picturesque views. McAfee Knob and Dragon's Tooth Trail Head, both on the Appalachian Trail, are must-do hikes before graduation.
Run, Walk or Run. The annual Salem 8K/Half-Marathon is taking place virtually this year, now through Oct. 18. Enjoy these cooler evenings by taking a few practice runs, then give it your all on your race day of choice. For more information, click here.
Befriend your hallmates. If your preference is to stay in, gather a few of your hallmates and have a scary movie marathon or a costume contest in the common room of your dorm. It's also football season, so you could turn your common room into a tailgate on a Saturday or Sunday afternoon. Remember, the maximum capacity in common areas is nine students. Students also must wear a mask, but hey, that just makes things even spookier!
Friendly competition is always in season. The Colket Center Game Room continues to be open from 5 to 11 p.m. on Mondays through Fridays, and 11 a.m. to 11 p.m. on Saturdays and Sundays, for a game of billiards or to play video games. This cooler weather is perfect for a game of corn hole, croquet, dodgeball, kickball, Wiffle ball, soccer, golf, miniature golf, or horseshoes, and you can check out all of these items at the Game Room. Citronella candles are also available, a perfect touch for fall evenings.
Stay healthy, Maroons!