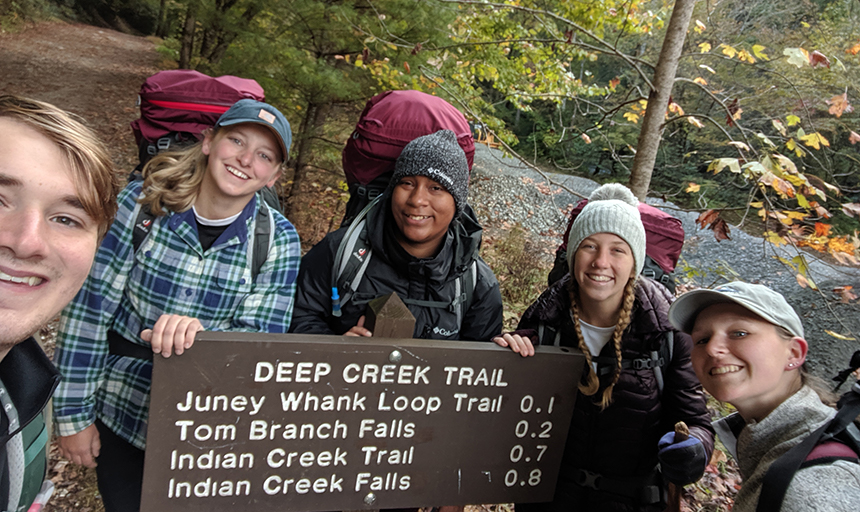 Fall break experience: Outdoor Adventures trip to the Great Smoky Mountains
Over fall break, Outdoor Adventures gave students the opportunity to backpack in the Great Smoky Mountains. It was a fantastic experience! Our group all got along and bonded well– it's kind of hard not to when you are out in the woods, undistracted, just with each other.
On Monday, October 14, we spent five hours driving to North Carolina, close to the Tennessee border. We sort-of camped the first night – there was a bathroom, but that was the extent of the amenities there. It was an excellent way of easing into what we were going to be doing for the next couple of days. Tuesday, we set out on the backpacking adventure and hiked about 7 miles to our first true campsite. That night, we met another backpacker who gave us some tips, and we had a great conversation with him.
We hiked another 7 miles on Wednesday, though it didn't seem as long. At this point, I think our hiker's legs kicked in, and we were all pretty comfortable during the hike. Wednesday night was probably the toughest because it was cold out. Thursday was our final day camping, which was bittersweet for us because we were happy that it was almost over and we could shower the next day when we got back to campus. Still, we were sad because even though we were a little cold, we were having a great time.
We were up early Friday morning – it's weird how being out in nature can reset the times you go to sleep, and the times you wake up. On our last hike back to the trailhead, we were coming up on the final intersection when we saw a bear in the distance. We just stood there and waited to see what it was going to do; it just looked at us and then ran off into the woods. We made it back to the car and had five hours to reflect on our way back to Salem.
Overall, fall break was a great time. It was filled with elk, new experiences, trail names and a bear sighting. I would recommend that students do at least one break trip before they graduate – it's a great time, a great bonding experience and even better way to experience our region.
The group camped the first night at Smokemont Campground and hiked a loop beginning and ending at the Deep Creek Trail Trailhead. Their route took them on the Deep Creek Trail, Mountains-to-Sea Trail, Thomas Divide Trail and Indian Creek Trail, all in the Great Smoky Mountain National Forest.