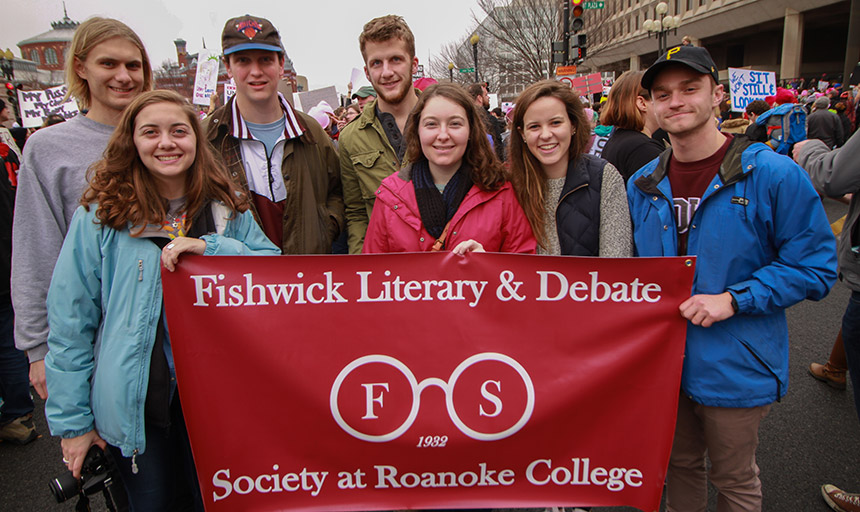 Roanoke College students represented the Fishwick Literary and Debate Society at the Women's March on Washington in January. (Photo by Brieanah Gouveia '17)
4.05.2017
By Roanoke College News
Students form debate society named for Roanoke alumnus
Nolan Webb '17 always had hopes of creating a place where students could debate and sharpen their public speaking skills. Last fall, he decided to do something about it.

He founded the Fishwick Literary and Debate Society with 40 student members.
"So many people are fighting and are polarized," Webb said. "We want to have substantive debates so that people come together and bridge the gap between the political parties."
The society is named for John P. Fishwick, a 1937 Roanoke graduate who served in the U.S. Navy and graduated from Harvard Law School. Mr. Fishwick endowed a professorship in the English department, which is held by Dr. Robert Schultz, the John P. Fishwick Professor of English.
During an internship his sophomore year at LichtensteinFishwick PLC, a private law practice in Roanoke, Webb, a political science major, began collecting artifacts about Fishwick.
Webb decided that the family deserved recognition on campus, so he asked to create the society in Fishwick's name.
Each week, the debate topics are selected by one member, and from there, they find members to join opposing sides. There are two debates each week, with members assigned to a particular side.
Any student can attend a debate and do research on a topic to participate.
"We focus on debate, not arguing."
Nolan Webb '17
Moving forward, Webb said he hopes the society will host speakers and even travel to attend events. Some members attended the Women's March on Washington in Washington, D.C., on Jan. 21.
Primarily, the society wants to host more events on campus to provide the opportunity for students to engage in debate and discussion, Webb said.
"We focus on debate, not arguing," he said.
Sam Rauf '18, who is member of the society, said, "being a part of this club helps me formulate arguments and verbally express them in a fun, but beneficial way to my learning experience."
Some of the debate topics have ranged from human rights and international diplomacy to money for NCAA athletes.
The society also has its own blog where members write opinions about a particular topic. Members update the blog weekly, and the posts range in topic from "Moral Hazard in the Banking Industry" to "Abortion & Politics: Divide & Conquer."
Check out the society's Instagram page @fishwicksociety, or visit its website.