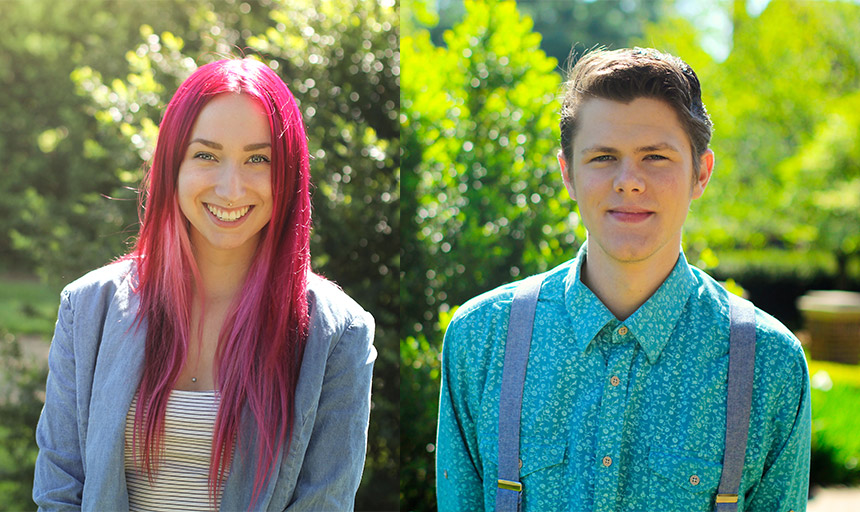 Roanoke students to study in United Kingdom through Fulbright program
Two Roanoke College students will study in the United Kingdom this summer as part of a selective Fulbright summer exchange program for undergraduates.


Brieanah Gouveia '17, an art history major from Hawaii, will spend four weeks in England studying art, museums, architecture and history at Nottingham Trent University.
Daniel Osborne '17, a history major from North Carolina, will study in Scotland for six weeks at the University of Dundee and the University of Strathclyde.
The three to six-week summer stints are funded by the U.S.-U.K. Fulbright Commission's Summer Institute, which annually grants a select 60 U.S. and U.K. students study and research opportunities at accredited universities in the United States and the United Kingdom. There are nine institutes in 2015 offering programs in various fields, including archaeology, art, climate change and more. The Commission is part of the Fulbright program created by Senator J. William Fulbright in the aftermath of World War II to promote leadership, learning and empathy between nations.

Each competitive award covers all program costs, including tuition, roundtrip airfare, meals and housing. Among many requirements, students must have at least a 3.5 grade point average to be eligible for the program.

Gouveia will spend the month of July visiting and studying Nottingham's art, architecture and museums, volunteering in the community and preparing a final exhibition. Nottingham has been named one of the United Kingdom's top five creative cities and Britain's culinary capital, according to the Fulbright program.

"I want to put myself out there and make connections," said Gouveia, who hopes to attend graduate school in London to study art history after Roanoke. She said she is drawn to art history, because it helps people see the world.

Osborne's Scotland stint begins July 5 and ends Aug. 8. The program, which includes lectures, workshops and a final presentation, will take students to the Scottish Parliament, museums, galleries and other historic sites, including castles, battlegrounds and homes.

While there, Osborne said he plans, on his own, to explore Scottish influence on the culture of the Appalachian mountains, particularly with regard to Scottish folk music and folklore. He is a multi-instrument musician, playing guitar, banjo, harmonica and fiddle, with a focus on folk music.

Osborne said he's still exploring his ideal future career path, but he has some general ideas. "I hope that my studies will prepare me for a future as an educator and ambassador of folk culture and history," he said.