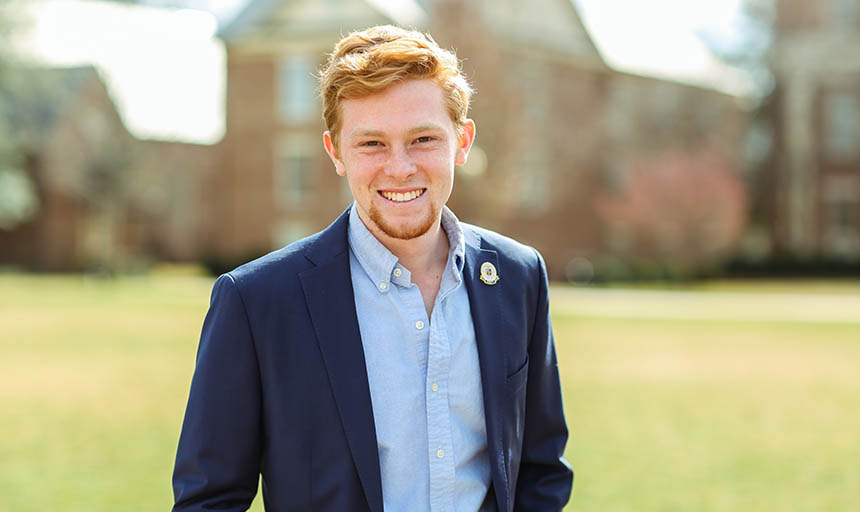 Umland selected for Fulbright English Teaching Assistantship in Indonesia
Gabe Umland '19 has been selected for a Fulbright English Teaching Assistantship (ETA) in Indonesia. From Quaker Hill, Connecticut, Umland is a business administration major with a marketing concentration and math minor. Umland is vice president of the Rotaract club and a member of the Roanotes a Cappella group. He played club Frisbee for three years, and works on-campus for information technology, resource development and public relations.
Umland's passion for travel and adventure was set afire when he studied abroad in New Zealand in the spring of 2017. The next summer in 2018, he taught English to students in Istanbul, Turkey — an opportunity facilitated by a Roanoke alumna, Brynn MacDougall '17.
"Roanoke taught me that familiarity is the enemy of growth, especially through studying abroad," Umland said. "In New Zealand, I gained an eagerness to soak up everything the world has to offer, and to learn and teach in ways that transcend the confines of a traditional classroom. Recalling the famous quote by Teddy Roosevelt, I think Roanoke taught me to dare greatly."
Upon the conclusion of his Fulbright ETA, Umland plans to sail around the United Kingdom with a friend. He then wants to stay overseas and work for a global marketing department.
Roanoke College was named a top producer of Fulbright U.S. Students for 2017-2018.
The Fulbright U.S Student Program awards approximately 1,900 grants a year. Since 2012, the number of Roanoke students who have received some of the nation's top scholarships and fellowships has tripled, compared with previous years.