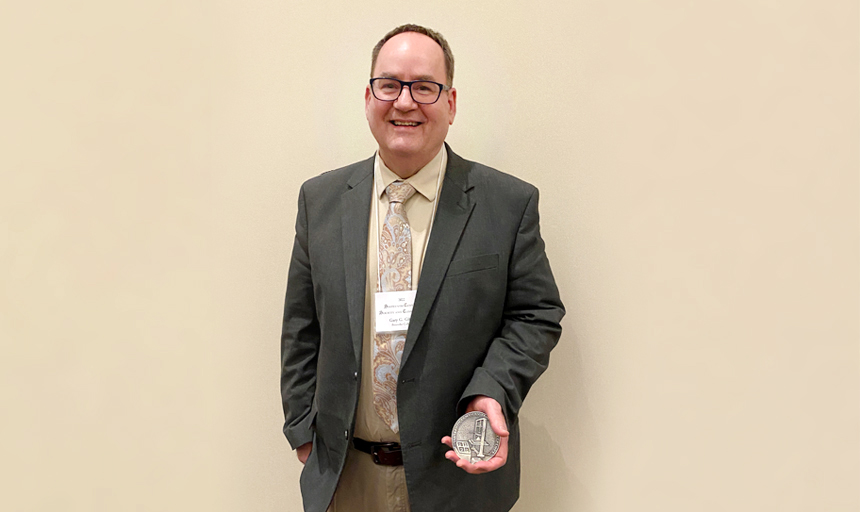 Gibbs honored by Sixteenth Century Society & Conference
Roanoke College History Professor Gary Gibbs was awarded the Sixteenth Century Society & Conference Medal at the society's annual conference, which was held in Minneapolis, Minnesota, on Oct. 27-30.
The Sixteenth Century Society & Conference (SCSC) is a scholarly society interested in the early modern era (ca. 1450-ca. 1660). Each year, the society awards the medal to a member who has done the most to promote and advance the area of early modern studies through scholarship and service to the field.
Gibbs was recognized by SCSC for both his monographs on sixteenth-century England and his 22 years as a book review editor for the Sixteenth Century Journal. Susannah Brietz Monta, president of SCSC, said Gibbs' approach to recruiting reviewers for the journal "has been interdisciplinary and inter-institutional in every way."
Brietz Monta said Gibbs has created a database of more than 3,000 reviewers from all over the world, seeking reviewers from historically Black colleges and universities, libraries, museums and community colleges. He has also diversified the range of books reviewed by SCJ, expanding the selection to different geographic locations and making room for underrepresented areas of specialization, including musicology, material culture and archaeology.
"This leadership of SCJ books reviews has been an important form of mentorship for younger scholars recruited as reviewers as well as those whose books have been reviewed," Brietz Monta said.
Gibbs has taught history at Roanoke since 1990. He earned a B.A. and M.A. from the University of Florida, then went on to earn a Ph.D. from the University of Virginia. His teaching fields include medieval and early modern European history, British history, South Asia, and world history (early modern). His research focuses on society and religion in Tudor England.