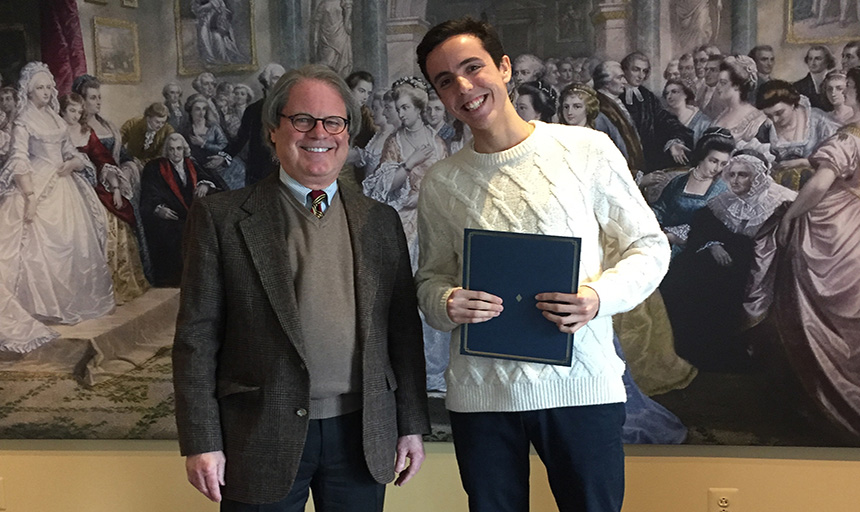 Gaston Ocampo '20, at right, with Dr. Douglas E. Clark '72, dean and executive director of Lutheran College Washington Semester. Photo courtesy of LCWS.
Ocampo receives top Washington Semester award
Gastón Ocampo '20, one of 60 students who participated in the Lutheran College Washington Semester program during the fall 2018 semester, has won the program's Dr. Nancy D. Joyner Spirit Award.
The award recognizes students who are enthusiastic participants in the LCWS program. The award is named for Dr. Nancy D. Joyner, who was the first and longest-serving dean in the history of LCWS. Joyner was the heart and soul of the LCWS program for 25 years, enthusiastically welcoming countless students to the nation's capital every semester. As such, the award recognizes students who emulate Dean Joyner's spirit.
Ocampo was nominated for the award by the LCWS faculty, staff and students, who lauded his intense interest in program activities and positive influence on his peers.
"Gastón was a standout student during the Fall 2018 semester," said Dr. Douglas E. Clark '72, dean and executive director of LCWS. "He encouraged others to get the most out of their LCWS experience and set an example through his own enthusiasm for the program. He was described by one of his peers as someone who best exemplifies how active participation in LCWS can positively impact one's personal development."
During his Washington Semester, Ocampo interned at the President's Office of the InterAmerican Dialogue, where he had the opportunity to explore the academic and cultural events in Washington and was tasked with the responsibility of reporting on the development of conferences in other think tanks and intergovernmental institutions.
"I also learned a lot about the current state of socioeconomic and political affairs in Latin America, and worked alongside experts, helping them with research tasks and edits for publications and events, and putting into practice skills I acquired in my International Relations major," Ocampo said. "Moreover, I also helped the development team in fundraising campaigns and marketing/strategic communications, which allowed me to put into practice the skills I am acquiring in my second major, Business Administration.
Ocampo, of Buenos Aires, Argentina, is interested in pursuing career paths in the think-tank world and in political consulting. Thirteen Roanoke College students participated in LCWS during the 2018-19 fall semester. Fifteen are participating in the program during the current spring semester.