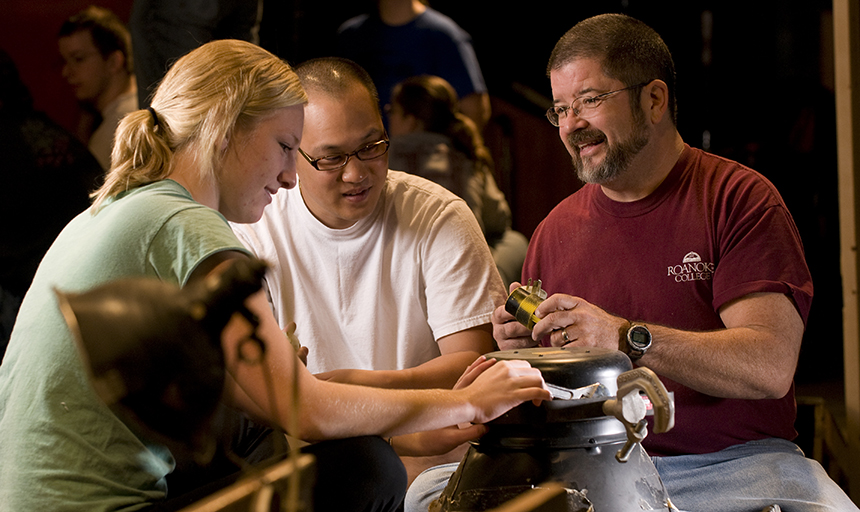 Arthur teaches two students the finer points of stagecraft.
Theatre alumni remember George Arthur
George Arthur, Roanoke College's longtime technical director of Olin Theater, died suddenly on Friday, April 1. Arthur was 67.
Arthur retired in 2015 after working in Olin for 37 years. He was the technical director for Olin Theater, an instructor in the theatre program, as well as set and lighting designer for Theatre Roanoke College events for many years. He also assisted in the production of countless performance events at Olin Theatre. Arthur also taught in the College's Elderscholar program and worked with schools and local theatre performances.
Arthur was the 1996 recipient of the Dean's Council Award for Exemplary Service for his excellent work with faculty, staff, students, artists, dignitaries and the public. Arthur held a Master of Fine Arts in technical theatre from UNC-Chapel Hill.
At his retirement party, Arthur was surprised by several former shop assistants and alumni of Roanoke's theater program. And he was especially surprised when they announced the formation of an endowed scholarship in his honor. The George N. Arthur Endowed Student Scholarship in Technical Theatre Arts was created in recognition of his service, mentorship and commitment to students in pursuit of excellence in the technical theatre arts.
Arthur was a master woodworker and often could be found at campus and regional craft shows. He also put his skills to use in creating a special piece that hangs in Roanoke College's Antrim Chapel — the Bittle Tree of Life Cross. Arthur crafted the symbolic cross from wood of the Bittle Tree, a tulip poplar planted by Roanoke College founder David Bittle. The tree was damaged and had to be removed after more than 100 years. Chaplain Chris Bowen wanted to update Antrim Chapel and enlisted the newly retired Arthur to create the beautiful cross of wood recovered from the Bittle Tree.
"We will miss George's occasional visits since his retirement," said Dr. Gordon Marsh, chairman of the College's fine arts department. "Just a week ago he was in the main office — happy as a clam. Passionate about our mission of bringing the arts to the community, George loved hearing what was going on in Olin, and he took particular pleasure in learning what students were up to in Theatre."
Tributes for Arthur poured out on social media and in conversations as alumni recalled his influence.
"Even though he had retired in 2015, for generations of Roanoke College students, there is no fine arts department, Olin Hall or Theatre Roanoke College without George," Jeff Walker '88 said. "He was more than a mentor to nearly everyone who majored or minored in theatre, or even just took Stagecraft. We were blessed to know him and will now cherish the memories even more."
"I remember working on 'Trojan Women,' where I had to deliver lines from the top tier of very high scaffolding on the stage," Toni Herron '87 said. "George worked with me to overcome my fear of heights so I could do it. I'd go by Olin Hall when he had office hours, and he'd encourage me as I went higher little by little. It is one of my fondest memories."
Herron also attended Northside High School in Roanoke County, Virginia, where Arthur's wife, Karen, was the theater teacher. "Since Karen was my director, George literally taught me everything I know about technical theatre since we built all our Northside sets under his direction too!"
Amy Chiarello Barnett '88 said simply, "George was a very special part of my Roanoke experience."
Kent Raine '88 posted a lovely tribute on Facebook:
"He didn't die. He just turned off the lights, struck the set, packed up his tools and headed to the next venue. He's loading in now. We will all hear his laugh, listen to his instructions and mount yet another production when the time is right. Our stage here is dimmed, for sure, but another stage elsewhere is ready for the curtain to go up. He's there, shooting blow darts backstage, fixing things at the last second, admonishing people to be quiet and encouraging them to give it their best. Brush up on your Shakespeare, George … the lights are coming up."
The family's obituary may be seen here.
If you would like to make a gift in memory of Arthur, please donate to the George N. Arthur Endowed Student Scholarship in Technical Theatre Arts at Roanoke College. Please visit www.roanoke.edu/ArthurScholarship.
For more information, please contact Mary Grace Theodore, Associate Vice President for Resource Development, at (540) 375-2487, or email at theodore@roanoke.edu.
You can also donate to the Red Cross, as George was proud to be a lifelong blood donor.
A celebration of life service will be held on Saturday, April 23 at St. Mark's Lutheran Church in Roanoke.
Remembering George Arthur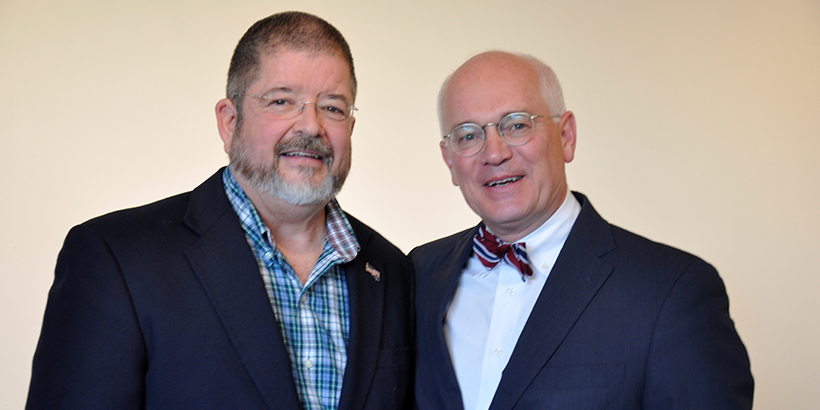 George Arthur with President Michael Maxey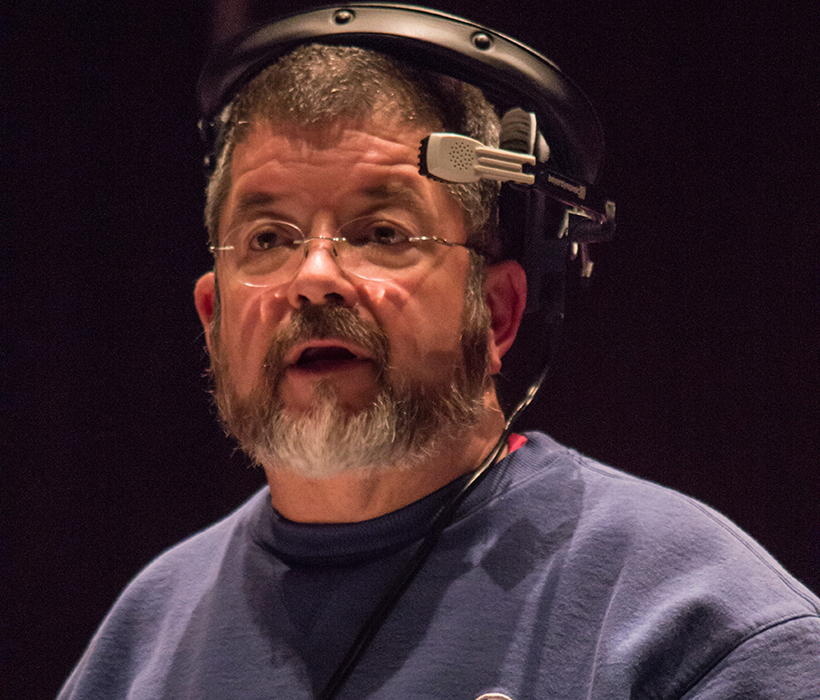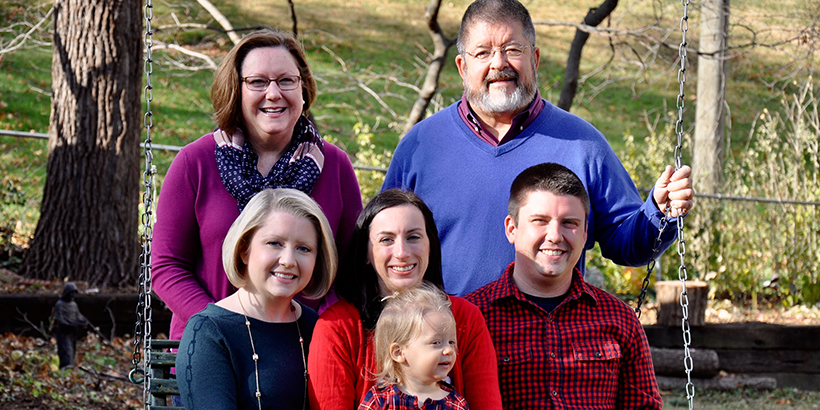 Arthur family photo: Karen and George at the back, with daughter Lindsay on left, son Brit and his wife, Sarah, in the middle and granddaughter Lilah.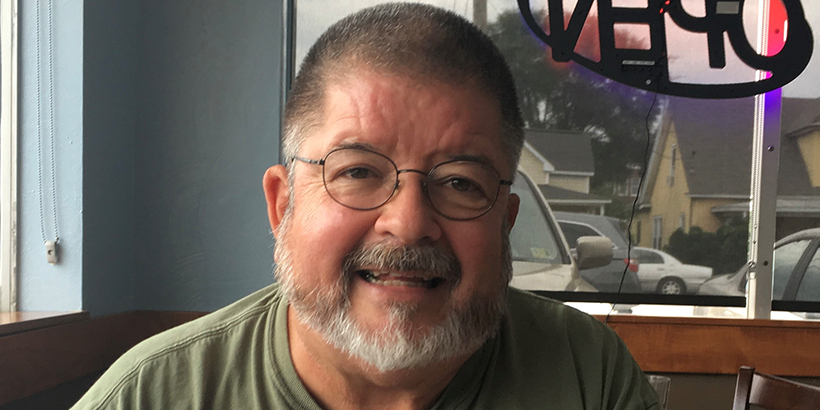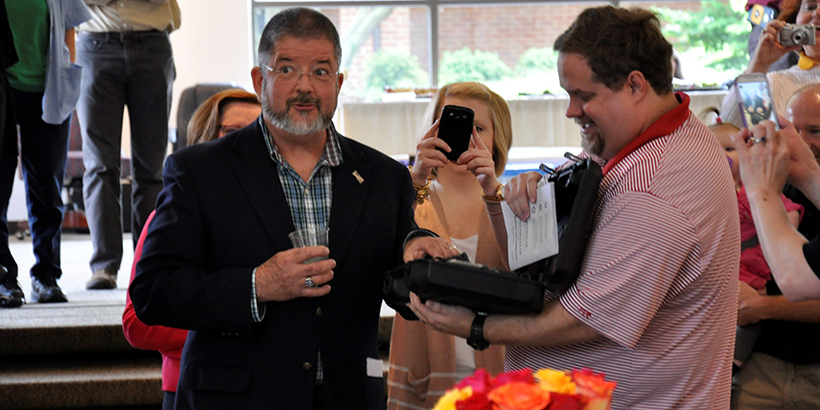 George at his retirement party in 2015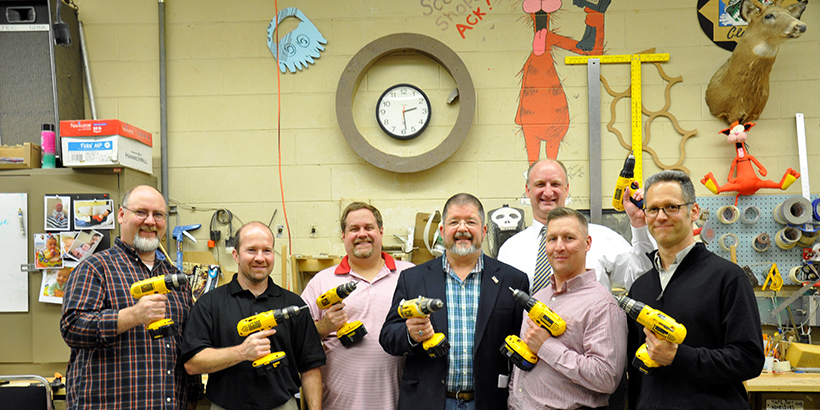 George and several alumni shop assistants
Special thanks to Dr. Lisa Warren for sharing many of these pictures with us.