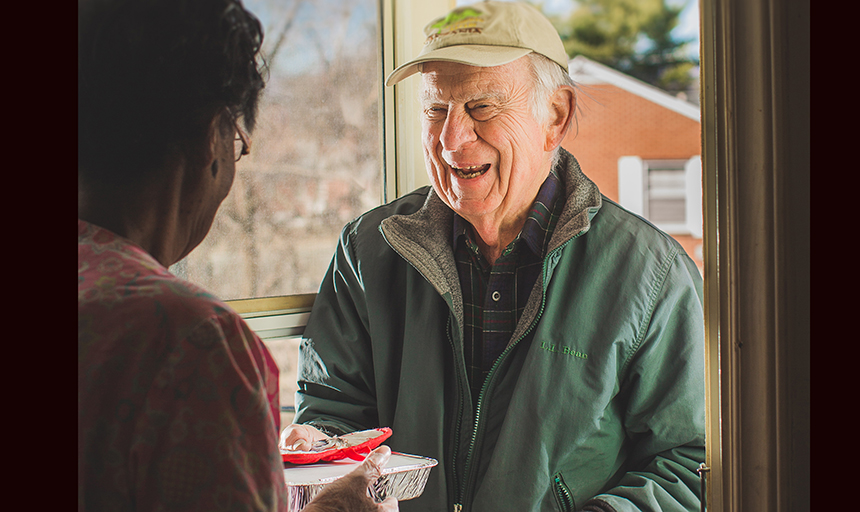 George Kegley delivering his Meals on Wheels route.
Roanoke College remembers George Kegley
It is hard to sum up George Kegley's life in a few words. He was a long time, old-school journalist, serving as a reporter and later as the business editor of The Roanoke Times for 42 years. After he retired, he focused on his volunteer jobs — and there were many of them. He was the editor of the Virginia Lutheran newsletter for 60 years.
Kegley died on Feb. 16 at the age of 93.
Kegley was a legend at Roanoke College as well. He graduated in 1949 with his bachelor's degree in English and began working at the Roanoke Times and World-News that same year. Kegley was a lifetime Roanoke College Associate and was a member of the Society of 1842. He received an honorary degree from Roanoke College in 2001 and the Roanoke College Medal in 1985 — the highest honor alumni can receive.
"George Kegley lived a life that we all can aspire to live through his service, leadership, and compassion for others," Roanoke College President Michael Maxey said. "He is among Roanoke College's greatest graduates."
Kegley served two years in the U.S. Army stationed at Ft. Knox, Kentucky, before returning to Roanoke.
His volunteer service included working with refugees, at-risk children or working at a homeless shelter. He donated blood at the American Red Cross on a regular basis. He was a devoted member of local historical groups and he was one of the founders of the Roanoke Valley Preservation Foundation. He was a leader in the Historical Society of Western Virginia, a director of the Virginia History Federation and a board member for the Western Virginia Land Trust. He owned a historical home and did much to save and restore it over the years.
"As I work with refugees, people at our church food pantry and those on my Meals on Wheels route, I see so many elderly and disabled folks who for many different reasons are barely getting by with little or no hope of a comfortable future. If I can make their lives a little brighter, I hope I have helped the community and I have a sense of fulfillment."
George Kegley '49
Kegley was a devoted Lutheran. In addition to his work with the Virginia Lutheran newsletter, he taught Sunday School and served his church in a variety of ways.
He was a longtime Meals on Wheels volunteer. The Roanoke Times news obituary of Kegley includes a recollection by former Roanoke Times colleague Mary Bishop:
Last year, when his health began to fail, Kegley gave up driving for the most part and began to rely on a home health care worker.
Mary Bishop, a retired Roanoke Times reporter who kept up with her former colleague, said that he quickly recruited the heath aide to drive him on his delivery route for Meals on Wheels.
"He said: 'Let's go. We don't want to just sit around here,'" Bishop recalled.
In 2014, Roanoke College magazine profiled 10 alumni, all of whom embodied what is central to the College's mission and purpose, and all of whom had discovered what it means to be engaged in making a difference in the lives of others.
Kegley was one of those 10. His profile contained a description of his volunteer service, in a chunk of a paragraph that was 10 lines deep: "Through the Lutheran Cooperative Ministry, he rounds up inner-city children each summer, outfits them with camping supplies and takes them to a week-long camp near Luray, Virginia. For years, he has worked with refugees, including families from Vietnam, Hungary, Afghanistan and Liberia. He is chairman of the Endangered Sites Committee of the Roanoke Valley Preservation Foundation. He has served on the boards of the Roanoke Rescue Mission, Pastoral Counseling Center, Western Virginia Land Trust, the Brandon Oaks Advisory Board and more. George edits the Journal of the Historical Society (he has worked for the Historical Society of Western Virginia for more than 30 years), as well as the monthly Virginia Lutheran and the quarterly insert for The Lutheran national magazine."
That was only a portion of what could have been written.
Kegley said then that in the years since his retirement, "I have become increasingly aware of the many needs facing less fortunate people in our community. As I work with refugees, people at our church food pantry and those on my Meals on Wheels route, I see so many elderly and disabled folks who for many different reasons are barely getting by with little or no hope of a comfortable future."
"If I can make their lives a little brighter, I hope I have helped the community and I have a sense of fulfillment."