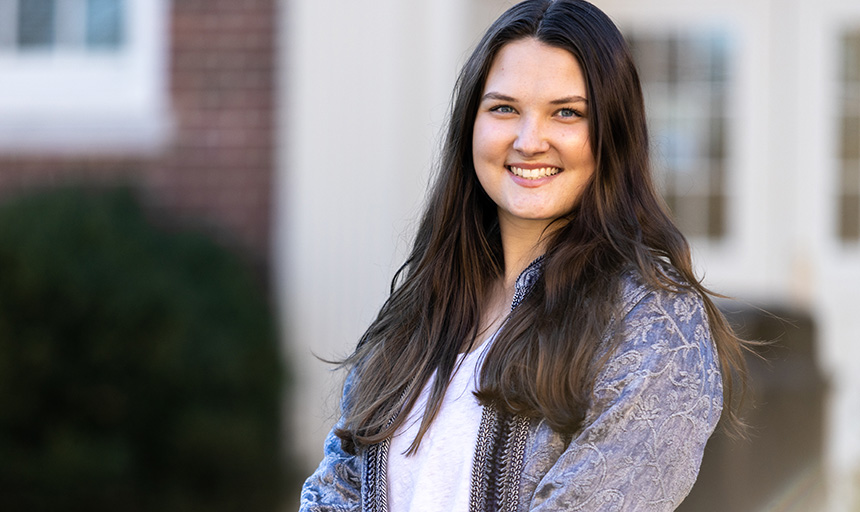 French major earns Gilman Scholarship Award to study in France
Dixie Weaver '23 received the Benjamin A. Gilman International Scholarship in December 2021. Weaver, the 15th Roanoke College student to receive the prestigious award, will travel to Université Catholique de Lyon in Lyon, France, during the fall 2022 semester to study French language and culture.
The Benjamin A. Gilman International Scholarship Program, created in 2001, is sponsored by the U.S. Department of State's Bureau of Educational and Cultural Affairs. The program offers funding for students to study and intern abroad, providing them with an immersive cultural experience and an opportunity for academic and career development.
For Weaver, a French major and member of both the French Club and Maroon Baptist, the scholarship is one that will help her broaden her French studies, focusing on strengthening her understanding of the language while also exploring the culture, an area of study Weaver is "most looking forward to."
While at Université Catholique de Lyon, Weaver will take courses in French language and conversation, a journalism-based travel photography class, and a French culinary class. After completing the coursework and returning to the United States, Weaver plans on writing a bilingual children's book to present to the College, a service project outlined in her Gilman scholarship application.
While the application process, which included writing three essays and proposing a service project, was "daunting," said Weaver, it did help her better understand a deeper side of herself.
"My classes at Roanoke prepared me for applying for this scholarship. The rigor from Roanoke gave me the base for completing this arduous task of applying and what's to come in life."
Dixie Weaver '23
"Applying for the scholarship really has given me more confidence," Weaver said. "Because of this, I feel more ready to apply to graduate schools, and that doesn't seem like such a scary process."
Weaver credits receiving the scholarship to the mentorship and guidance provided by Jenny Rosti, Roanoke College's director of major scholarships and fellowships, and adjunct senior lecturer.
"I couldn't have done this without Ms. Rosti," Weaver said. "She told me exactly what I needed to do and was with me every step of the way."
Describing Weaver as a "serious student of French," Rosti identified Weaver as an ideal candidate for the award and guided her through the application requirements and deadlines. For Rosti, the Gilman scholarship is "one of my favorite awards."
"It has enabled so many of our students to have this opportunity," Rosti said. "Having so many of our students win this award helps the College's reputation. I go to national conferences and people know" about Roanoke College.
As for the future, Weaver is considering a variety of options post-graduation, including applying to graduate school at Tulane University, the University of Texas at Austin, and the University of Virginia to study teaching, or applying for a teaching assistant program in France sponsored by the Cultural Services of the French Embassy in the United States.
Between applying for the Gilman Scholarship and the impending application process for graduate school, Weaver said her foundation at Roanoke College has helped her manage the challenges of those tasks.
"My classes at Roanoke prepared me for applying for this scholarship," said Weaver. "The rigor from Roanoke gave me the base for completing this arduous task of applying and what's to come in life."