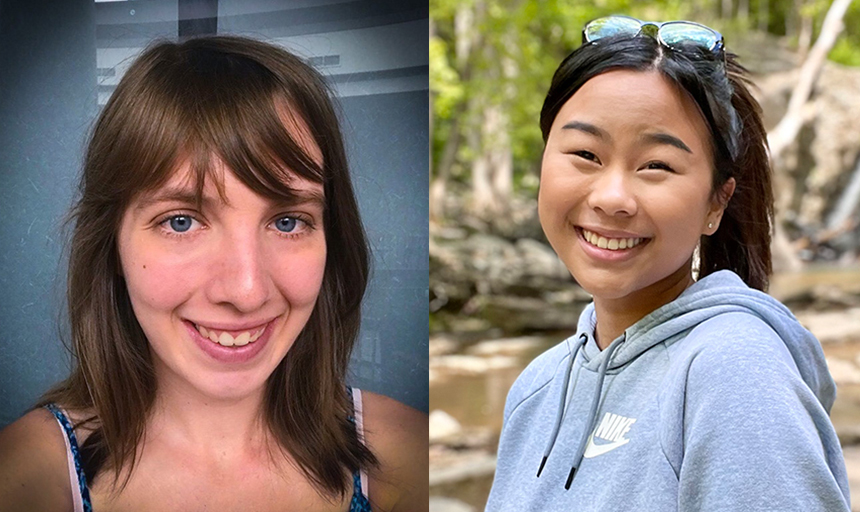 Serayna Green '22 (left) and Molly Scheerer '23
Two students receive Gilman scholarships to study abroad
Two Roanoke College students earned scholarships that will send one of them across the Pacific Ocean and one across the Atlantic.
Serayna Green '22 and Molly Scheerer '23 have each earned a scholarship from the U.S. Department of State's Benjamin A. Gilman International Program. The scholarships will fund Green's studies in Asia and Scheerer's in Europe.
For Green, a business administration major from Fox Lake, Wisconsin, the Gilman award is her second major scholarship in less than a year. Last summer, she was awarded a Freeman Award for Study in Asia, which allows U.S. undergraduates to study in East or Southeast Asia. Green planned to study at Kansai Gaidai University between Osaka and Kyoto, Japan, but due to the COVID-19 pandemic, those plans were put on hold, and she now envisions studying in Japan in the spring of 2022. She's using both scholarships for this journey abroad.
Green currently is an intern with the Bureau of East Asian and Pacific Affairs. She is working in the United States this summer, and next summer she'll work abroad with a consulate.
"I am looking forward to my learning," Green said, "because as a non-international relations student, it is helping me to understand international affairs and diplomacy in a comprehensive sense so that I can better serve as an intern in my bureau."
She hopes that after graduation next year, she can go into translating or interpreting, entering the foreign service under the Under Secretary for Management, or going into the marketing or human resources-related job field.
"I also cannot wait to explore the campus and surrounding areas and immerse myself in a different culture."
Molly Scheerer '23
Scheerer, a public health studies major and sociology minor from Glen Mills, Pennsylvania, plans to study abroad either at the University College Cork in Ireland or the University of Chester in England during the spring of 2022. While she is there, she plans to complete prerequisites for physician assistant (PA) school while working toward earning her undergraduate degrees as well.
"I also cannot wait to explore the campus and surrounding areas and immerse myself in a different culture," Scheerer said. "I look forward to meeting new people from different backgrounds through study abroad to broaden my perspectives and social network."
Scheerer also hopes to shadow physicians in hospitals, surgeries and clinics. This will allow her not only to complete her required prerequisite Hands-on Patient Care Experience for PA school but will also give her the chance to compare the United Kingdom's health care system to that in the United States.
Jenny Rosti, Roanoke College director of major scholarships and fellowships, said that once again, Green and Scheerer have shown how well Maroons fare when it comes to sought-after national scholarships.
"Having served on a Gilman national selection panel this year, I know first-hand how competitive these awards are," Rosti said. "For both of these students to receive awards is remarkable."