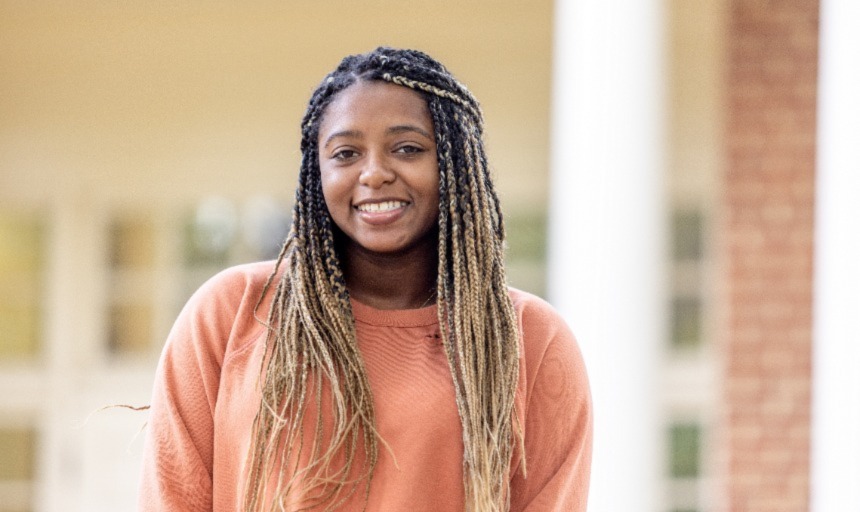 Roanoke College student wins Gilman Scholarship
Jonnel Lewis '23 has been awarded a prestigious Benjamin A. Gilman International Scholarship from the U.S. Department of State's Bureau of Educational and Cultural Affairs.
The competitive scholarship, which is open to undergraduates nationwide, was created in 2001 to help more U.S. students gain opportunities to live abroad while studying or interning.
The extensive application process required three essays penned by Lewis as well as a proposal for a service project.
Only about 1 in 4 applicants is granted a scholarship. Lewis is the 16th Roanoke College student to earn the recognition.
"Jonnel is a natural leader who knows who she is and what she wants for her life. I know that she will make the most of the opportunities available to her while abroad," said Carmen Boggs-Parker, Roanoke College's associate director for global engagement.
"Time studying abroad can profoundly change a young person's perspective and open their eyes to other ways of living," added Boggs-Parker, who leads the college's study abroad programs. "The Gilman Scholarship can open doors for students who never thought international study was in their grasp financially."
Lewis, a communications major with a concentration in legal studies, said her time at Roanoke College and the mentoring she received from the faculty helped her grow and gain the confidence to tackle goals like the Gilman Scholarship.
"They gave me the skills and courage to do something this big without feeling like I would be unprepared or unknowledgeable," she said.
It was the faculty that encouraged her to pursue the program. Boggs-Parker alerted her to the opportunity last year, and the late Jenny Rosti, director of major scholarships and fellowships, helped her navigate the multi-part submission process.
"Time studying abroad can profoundly change a young person's perspective and open their eyes to other ways of living."
~ Roanoke College Associate Director for Global Engagement Carmen Boggs-Parker
By helping more students immerse themselves in other cultures, the Gilman strives to help shape a new generation of leaders who have the life skills and the knowledge of the world offered by international travel.
The scholarship awarded to Lewis gives her the opportunity to study at Regent's University London in the new semester that begins in January. The 21-year-old senior has set her sights on attending law school after she graduates.
Lewis, who is from Brooklyn, New York, enrolled at Roanoke College after a letter from the school spurred her to make a campus visit while she was in high school. The small class sizes and close-knit sense of community she found resonated with her.
"When I came to campus, I just knew it was a place for me," she said. "I just had that feeling of belonging here."