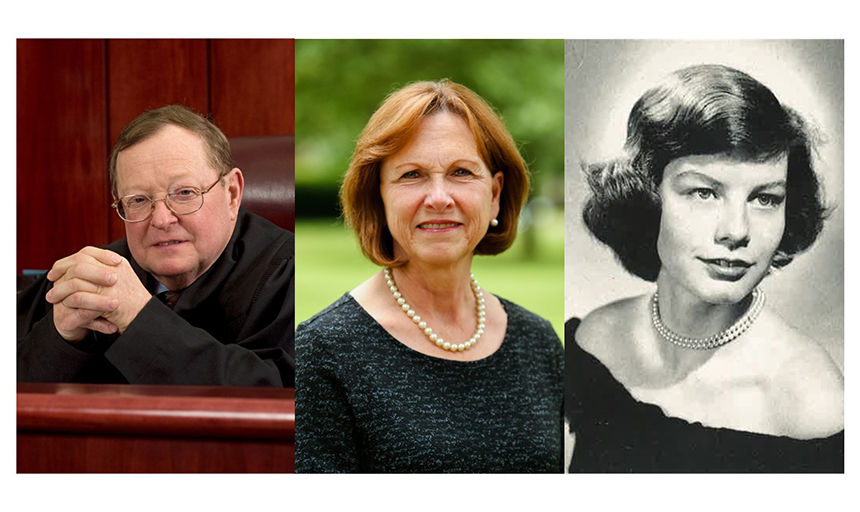 From left to right: The Hon. William H. Logan Jr. '69, Leah Russell '79 and Peggy Patrick '51.



Giving with purpose
The new issue of Roanoke College magazine highlights the creation of several new donor initiatives that offer opportunities for members of the College community to give in ways that support and enhance the student experience at Roanoke.


THE LEAH L. RUSSELL '79 ENDOWED STUDENT SCHOLARSHIP – Heather Davis Coiro '89 and her husband, John Coiro '91, have established a scholarship to honor Leah Russell '79, who retires this summer after a long and distinguished career at Roanoke, most recently as Associate Dean/Registrar. The scholarship, which honors Russell's impactful legacy of student mentorship, will be available to any Roanoke College student with demonstrated financial need.
"My husband and I are honored and privileged to provide the initial funding for the scholarship and hope that many more past students like themselves will realize the impact Leah had on their lives and donate as well to the fund," Heather Coiro said. "We hope that Leah's legacy of mentorship will far outlast our time on this earth and hope that countless more students will forever be touched by her legacy."
To contribute to The Leah L. Russell '79 Endowed Student Scholarship, please visit www.roanoke.edu/RussellScholarship. For more information, please contact Steve Esworthy '91, Director of Development, at (540) 375-2028, or email at esworthy@roanoke.edu.

THE LOGAN FAMILY ENDOWED SCHOLARSHIP – The Hon. William H. Logan Jr. '69, has established The Logan Family Endowed Scholarship to provide financial assistance for rural Virginia students who have intentions of returning to their hometowns to support the needs of their communities after graduating from Roanoke. The scholarship honors five generations of the Logan family that have attended Roanoke College: William Worth Logan (Class of 1877), George Kried Logan (Class of 1901), William Henry Logan (Class of 1929), William Henry Logan Jr. (Class of 1969) and Daniel Worth Logan (Class of 2009).
"My parents certainly, especially my father, always pointed me in the right direction," said Logan Jr. "Because of that, I knew I was making the right decision when I enrolled at the school, and once my studies progressed, I knew for certain that my father's guidance was correct."
For more information about the Logan Family Endowed Scholarship, please contact Jack Williams at (540) 375-2484 or at jewilliams@roanoke.edu.

THE ROANOKE COLLEGE WOMEN'S ATHLETIC ENDOWMENT – Peggy Patrick '51 has made a gift that creates an endowment that will support the College's 10 varsity athletic programs for women. Such endowments are rare in NCAA Division III, where Roanoke College competes in the Old Dominion Athletic Conference.
Patrick, an economics major at Roanoke, earned a varsity letter in field hockey and basketball. She played for legendary Maroons coach Fran Ramser and was teammates with another coaching legend, Billie "Jean" Beamer '52.
"Athletics had a tremendous impact on my life," Patrick said. "It is my hope that other women will use this endowment as a springboard, to donate as they are able to their respective sport to ensure that our efforts will help our future female student-athletes."

For more information about the Roanoke College Women's Athletic Endowment, please contact Jack Williams at (540) 375-2484 or at jewilliams@roanoke.edu. To contribute directly, please visit roanoke.edu/patrickchallenge.