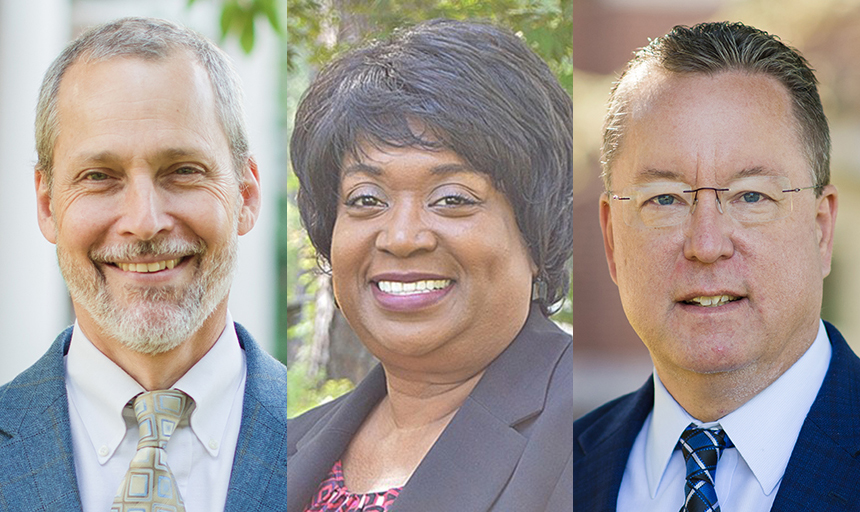 Rich Grant (left), Teresa Ramey, and Tom Rambo.
Update on Dean's Office staffing, other leadership news
The following is an update on the Dean's Office staffing and other senior leadership changes from President Michael Maxey.
I am pleased to announce that Rich Grant has agreed to assume the role of Interim Vice President and Dean while we conduct a national search for Dean Richard Smith's successor. To assist during this interim period, I am pleased that Gail Steehler and Dave Taylor are also willing to take on additional responsibilities. I am grateful to all three of them for their willingness to serve in these interim capacities.
We will secure an outside executive search firm to help with the recruitment of candidates for the appointment of a continuing Vice President and Dean. That process will begin in August. We will be in a position to advertise the position this fall and conclude the search in the spring of 2022.
This fall, I will work with Moderator Shannon Anderson, the Faculty Affairs Committee, and faculty and staff for input in designing our position description for the continuing Dean appointment and for selecting faculty to serve on the search committee.
Teresa Ramey will join us in her capacity as Vice President for Community, Diversity, and Inclusion in August. Teresa's search was concluded earlier this summer. She comes to us from Francis Marion University, where she has served for 15 years.
One additional change that we will make is to remove the responsibility for supervising Student Affairs from the Interim Dean's role. Tom Rambo has agreed to assume leadership of the Dean of Students operation. Tom has served us well as interim Dean of Students for the past nine months. I am grateful to Tom for that past and future leadership. He will report directly to me in his new capacity.
I also want to thank Richard Smith for his leadership in Academic and Student Affairs over the past 12 years. He has done great work for Roanoke. I know you join me in wishing Richard and Colleen well in retirement.