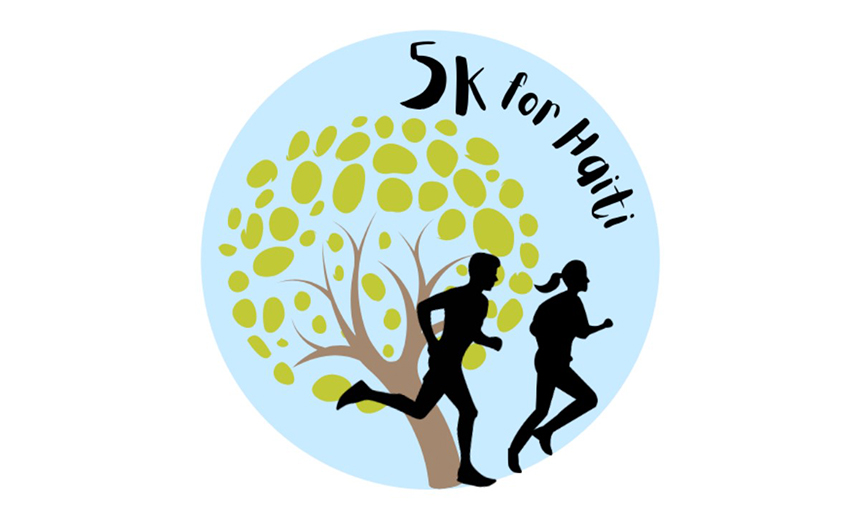 Bella Moritz '22 designed this logo for FREN 315 students' virtual 5K race to raise funds for "One Tree Planted," an environmental nonprofit with reforestation partners across 43 countries, including Haiti.
Roanoke College students aid tree-planting efforts in Haiti
Students in a Roanoke College French class raised over $1,200 to fight deforestation in Haiti.
During the spring 2021 semester, students in FREN 315 — a course taught by Dr. Alison Clifton that focuses on the civilization and culture of Francophone societies — studied four French-speaking societies in Louisiana, New England, Haiti, and Vietnam. After each unit, Dr. Clifton, an assistant professor of French, assigned a project to deepen students' understanding and appreciation of the Francophone society they had studied.
The class, while studying the Haitian unit, examined the origins of French language in Haiti, the history of its people, and an overview of its culture and economy. They also learned about deforestation in Haiti. The country's main source of power comes from charcoal, which is produced by burning timber; much of Haiti's forests have been cut down to serve this purpose. Desertification (the rapid depletion of plant life), soil erosion, landslides, flooding and other effects of deforestation have had devastating consequences for the physical, economic and environmental well-being of the people of Haiti.
Dr. Clifton presented students with a number of options for projects that would encourage experiential learning. The FREN 315 class voted, as their end-of-unit project, to hold a fundraiser to directly benefit the people of Haiti. The goal: to plant trees. By partnering with an organization called "One Tree Planted," every dollar that the class raised would plant one tree in Haiti. The project, which began the week of May 3 and ran through the final week of classes, fell at a timely point in the semester, with Earth Day (April 22) taking place just a week prior.
"In the face of social distancing, my students and I were able to reimagine the idea of community through experiential, project-based learning."
Dr. Alison Clifton, assistant professor of French
The FREN 315 class divided into two groups to spread awareness and request donations for their fundraiser. The first group used social media as their fundraising platform. They created an Instagram account called "RC Trees for Haiti," where they regularly posted information about deforestation and provided links for donations. The group also used Instagram bingo. Students posted a bingo card with various donation amounts on their Instagram stories, and whenever someone donated a specific amount, their name was added to the card. In addition, everyone who donated (whether through bingo or other means) was entered into a raffle. The winner received a gift basket that had been created by the group.
The second group designed a virtual 5K race to raise funds. Using an online race registration service, the group created a website where people could sign up for the 5K (for a $10 registration fee) and/or donate to the cause. The 5K could be completed at any location, at any time, and participants could choose to either run or walk. Students shared promotional posters with the registration link on their social media accounts, and completed the 5K themselves to lead the way. Anyone who participated in the 5K received a complimentary sticker, designed by a group member, which was mailed to them at the end of the fundraiser with a thank-you card.
The FREN 315 class raised $1,217, which will be used to plant 1,217 trees in Haiti. A total of 94 people donated to the fundraiser.
"Through the One Tree Planted project, our French students were able to interact with each other and connect with the course content, with the goal of aiding reforestation efforts in Haiti, one of the Francophone communities we studied," Dr. Clifton said. "In the face of social distancing, my students and I were able to reimagine the idea of community through experiential, project-based learning."
In recognition of the fundraising effort, the class received a certificate from Matt Hill, chief environmental evangelist of One Tree Planted, for contributing to the "reforestation, conservation, and protection of forests around the world."