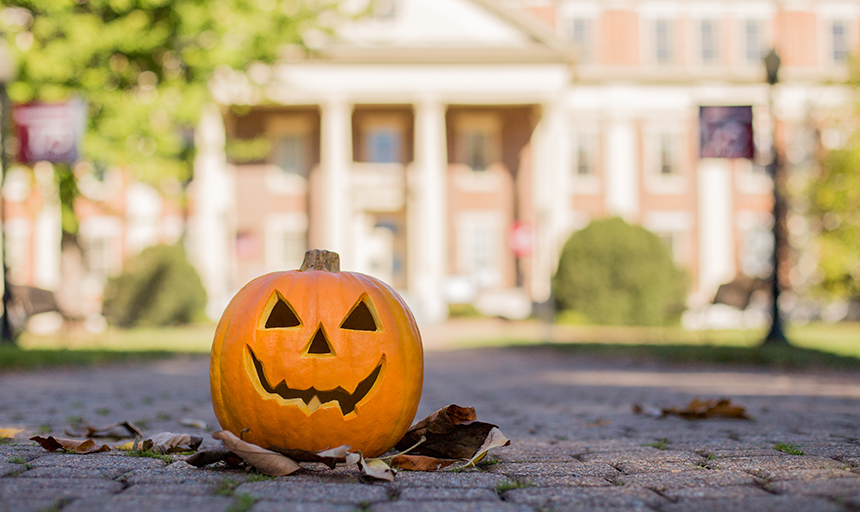 Harvest Halloween Reading event offers spookier vibe this year
With the fall semester ending with the Thanksgiving holiday, an annual fall reading event is moving from Thanksgiving to Halloween — and as you might expect, that comes with a transition to an eerier selection of readings.
The Department of English and Communication Studies and the Creative Writing Club are offering the Harvest Halloween Reading from 7-8 p.m. Thursday. It will be broadcast via Zoom, and anyone in the College community (with a Roanoke College email address) will be able to tune in. Find that Zoom link here.
Attendees are asked to donate canned goods or money to Feeding Southwest Virginia, an organization that has been distributing food to those in need in Southwest Virginia for nearly 40 years. People can donate here.
Dr. Teresa Milbrodt, assistant professor of English and Communications, said about a half-dozen students will be reading their written works. Each student will read for five minutes or so. Milbrodt said the readings are seasonal and should get people in the Halloween mood.
"I have read the ones that are by my students who are writing along the eerier lines," she said. "It's a nice range of spooky and quirky. We have some ghosts, but also sort of generally eerie-type things as well. It will be a nice range."
The annual event has always directed donations to local food banks, and Milbrodt pointed out that this year, families affected by the COVID-19 pandemic are more in need than ever. The reading event serves as a perfect opportunity to showcase the talent of Roanoke students while also serving the greater community.
"It's our yearly effort to help the community in that way," Milbrodt said. "But like everybody else, we're making our adjustments for COVID-19 while having as good a time as possible doing it."