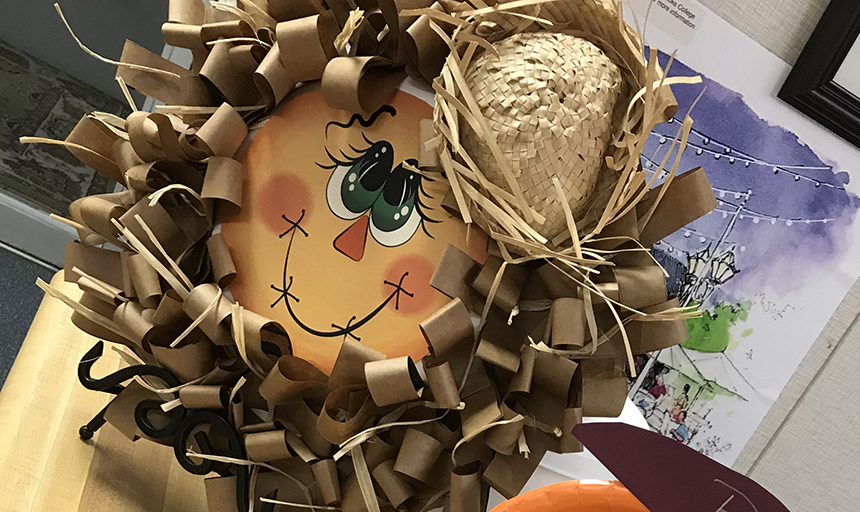 Coworkers connect through Halloween-themed creativity
The COVID-19 pandemic has changed the way many offices work, abruptly halting the ability for coworkers to interact in person. As many employees miss the potlucks and day-to-day interactions, they've had to get innovative. One office at Roanoke College found a way to bring everyone together safely in a creative and fun way.
The division of Resource Development, located in Ayres Hall, held a contest as a way to celebrate Halloween and acknowledge October birthdays. Staff were given one week to create a Halloween-themed decoration. The only restriction was a paper plate must be incorporated into the design.
Staff got creative and delivered scarecrows, spiders, pumpkins and more. The plates took on new shapes as spooky cats, goblins, bats and three-dimensional seasonal vignettes. Student workers participated in the contest decorating and judging and everyone received a prize. Awards ranged from "most school spirit" to "undercover artist". The staff dropped by at their leisure to view the collection and pick up a treat to go.
The celebration was the brainchild of the GREAT Team, a small group within resource development to organize holidays and birthdays.
Let us know what your office is doing COVID to boost morale and inspire community. Email a report and pictures to rcnews@roanoke.edu.