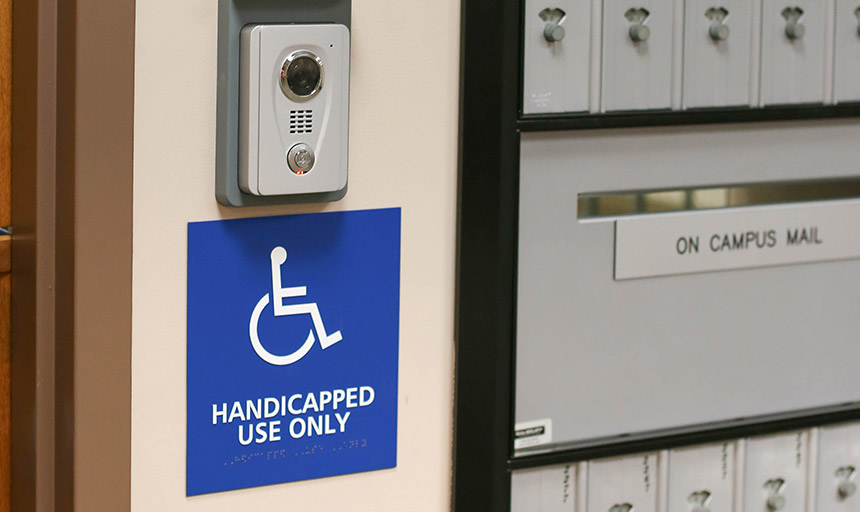 A new intercom/video system in Roanoke's mailroom allows mobility-impaired students to speak with mailroom staff at the main desk, which is located at the top of a small staircase.
7.06.2017
By Roanoke College News
Campus adds new mobility-friendly features - thanks to a May Term class
There are some new features on Roanoke College's campus to help people with disabilities - thanks to insight from students in one of the College's May Term courses.

A revised ramp, sidewalk and patio area, and door at the back of the Life Science building and a mailroom intercom/video system, are some of the new additions installed in the past few months, based on a survey by Roanoke students in the course, "Differ-abilities: Considering the Experiences of the 'Disabled.'"
In the class' three years, students have learned about different disabilities and what life is like for people who have them. For part of the class, students each take on a disability for 24 hours while maneuvering campus. Some students may use wheelchairs and others may be blinded, while some wear large silicon mittens to simulate manual dexterity issues, or double ear protection to simulate hearing impairment.
In these real-life scenarios, Frances Bosch, the Roanoke biology lecturer who teaches the course, asked students to take note of the areas of campus that were difficult to maneuver given their disability.
Bosch gave the survey data to Mark Noftsinger, vice president of Business Affairs at Roanoke.
The observations and suggestions turned into action.
Last month, a Roanoke College construction crew built a safer, brick-paved ramp at the back of the Life Science building, along with a wider, automatic door leading from the ramp into the building.
The previous door was too heavy and its frame was not wide enough for a wheelchair user to independently push themselves through the door, Bosch said. Also, the previous ramp was too steep and had a rounded piece of concrete, making it difficult for a wheelchair user.
"I am so proud of the school for listening to the students. This has been something that really is student-driven."
Frances Bosch, a Roanoke biology lecturer who teaches the May Term course, "Differ-abilities: Considering the Experiences of the 'Disabled'"
In the College's Colket Center mailroom, where stairs lead to most mailboxes and the main desk, there now is a video system for mobility-impaired students to use. Students press a button located at the bottom of the stairway to speak with staff to retrieve their mail.

In the past, students who could not maneuver the stairs asked a friend to help them communicate with mailroom staff or they tried to wave down the staff themselves, said Bosch.
Mike Vaught, Roanoke's manager of plant operations, researched an iPad video system for mailroom staff to use to communicate with these students.
"We want to accommodate the students," he said.
These changes come as the College has been adding automatic doors in building entrances throughout campus this past academic year for students, faculty and staff with mobility challenges.
Bosch's classes also have worked to replace outdated accessible "Handicapped Parking" signs on campus with updated versions.
"I am so proud of the school for listening to the students," said Bosch, who before Roanoke, worked with students with disabilities in school and home settings. "This has been something that really is student-driven."
She said some Roanoke alumni who have taken her class continue to share ideas with each other via social media about accessibility where they live.
"The kids are living it," Bosch said. After the class, "they are much more connected to inclusion in how they live their lives."
She plans to continue offering future classes the opportunity to survey campus and the community and to suggest changes.
"The May Term class that Professor Bosch teaches has informed and provided good insight and ideas of things we can do in our community to assist," said Noftsinger. "We hope that some of these small improvements are a start in the direction of more in the future."