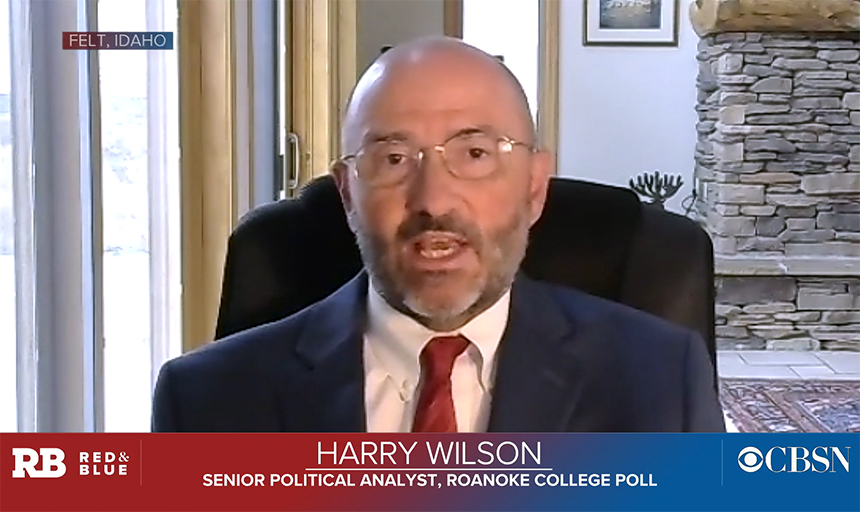 Roanoke College Poll provides context, analysis leading up to Election Day in Virginia
If your TV or radio was set to any number of cable news channels or NPR, you might have heard Dr. Harry Wilson, Roanoke College professor of political science, emeritus, and senior political analyst for the College's Institute of Public Opinion Research (IPOR), offering commentary and analysis on the Virginia governor's race.
After appearing on CBS News on Sept. 30, Wilson was featured on Fox News on Saturday, Oct. 30 and on NPR's Here & Now on Monday, Nov. 1. On Election Night, just as the voting was about to close in Virginia, Wilson again appeared on CBS News Online.
IPOR released multiple polls this year leading up to Virginia's election — one that pitted Democrat and former Virginia Gov. Terry McAuliffe against Republican Glenn Youngkin. The polls showed the race tightening and reported that enthusiasm among Youngkin voters increased dramatically as the election approached.
The most recent poll, released Oct. 30, reported that the race was a "statistical tie" with McAuliffe clinging to a 1 percent lead over Youngkin. That finding was reported far and wide. Locally, The Roanoke Times, WDBJ7, WSET, and others reported on the news. Nationally, The Hill, Yahoo! News, MSNBC and others covered it.
In his media appearances and in the news releases along with the Roanoke College Poll, Wilson keyed in on Republicans' enthusiasm in the race outweighing the excitement from Democrats.
"Youngkin leads among Independents, so McAuliffe needs to turn out more Democrats," Wilson said. "Virginia Democrats have done that for several elections in a row, but the significant enthusiasm gap suggests they may not be able to do it in 2021. It could be a very late Election Night…or week."
Wilson proved to be correct. The Associated Press held off on calling the election for Youngkin until nearly 1 a.m.
Appearing on CBS News from his home in Idaho on Election Day, Wilson spoke at length about Youngkin's attempts to both benefit from former President Donald Trump's popularity among Republicans while staying at arm's length from Trump in order to secure some of the more moderate voters.
"He does need those votes," Wilson said of Trump supporters. "Clearly without those votes, Youngkin will not prevail this evening, so he has to get those votes. But if he ties himself too closely to Trump he's going to lose those suburban votes he really needs, and desperately needs, as well."
Once again, Wilson proved spot-on. Youngkin's victory came in part because he made up ground among suburban voters and boosted turnout in the western part of the state.
Dr. Dave Taylor, professor of mathematics and associate dean for academic affairs and general education at Roanoke College, is the director of IPOR, taking over for Wilson earlier this year. Wilson is semi-retired, still serving as IPOR's senior political analyst. The Roanoke College Poll covers more than just politics, as it also tracks consumer sentiment and other economic issues under the guidance of Dr. Alice Kassens, the John S. Shannon Professor of Economics at Roanoke College.